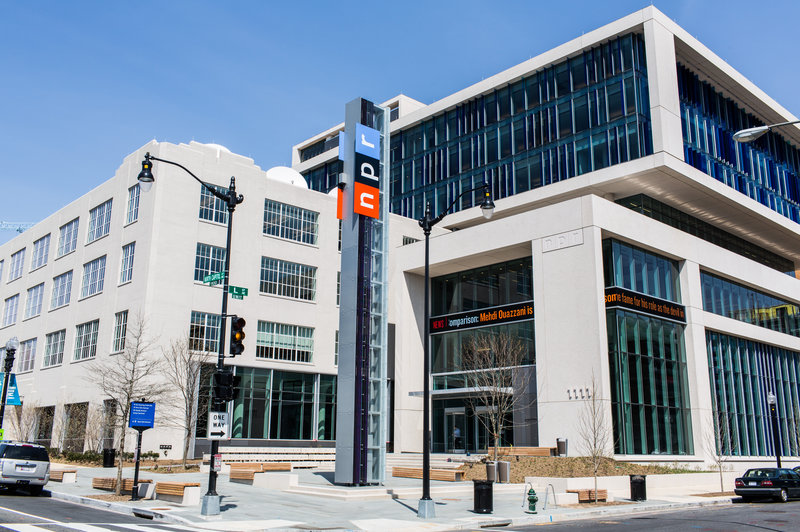 It seems unlikely, but there's a possibility some unfamiliar voices will greet public radio listeners after tomorrow night.
The current contract between NPR and the SAG-AFTRA union ended at the close of last month and employees agreed to an extension while talks on a new contract continue. The extension runs out tomorrow night.
(Disclaimer: SAG-AFTRA represents reporters, producers, hosts and online writers at Minnesota Public Radio. The first contract, however, was ratified last week.)
These things generally work themselves out, and it's likely they will this time too, but if they don't, NPR employees haven't left themselves much wriggle room, not after posting what amounts to a doomsday clock on a website they set up this week.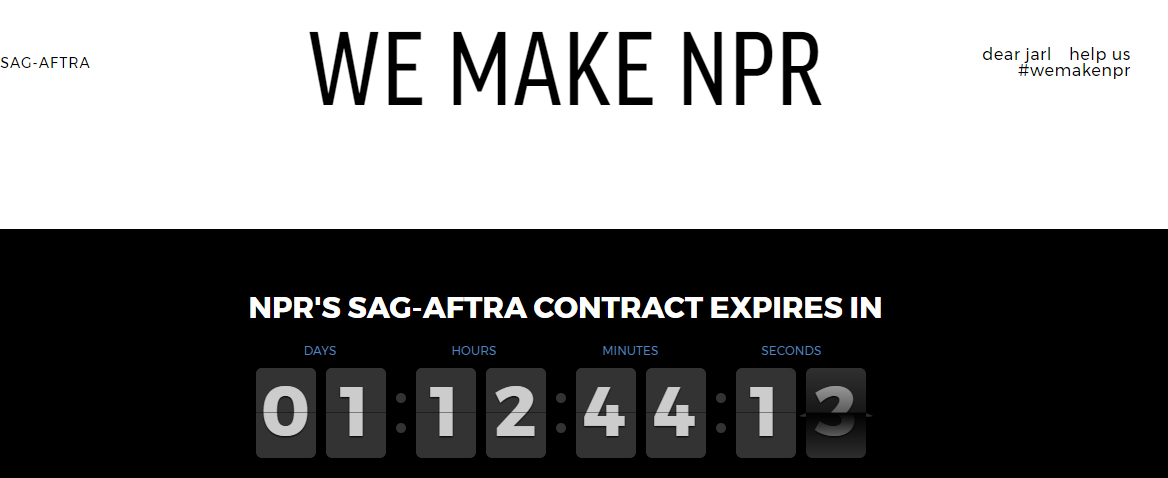 "Today, we have seen double-digit growth across all platforms, as well as a budget surplus. This is in spite of the executive ranks who have failed to secure the funding necessary to continue to allow NPR as a whole to innovate and grow," the union employees wrote on their website.
They say the company wants to set up a two-tiered wage structure for employees doing the same job and is threatening health benefits, 75% of which are paid by the company.
One reporter suggested on Twitter that the mood is grim.
NPR journalists are in inexplicably bruising contract negotiations with managers. I've never seen morale this bad. https://t.co/9DjBnB4eqE

— Chris Arnold (@Chris_ArnoldNPR) July 13, 2017
But that's not the way NPR sees it, according to Poynter, which posted this statement from the company.
NPR and SAG-AFTRA are having productive discussions with the assistance of a federal mediator and continue to work toward a mutually satisfactory agreement that meets the needs of NPR's employees and our operations. Our goal is to make this organization economically sustainable for the long-term – and, importantly, enable NPR to invest more resources in expanding audiences, innovating its multi-platform journalism, and adding newsroom staff to meet that growth and support current staff.
Some of NPR's big names penned a letter to CEO Jarl Mohn:
Dear Jarl,

We write to you as NPR's staff members who have been on teams that won the duPont and Peabody awards in recent years – awards that have demonstrated some of NPR's finest work and helped place the network among the top media companies in the country. Obviously many of our colleagues have won hundreds of other respected awards, too; others in the newsroom may not be listed on a plaque but they've done just as much to build NPR. We've done this work with a fraction of the resources of other media corporations.

And we've done this work, and NPR's stature and audience have grown, while most of us were serving under the SAG-AFTRA contract. Members of your management team seem to believe that NPR has become the revered media company it is – a company that they boast about serving – despite that contract. They misunderstand NPR's history and culture: NPR has become great partly because of our labor-management contract. The contract has ensured proper working conditions, collaboration and collegiality, and an atmosphere of mutual respect. That culture is one of the main reasons we choose to work here. That culture attracts some of our youngest and newest talents, from diverse backgrounds.

Of course, any contract can be updated or improved. We assume that the managers negotiating this contract have good motives and have the company's best interests at heart. But we've been shocked by their efforts to in effect rip it up.

We know that your goal is to leave this company on a sound footing for the future. We've been delighted by your focus on promoting NPR's brand, on expanding the audience, on delivering great journalism, and improving relations with member stations. But if your managers succeed at gutting the SAG-AFTRA contract, as they appear to be trying to do, they will do long-lasting and perhaps permanent damage to the culture that has made NPR, well, NPR. Everybody will lose – most of all our journalism and the public. We are writing to you directly, Jarl, hoping that you will intervene. We need to save the soul of NPR.
In the meantime, it's a battle of hashtags as NPR employees are posting under the #WeMakeNPR hashtag on Twitter.
NPR management is in the midst of contract negotiations with NPR journalists and morale is in the dumps. #wemakenpr https://t.co/l25lmUPfaS

— Tamara Keith (@tamarakeithNPR) July 13, 2017
I've been at @NPR 32 years and never seen anything remotely like this. Shocking. Pls RT 2 show support. #WeMakeNPR https://t.co/PqziApgLN7

— Ina Jaffe (@InaJaffeNPR) July 12, 2017
This is what #wemakenpr is about https://t.co/fTbI3tYcM5

— Sonari (@Sonari) July 13, 2017
Gather 'round friends. Lemme tell u a little story abt how ur beloved NPR voices are this close to going on strike. https://t.co/1TeprgSjDl

— Sam Sanders (@samsanders) July 13, 2017
Previously: To the people who make NPR (MPR NewsCut)