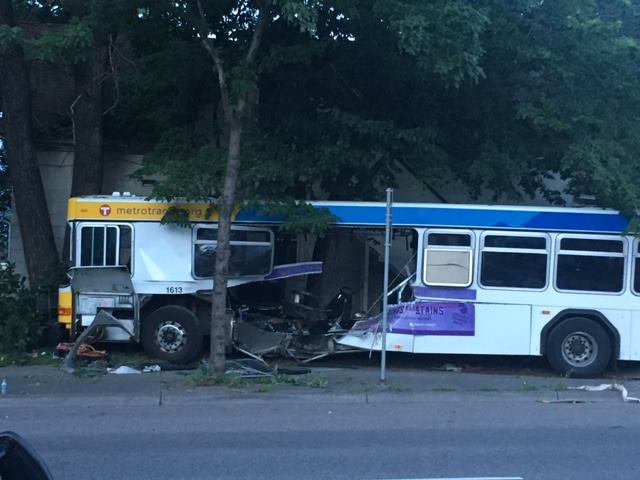 It's likely that we won't truly understand how horrific life with automobiles is until the era of the self-driving vehicle removes it from our culture.
Think about the accidents you pass, or the person who changes lanes and cuts you off without so much as a directional signal, or the effort you have to make at a crosswalk to get across the street, wondering if the person who's approaching is aware of the law requiring him/her to stop for you. Every day.
It's a stress in life that we probably don't even realize is there on an ongoing basis until someone with a history of driving drunk, drives 70 mph down a residential street while trying to flee a crash, jumps a median and slices through a Metro Transit bus, killing a passenger minding his own business.
Friday night's crash in St. Paul got plenty of weekend coverage, as it should have, but it's surprising that the story is already in the psychological rear view mirror.
But not for Bill Lindeke, who points out exactly the right takeaway from the assault at his Twin City Sidewalks blog: we take the violence of automobiles as a given.
So often, the things that are closest to us are the least visible. We rarely notice the scratches on our glasses or the smudges on our windows. The everyday violence of cars, crashing around us, occasionally startles, but we will ourselves to forget.

We ignore reminders — the hubcab sitting on a sidewalk, the police siren in the distance, the small shards of fender plastic scattered in an intersection — all just another part of our everyday lives, something to forget while we speed along on our lives.

Even the deadly crashes glance off our attention spans, another headline in the paper or story on the evening news. All of us have seen a thousand of these by now, and it seems like nothing can change.
The Ramsey County Attorney today charged Tyler Randall Bjelland,26, with one count of criminal vehicular homicide in Friday night's crash.