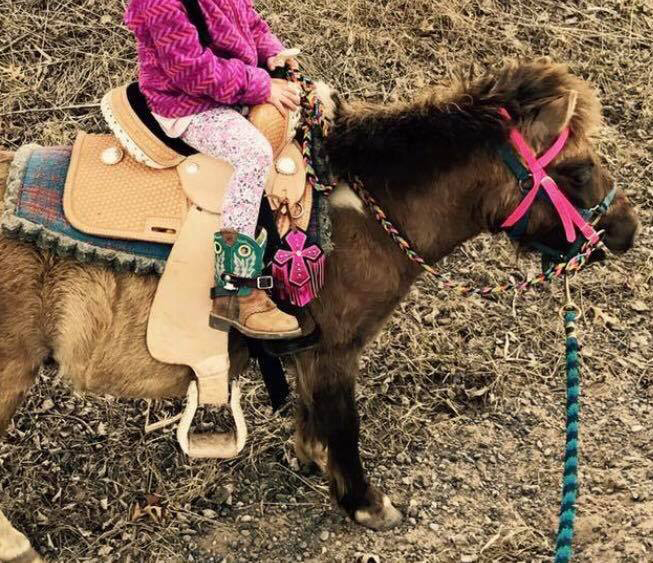 Sadly, there is no shortage of "people are horrible" entrants today, but we've settled on whomever was driving a maroon van in rural Princeton, Minn., a week ago, stopping just long enough to steal a saddle from a 4-year-old girl. It was given to her as a birthday present.
The Princeton Union Times reports young Aikley Veurink was riding her 38-inch pony, Ajax, with her mother Jessi alongside when the saddle, custom made for Ajax, started to slip and she fell off. They were in front of their house.
Her mom, hobbled by a bad foot, couldn't get off her horse to help, so she told her daughter to put the saddle in the tall grass and they'd pick it up later, the paper says.
Aikley was riding Ajax bareback up the driveway when someone in a maroon minivan drove up, took the saddle and all the tack and drove off with it.

"I saw the person hop in the van and drive north," Jessi said. "We tried to flag them down to no avail."

She was unable to get a license plate number off the van.

Jessi, Aleeri and Aikley were heartbroken.

"I'm not sure if this was an intentional theft or if they thought I was giving it away," Jessi said.
But either way, the family wants its saddle back.

After the minivan left the Veurink residence, a search for the saddle commenced.

"We got in my pickup truck and cruised the dirt roads and County Road 6," Jessi said.

"We searched all over. We couldn't see the van. It could be in a garage or 100 miles away," she said.
Ajax, meanwhile, is showing the kind of pluck you'd expect from a 38-inch pony, taking third place in the Isanti County Fair's "dress-your-animal" event. Ajax went as bubble wrap.