There are some photographs you can waste a Friday afternoon staring at.
Here are two. Both from roughly the same moment on Thursday when Rafael Devers of the Boston Red Sox hit a homerun into the seats above the Green Monster in left field at Fenway Park.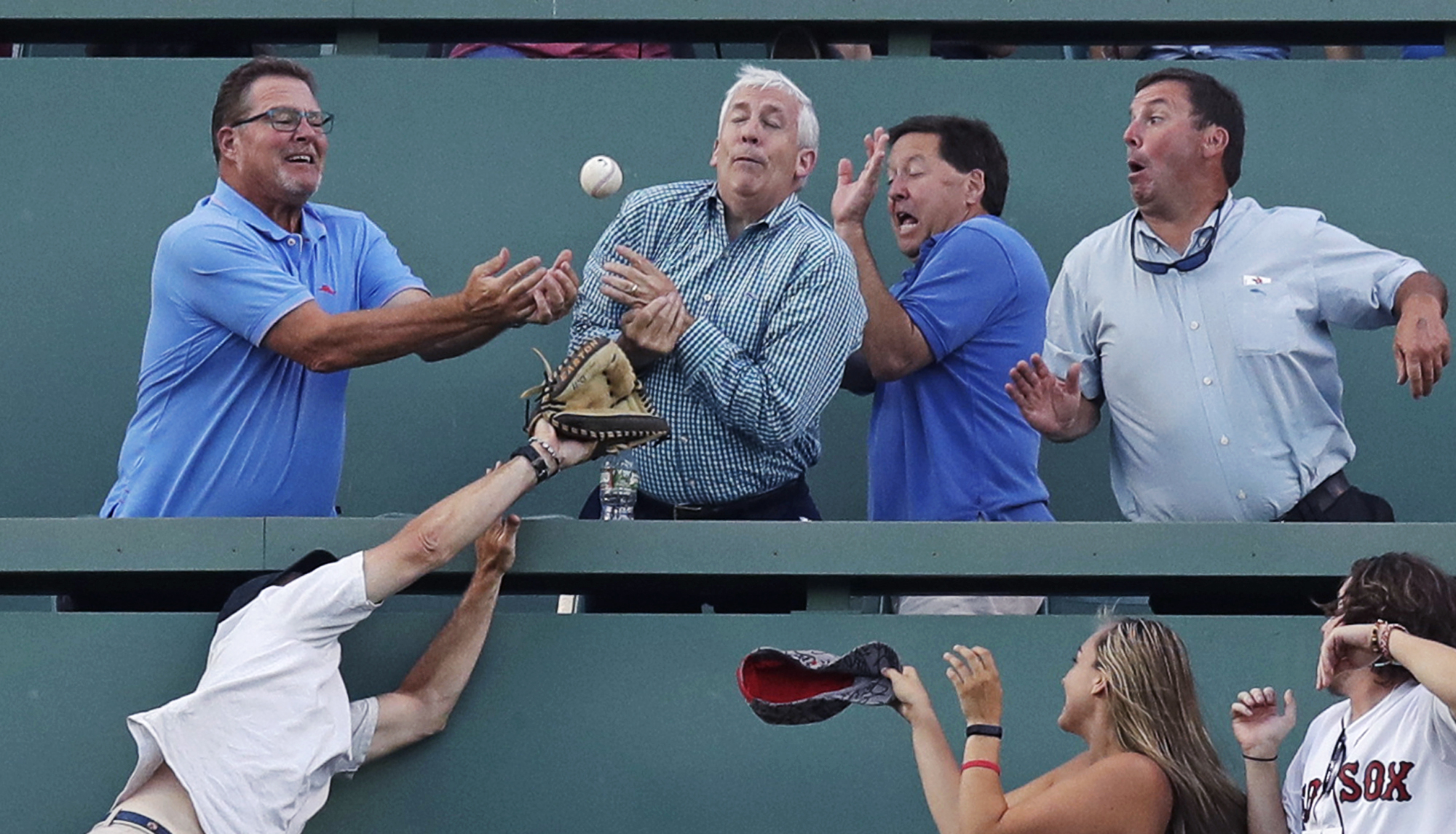 It is tough to catch a ball with your eyes closed.
That's Jim Foley, whose friend, Joe Maiola, of New Hampshire, tells WEEI Radio that he didn't want to mess up Foley's catch, but was ready.
"I didn't want to get in front of [Foley]  because I wanted him to catch it and I was going to be his backup," explained Maiola.
Look closely. Maiola has his eyes closed, too.
To the right of Foley is another friend, David Hale, who now faces a lifelong task of living down this photo.
But the "money shot," described as Norman Rockwellian, came a moment later, taken by Matt Stone of the Boston Herald.
Red Sox notebook: John Farrell maps out a Chris Sale-a-thon against Yankees #MLB https://t.co/aiXRHPGLXT pic.twitter.com/8dfRfzdfoh

— Boston Herald (@bostonherald) August 4, 2017
The ball, fittingly, ended up in the hands of a kid. That's his father with the catcher's glove, either ready for the rebound or warding off evil spirits.
"I knew I was going to get it," Aidan Dill, of New Jersey, told WEEI.
He said he's never caught a ball at a game before.
"What made this photo so different is I kept the frame really wide so you can see the kid with the ball appearing to be almost on top of his head and you can see the expressions on the faces of the other fans. You can see the kid with the glove almost catching it," photographer Stone writes.
"And it's all against a clear, green background. The green helps the eye focus on the expressions and the ball. It's so hard to see the ball sometimes when it's hit into the stands. But in this photo," Stone said, "it pops!"
There are some pieces of advice we're told at a young age that we tend to forget in our later years.
Here's one: "Keep your eye on the ball."
(h/t: Paul Tosto)