Being a photographer is hard work. Just ask Tony Capobianco, a newspaper photographer, who was out of the line of fire for the ceremonial first pitch at Boston's Fenway Park last night. Until he wasn't.
Jordan Leandre, a cancer survivor, was throwing out the first pitch, a notable selection considering the living members of the Red Sox 1967 worst-to-first Impossible Dream season were all candidates. But yesterday was also the annual Jimmy Fund fundraiser, the Red Sox's official charity to raise money for research and treatment of kids with cancer.
No pressure, kid.
Former Jimmy Fund Clinic patient Jordan throws the first pitch to @redsox great Mike Andrews! ⚾️ #KCANCER pic.twitter.com/XlXB16QaI5

— The Jimmy Fund (@TheJimmyFund) August 16, 2017
Alas, it did not go well for Jordan. It went worse for Tony.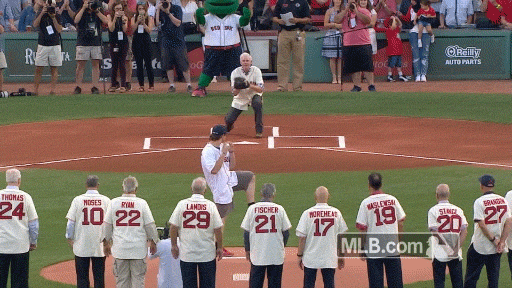 On the other hand, Tony hung in there and got a really good photo.
Feel free to caption this, America pic.twitter.com/ZUXdacFAXV

— Tony Capobianco (@TonyCapobianco) August 17, 2017