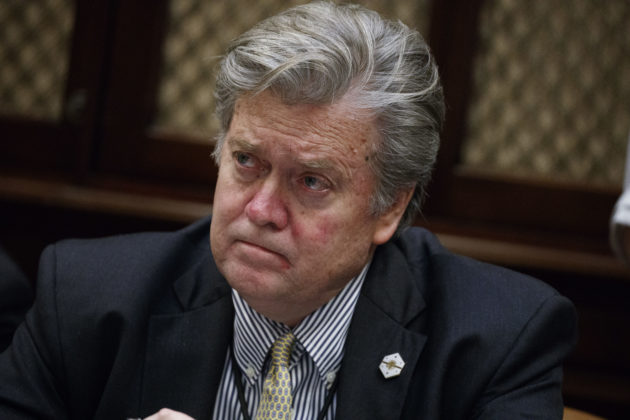 It didn't take Steve Bannon long to reveal his next steps after being ousted from his White House role as President Trump's chief strategist.
Bannon is going back "home" to Breitbart — the highly popular and influential platform for white nationalism and other extreme ideologies under the blanket term "alt-right."
It's tough to understate the influence news media of all kinds played in the 2016 election. Bannon's version of Breitbart led the way on the far right.
He gave an interview to conservative magazine The Weekly Standard on Friday, shortly after media began reporting that he was leaving Trump's administration.
In the piece, Bannon says the Trump presidency his base imagined is over. Bannon is convinced that others advising the president will push Trump from the ultra-conservative agenda on which he campaigned.
Now Bannon says he's ready for a different kind of fight:
"I feel jacked up," he told the Weekly Standard. "Now I'm free. I've got my hands back on my weapons. Someone said, 'it's Bannon the Barbarian.' I am definitely going to crush the opposition. There's no doubt. I built a f***ing machine at Breitbart. And now I'm about to go back, knowing what I know, and we're about to rev that machine up. And rev it up we will do."