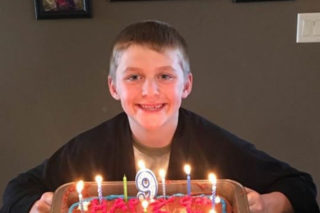 Jon and Taylor Dingwall were "best buds" in life. So it makes perfect sense that Jon would take the opportunity to help his older sister when she was in need.
The Fargo Forum has the story:
Jon Thomas Dingwall died the way he lived – by putting another person's well being before his own.

Jon, 9, was driving a utility vehicle north of Millerville on the afternoon of Thursday, Aug. 17, when it rolled on the slope of a hayfield, pinning his sister, 10-year-old Taylor Dingwall.

Taylor later told Douglas County sheriff's deputies that Jon was able to shift the UTV and free her, but in the process the UTV fell and trapped Jon underneath.
Jon was flown to Hennepin County Medical Center, the newspaper reports, but lifesaving efforts weren't successful.
But doctors were able to take his heart valves for donation, saving two more lives, his grandmother told the Forum.
There is a GoFundMe page collecting donations for a memorial for Jon.