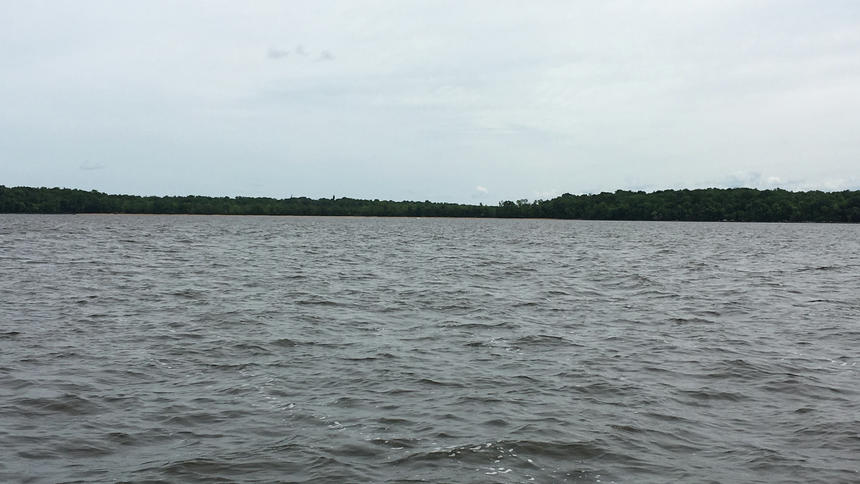 It was a good decision nearly two weeks ago when Bob Brott, 55, of Eden Prairie, and his cousin, Gary Soucie, 58, of Fairfield, Neb., realized their boat was taking on water on Lake of the Woods and the bilge pump was blocked.
They were within a couple miles of Garden Island. The weather was awful, night was approaching, and dry land in the distance must have been inviting.
Instead of trying to swim ashore, they stayed with their sinking boat, they tell the Grand Forks Herald, which published an extensive account of their ordeal today.
They had just enough time to put on their life jackets before the boat capsized. They had no phone. No radio.
Brott and Soucey stayed in the water, waves trying to brush them off their overturned boat. For nearly six hours.
More than once, Brott says, he thought about the three young men who drowned in October 2015 when their boat capsized near Oak Island, several miles north of where he and Soucie now were floating.

"I was very thankful and grateful to God we were with that boat and had lifejackets on," Brott said. "You're thinking of your family, about your loved ones and the people that are close to you."
The waves eventually pushed them onto an island on the Ontario side but they won't say which one. The boat is still there and they don't want anyone to take it.
The next morning charter boats again headed out to the lake but none noticed their fire in the sand, not far from the wolf and bear tracks, Brott says.
He took a walk along the shore, but saw no signs of life other than bear tracks and wolf tracks. He found a pop can to boil water for drinking, but later that day stepped on a hot coal buried in the sand and flinched, spilling boiling water on his left foot.

Dipping his foot in the lake kept the pain in check, but the burn definitely slowed him down, Brott says.

They caught and boiled crayfish to eat, Brott says, along with wild berries and pods of what looked like wild peas.

"So we had a few things to eat," he said. "Not much, but we drank a lot of water."
Another night came and went.
They started building a raft.
Then the Mounties of Thunder Bay showed up.
Onboard were Constable Jeff Prevett and Cpl. Stacy Morton of the Royal Canadian Mounted Police detachment in Thunder Bay, Ont., who were patrolling the Minnesota-Ontario border. It was late afternoon, and they were just about to head back to Kenora, Ont., nearly two hours away by boat, when Prevett saw something on shore more than half a mile away that piqued their curiosity.

A closer look revealed two bedraggled men and an overturned boat.
Lucky?
The two men hadn't even been reported missing. And, besides, the constables weren't on a search-and-rescue mission.
The Mounties wouldn't have noticed them had they not stayed with their boat.
"It's not uncommon for boats in the area to go to shore and have a fire and have lunch, so other boaters going by would just kind of brush it off—other than their boat was upside down," Prevett tells the Herald. "But it was not easy to see."
Lessons learned: Check the bilge pump before the water gets rough. Let someone know your whereabouts and when you plan to return. Wear a lifejacket, Brott says.