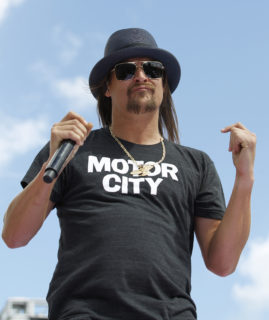 Kid Rock hasn't officially announced his run for U.S. Senate, but a nonprofit is already accusing him of violating federal elections laws.
The watchdog Common Cause says Kid Rock violated the Federal Election Campaign Act for acting as candidate without being registered or complying with finance rules.
Kid Rock, whose legal name is Robert James Ritchie, announced earlier this summer that he was exploring a run to represent Michigan in the U.S. Senate.
Of course, he's better known for blending country, rap and rock as part of a pop music career that steered into ultra-conservative politics (he dined with President Trump, Ted Nugent and Sarah Palin in April). He was once arrested on an assault charge, too.
The complaint also names Kid Rock's label, Warner Bros., for allegedly "facilitating and acting as a conduit for contributions to the Kid Rock campaign."
For his part, Kid Rock implicated "misinformed press and the fake news" and released a statement Friday:
#1 I have still not officially announced my candidacy.

#2 See #1 and go [expletive] yourselves.

Everyone else, Have a great Labor Day (I will be spending mine WORKING in one of the greatest cities in America – Grand Rapids, Michigan!!)