Republicans denied Merrick Garland so much as a hearing for a U.S. Supreme Court opening for which he was fully qualified. They spent years bottling up — and killing — Obama appointees to the federal bench. It was a shameful dereliction of duty.
So it probably felt good for partisans when Sen. Al Franken took a big step toward killing Minnesota Supreme Court Justice David Stras' appointment to the U.S. Court of Appeals for the Eighth Circuit this week.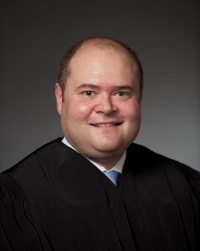 Political payback feels awesome.
Ostensibly, Franken a Democrat, is concerned that Stras will be another Clarence Thomas, for whom he once clerked. But the senator apparently doesn't know something people who know judges know. Even the most liberal Minnesota judges — Alan Page, for one — said Stras, a Tim Pawlenty appointee, would have been a great addition to the federal bench.
But Franken used a Senate rule that requires both senators from a state to give the go-ahead for a Senate Judiciary Committee hearing on a nomination. The other senator, Amy Klobuchar, waited until Franken settled the issue before announcing she favored a hearing for Stras.
Senate Judiciary Committee Chair Charles Grassley, R-Iowa, could still do an end-around the rule to give Stras a hearing, but it would set up a major change in Senate rules that might actually make it easier for ill-qualified people to join the federal bench.
On Friday, the Star Tribune editorial board said Franken's action will assure that there'll be a continuation of the political games the Senate plays with the judiciary.
It also pointed out something that, perhaps, Franken didn't anticipate. President Trump will now likely nominate a judge from another state in the Eighth Circuit that has two senators who won't stand in the way. How's that work for Minnesota?
"By refusing to allow Stras to advance, Franken is succeeding in another, more ignoble way. He is mimicking and hence normalizing the Republicans' treatment of Garland and Gorsuch," the editorial board said, referring to President Trump's Supreme Court pick, Neil Gorsuch. "In so doing, Franken is deepening the infusion of the judicial branch with a corrosive partisan taint, and that is putting public trust in the courts at risk."
"If you are going to denounce how Franken and Klobuchar are blocking Stras without bringing up the Garland case, you are either clueless or intellectually dishonest," MinnPost's Eric Black said on Tuesday, after Franken's announcement.
And he's right; there's plenty of hypocrisy in Republican whining about Franken's move, citing Minnesota U.S. House Rep. Erik Paulsen's amnesia in the congressman's op-ed attacking his fellow politicians for blocking Stras' nomination.
But what's intellectually dishonest is complaining about Stras' judicial philosophy without citing a single opinion of his from the Minnesota bench as examples of the kind of thinking they don't want. Many of those, by the way, included support from the likes of former Justice Page.
The partisans applauding Franken's move? Ask them to name one. How about his dissent to a Minnesota Supreme Court ruling that police don't need a warrant to force you to take a breath test?
That one put Stras on the side of the ACLU. It also pitted him against Justice Thomas when the case went to the U.S. Supreme Court, by the way.
That's the sort of thing a Senate hearing can uncover, just as Franken did in the Gorsuch Supreme Court nomination hearing. The senator is as skilled an examiner of judicial nominees as the Senate has ever seen.
But Franken's move can easily backfire.
The Eighth Circuit will likely now get an even more conservative jurist than Stras if President Donald Trump responds with a tantrum over Franken's move. Meanwhile, Stras will still be influencing the lives of Minnesotans from his position on the Minnesota Supreme Court. And partisans will have their measure of revenge and payback, believing the long-term impact is worth the short-term satisfaction.