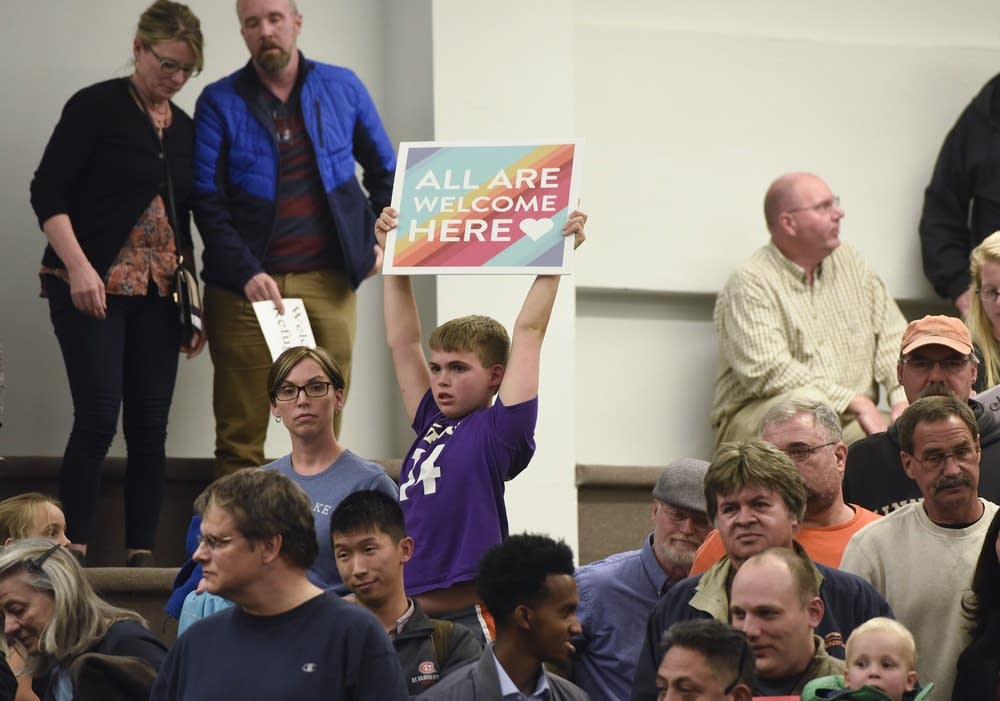 Are you a welcoming community just because you say you are?
St. Cloud, Minn., officials and residents have had to wrestle with itself and its conscience since a member of the City Council proposed a ban on refugees a couple of weeks ago.
Jeff Johnson's suggestion is largely symbolic and that's the problem; even if it fails — it would if it ever came to a vote — it stands as a statement of St. Cloud, the wretched comments on Facebook and social media stand as testament to that.
Nonetheless, the council did what it could this week, passing a resolution "in support of a just and welcoming community," MPR News reports. Johnson was the lone dissenting vote.
"I think it's important to show people this one guy bringing forward a resolution is not the voice of the City Council or the voice of the people of our community," City Council member Jeff Goerger said prior to the meeting. "The mayor has been asking for the council to take some action. I feel it was my place to put my thoughts on paper and bring it forward."
The meeting was packed with people in support of Goerger — or opposition to Johnson.
"The main thing is to dispel the impression that St. Cloud is not welcoming and that St. Cloud is being hurt by the change in demographics," said Goerger.
Is that possible or can one city official and a band of anonymous commenters reveal a another story? Goerger said his email ran 20-to-1 against Johnson's proposal, the St. Cloud Times said.
St. Cloud officials have put a lot of work into trying to unite a city undergoing demographic change. Johnson proved how quickly and easily it can be undermined.
It also forces us to examine the question: what does it mean to say "welcome" in Minnesota?
Meanwhile, in Groton, Mass., not far from the spot at which the first shots of the Revolution were fired, all will continue to be welcomed — at least officially.
The Boston Globe says a series of boulders were placed around town, each engraved with the message "all are welcome here."
It seemed like a positive and harmless idea that the town meeting passed in the spring, but many people in town, apparently, wanted to welcome people, but not all people.
"We do not want someone to read this and think this town has a political agenda," one resident opposing the inscription said at a selectman's meeting on Monday night.
That's America in 2017, where welcoming all people is a political agenda.
Related: Majority Of White Americans Say They Believe Whites Face Discrimination (NPR)