This buck, a 10-pointer, was shot on Sunday in Lanesboro, Minn.
For about a year now, the deer has been seen on trail cameras and people noticed the red tags but didn't know what they said.
Now they do.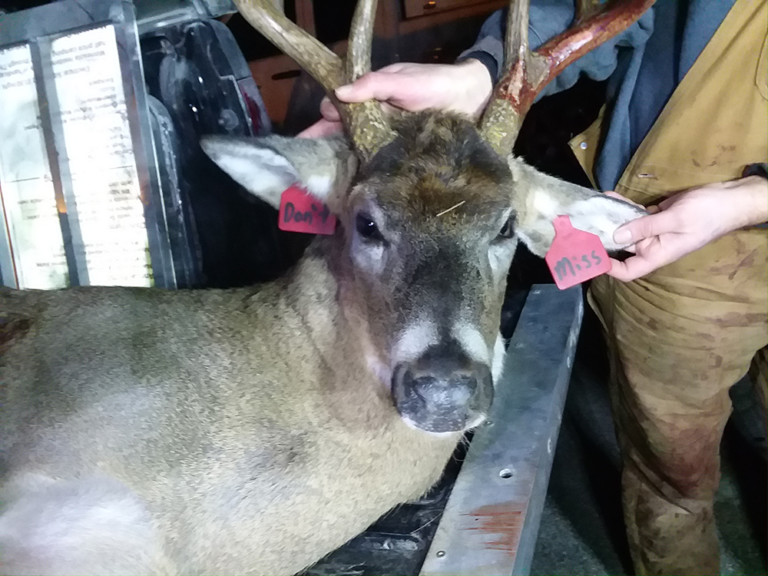 "We have no idea where this deer came from," DNR Wildlife Research Manager Lou Cornicelli tells Outdoor News. "This is the first deer that I've ever seen tagged like this before."
It's illegal to possess a wild deer, even for a short time. And it's illegal to release a domesticated deer into the wild.
Rushford-area Conservation Officer Mitch Boyum took the call, Cornicelli said, and local hunters were aware of the buck thanks to the trail cam activity. Many knew to shoot it if the opportunity presented itself.

"We want all ear-tagged deer on the wild landscape dead because they present a disease risk in a variety of ways," Cornicelli said. "CWD is associated with captive deer farms, so if a deer is outside a fence, that's a risk. Just like dumping carcasses, these are all risk factors we're trying to eliminate."

At first glance, the tags might prompt a chuckle, but Cornicelli (and this scribe) don't find it amusing, especially given that the buck was shot in the heart of the state's CWD zone.

"I don't understand the point of this. It's not funny at all," Cornicelli said. "This is a serious issue. We're spending a lot of money to try and keep the deer herd healthy in the state. I'm not sure what kind of person would find humor in this.

"It's very concerning – doubly so that it's in the CWD core area," he said. "We're hoping somebody knows something."
Anyone with information is asked to call the Minnesota Turn in Poachers (TIP) line at 1-800-652-9093.
(h/t: Julia Schrenkler)