A dust-up from Republican operatives on Twitter yesterday was a perfect example of the ingrained cultural patriarchy. Three media outlets were allowed to interview Sen. Al Franken yesterday in separate interviews and all three reporters were women.
This did not sit well with Brian McClung, a former Gov. Tim Pawlenty flack, who knows how to spin with the best of them, and claimed confusion about why political beat reporters didn't get the task — in this case: Pat Kessler at WCCO and Brian Bakst at MPR.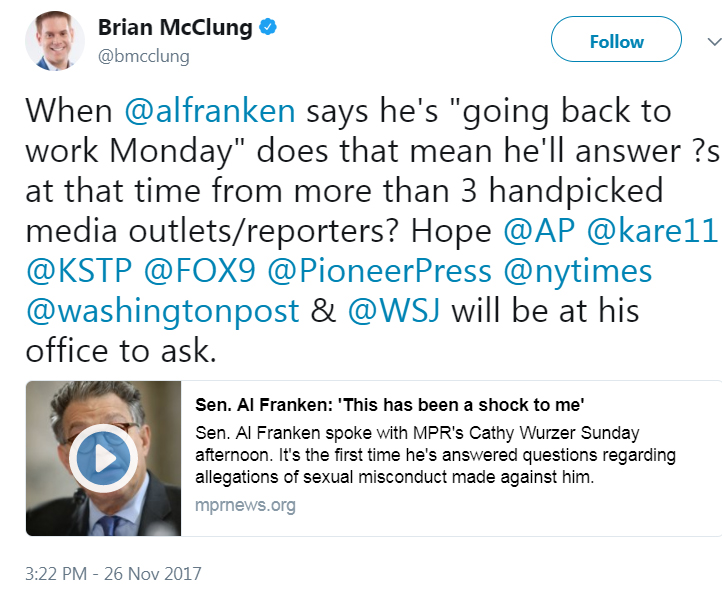 "Handpicked" is a loaded term that implies Franken chose reporters who would go soft on him, a serious allegation despite McClung's denial of intent. There was an easy way to get an answer to the question of how the interviews came to be: Pick up the phone and ask.
McClung chose to light a social media fuse instead.

McClung, whose rhetorical questions were amplified by Michael Brodkorb, was wrong, as WCCO and MPR pointed out.
MPR News asked Sen. Franken's office for an interview. MPR News chose who did the interview. MPR News chose the questions to ask.

— Mike Mulcahy (@MPRsMikeMulcahy) November 26, 2017
To be clear: @esmemurphy repeatedly asked to interview @SenFranken — The Senator finally agreed. | https://t.co/9cnDjy9kea https://t.co/jOiP1M0MTv

— WCCO – CBS Minnesota (@WCCO) November 27, 2017
Right. You got me David. And I never implied someone was not up to the task. Having booked many interviews, cannot remember a time when we chose only 3 outlets and may have weighed in on who did interview. https://t.co/MQDTLdX4fY

— Brian McClung (@bmcclung) November 26, 2017
Against the backdrop of a news story about sexual misconduct, the innuendo was clear: the women were a lesser choice for an important interview.
This, of course, is utter nonsense. Cathy Wurzer at MPR News and Esme Murphy at WCCO are two senior journalists in Minnesota, have extensive experience in political reporting. Their organizations' selections to do the interviews were neither unusual nor indefensible, a fact that anyone in the business or who deals with media organizations knows.
Neither reporter has to defend their credentials to anybody. But there they were yesterday, defending themselves to a couple of men who thought they knew better. (Note: Former media reporter David Brauer wasn't participating in the innuendo but was challenging McClung and Brodkorb)
Wow – on a major story on Sex harassment my qualifications and @CathyWurzer qualifications are being thrown under the bus by @mbrodkorb @DavidBrauer @brianmclung – could you please look at@my story which will air at about 10:30pm ? https://t.co/pA4pVMvn3k

— esme murphy (@esmemurphy) November 27, 2017
Profoundly concerned by level of sexism In our society and on social media – welcome the challenge to my credentials and journalism chops @davidbrauer @mbrodkorb @brianmclung I welcome your unvarnished reviews of my story tonight – stand by my journalistic integrity

— esme murphy (@esmemurphy) November 27, 2017
Why would there be a problem with @esmemurphy? She's terrific and has often had the Senator on her Sunday show! https://t.co/O3fqIpSsvc

— Cathy Wurzer (@CathyWurzer) November 26, 2017
What's the matter with you people??!! @esmemurphy is a tough, aggressive journalist and she's got a decades-long track record to prove it.

— Patrick Kessler (@PatKessler) November 27, 2017
The one-and-only Kessler says: hold my beer. Comments about the incredible @esmemurphy reflect ONLY on the sad little person who tweeted them from their hovel. I'd trust Esme to interview anyone, anyway, anytime. https://t.co/CgCR4NezpH

— Mike Augustyniak (@MikeAugustyniak) November 27, 2017
That's bs. @esmemurphy and @CathyWurzer are Capitol J journalists. It's not the worst idea to have women as the damn questions on this story. Pat and Brian are incredible and have done fine work. But come on. Why? Women know the questions better. As they live it. On this. https://t.co/HUXOTCVJGU

— janashortal (@janashortal) November 27, 2017
At this point you are just being purposely obtuse. You've been told repeatedly by multiple people that is not what occurred. They did not call WCCO and request Esme. Esme had been requesting him repeatedly, he finally said yes. If you dont understand the difference, I cant help u https://t.co/ACZUsSg4eY

— David McCoy (@DavidMcCoyWCCO) November 27, 2017
None of the journalists deserved the not-well-veiled allegations and delegitimizing, while Sen. Al Franken certainly deserves criticism for not holding a full news conference, as the media outlets left out made clear. [Update: Franken will meet with reporters outside his Washington office this afternoon]
Sen. Al Franken's apologies continue on the TV, radio and newspaper platforms he hand-picked to speak to first. This in his first round of interviews since several sexual misconduct allegations surfaced against him. More on his hopes to regain Minnesota's trust @FOX9 at 9 & 10. pic.twitter.com/u3dyGqqTTw

— Iris Pérez (@IrisPerezFOX9) November 27, 2017
It's entirely possible to have no problem with the news outlets/reporters who are given an interview but be troubled by a politician handpicking which outlets or reporters get access.

— Kyle Potter (@kpottermn) November 27, 2017
The Republican operatives' fight is between their party and Franken. But they decided that the reputations of journalists — female journalists in this case — was acceptable collateral damage in their ongoing war.
It's a bad look for the guys.