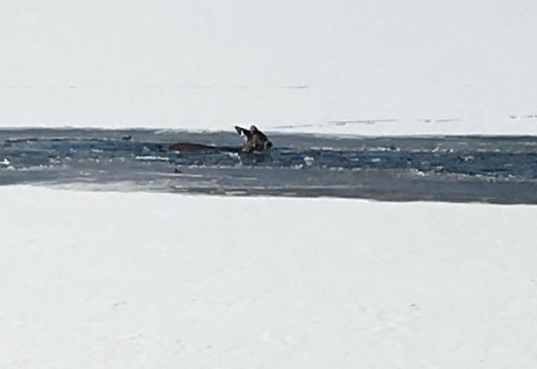 Without someone to give a rip, this buck, stuck in the Gull River would be a goner.
That's where Eric Sullivan, a DNR conservation officer, comes in, the Brainerd Dispatch says.
River resident Ione Soyett noticed a buck and deer had fallen through thin ice about 8:30 yesterday morning and by the time she was able to find someone to help, almost three hours had passed. Time was runing out for Sullivan, the Dispatch says.
Responding to the call of a deer in distress, Sullivan had additional struggles with a boat motor that was overheating because of a frozen cooling system. Sullivan, who served for nine years as a Baxter Police officer, has been with the DNR for less than three years. He estimated 200 yards of ice stood between the open water and the deer. About an inch-and-a-half of ice already formed on the river with pockets of open water. Sullivan was able to negotiate through the mixture to reach the deer, a spike buck weighing an estimated 150 pounds. By this time, the young buck had been struggling in the water about three hours at least.

From their vantage point in the Gull River home, the Soyetts continued to watch and hope.

"I kept thinking c'mon deer, you can hang on," Ione Soyett said.

Sullivan was able to get a strap around the buck's shoulders and guide the deer to his boat. He lifted the deer inside the boat. Ice clung to the young deer's eyelashes, ears and neck. The deer looked dazed and confused.

Sullivan moved the deer to safer ice, but the buck didn't move. So Sullivan again plucked the deer from the ice and into his boat to head for shore where he met Mike Lee, the DNR regional training officer. Together they took the buck to the Garrison Animal Hospital and its Wild and Free Wildlife Rehabilitation Program.
By the time it was taken to the vet, its temperature was too low to register.
But by yesterday afternoon, it was perking up.
Why bother helping deer in the middle of hunting season?
Sullivan said people get into work with natural resources because of a passion for wildlife and a passion to do their part, no matter what it is.

To watch a cherished animal struggle and potentially die on the ice without anyone trying to do something to save it is tough, he said. And to save one when they have the time and resources is a good outcome.