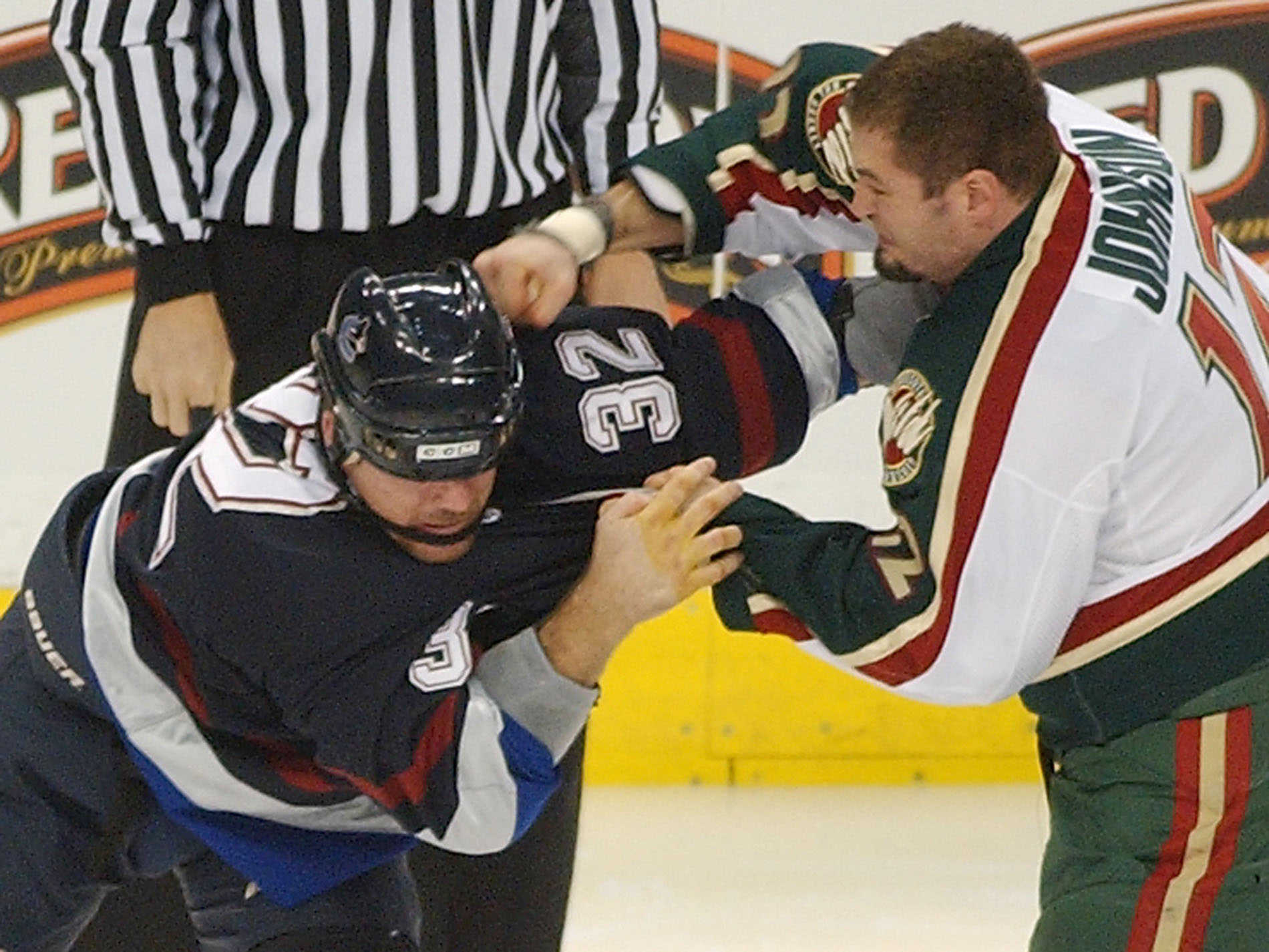 Life is not kind to the enforcers who play hockey. The story of former Minnesota Wild player Derek Boogaard has been well documented and mostly ignored in a league that doesn't get anywhere near the attention for what it does to its athletes that the NFL gets and deserves.
The story of former Minnesota Wild enforcer Matt Johnson, who played for the team for four years, is as gut wrenching. He was named captain of the Wild in 2002.
But Johnson's claim to fame was he was the enforcer the Los Angeles Kings used to protect superstar Wayne Gretzky.
He has fallen into "a dark place," his mother tells TSN, the Canadian sports network. He's addicted. She and her husband haven't seen him in a decade. They hear he's homeless in Santa Monica, Calif. The $6 million he made playing in the NHL is gone.
Without the rush of playing professional hockey, his mental health declined and his battle with alcohol and substance abuse got more furious, his parents said. They wonder whether the more than 100 fights he got into during his NHL career is behind a lot of this.
"The public doesn't want to hear it, really, seriously,
his dad, Lee, tells TSN. "They have an idea that their sports heroes are their sports heroes and that's it. They want to remember the high times, not the low times. Nobody wants to remember the low times. Only the people who live with it."
They're telling his story even if you don't want to hear it.
"Why am I talking about this?" his mother, Brenda, asks. "It can't get much worse than when you know your son is in such a desperate situation and you can't do much about it. And I know we are not alone. There are other families out there like ours."
Their story and complaint about the NHL mirrors the story of Derek Boogaard.
"Something I'm not happy with is all of the pain relief medication he was given by NHL teams," Brenda said. "When we got him in a rehab facility in Guelph after his career ended, the facility was given a list of drugs that Matt had received in the NHL. The rehab people were like, 'Wow.' They felt he was getting too much and not the right prescription."
"The fact is he played injured, and even when he was injured he went out there for five minutes just to fight. I don't know if that's right. But he was brainwashed. He was like, 'That's what I get paid for.' To me, that's questionable."
There's a scandal here that nobody wants to touch.
"Matty would go to the bathroom [and swap dirty urine for clean urine] and the agent and me would sit on the couch together and watch TV and wait for him," said a former player, who refused to be identified because he still works in the NHL.
Johnson's family says the Wild's team doctor kept Matt medicated so that he could play with back problems.
The doctor wouldn't talk to TSN. Neither would Gretzky. Neither did Johnson's coach in Minnesota, Jacques Lemaire.
"I just want to know he's okay. I want him to come home," his mother says.
She sent Christmas and birthday cards to him. They come back marked "return to sender."
She recognizes his handwriting.
"I know the business of hockey and I've watched this problem of opioids in hockey grow," Scott Bye, Johnson's former agent, tells TSN. "Tell this story. It needs to be told… I see a lot of the stuff that happens after guys are done playing. Nobody else does. Nobody else knows.
"Unless you're Wayne Gretzky or one of the top players in the league, you get lost. Nobody follows these guys that closely anymore. But I'm still there. I hear all this stuff that's going on. I see it."