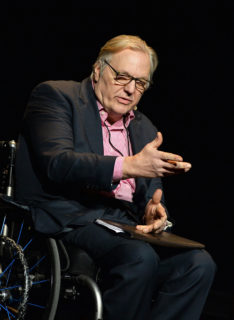 The boss of The Takeaway broke her silence today, answering allegations that she and members of WNYC, which owns the public radio program, did not respond to sexual and racial harassment allegations against former host John Hockenberry.
Laura Walker, the president and CEO of New York Public Radio, spoke to a talk show host on her station today, a day after Suki Kim, an occasional guest on The Takeaway, gave a blistering interview on The Takeaway on Monday that left little doubt that she thinks the management looked the other way on matters of Hockenberry's behavior.
Other women came forward to say their careers were "sabotaged" by Hockenberry, but refused The Takeaway's request for an interview because they wanted to hear management speak first.
Today, Walker spoke, but didn't say much.
Host Brian Lehrer asked Walker why she's refused to speak about the situation up to now.
"I'm here now," she said.
Hockenberry left the show over the summer when his contract wasn't renewed. Walker rejected the claim that he was fired because of his sexual harassment and bullying, while appearing to confirm that she knew about some of the allegations.
"There's a lot I can't discuss with regard to specifications and actions I took. It's a confidential personnel matter. It's not for a lack of desire for you to know the facts. We do not disclose employment information, and to protect people who share their stories," she said.
"We did not renew John's contract; that was a decision made by both PRI and New York Public Radio. I can tell you that John was not fired for sexual misconduct. His conduct was not renewed for a variety of reasons and I'm not going to get into them specifically."
But her next comment only adds to the confusion about The Takeaway's management actions.
"I will say that I knew about many… some … of the behavior. I was made aware of Suki Kim's complaint and after consulting with PRI, our partner, we took action."
What action, Lehrer asked.
"We decided not to renew John's contract for a variety of reasons including how people felt. He was not terminated for sexual misconduct."
"I learned about some of the kissing behavior in the (Kim's) NY Magazine article and the WNYC article. The behavior should not be tolerated and it won't be tolerated. We need to do better. I deeply regret our culture and protocols did not work the way they should."
It's not as if Lehrer didn't try to find out more.
Q: "Did John get a settlement or severance?"

A: "I cannot discuss any employment matters of that nature."

Q: "You don't think you owe it to our listener members?"

A: "I cannot disclose that information."

Q: "Has the station paid money to accusers?"

A: "I cannot talk about that. None of this means 'yes' or 'no.'

"Most people who bring complaints to our attention do not want to be known. It's a tricky matter. You need to protect the confidentiality of the person being accused. You're always in a conundrum.

"Every single complaint that we got, we did an investigation and we took action. Not every action is apparent."

Q: "Why was John allowed to leave with public praise?"

A: "We did not renew his contract. He was not fired for sexual misconduct."

Q: "Despite what you knew about the allegations?"

A: "I did not know about a lot of those allegations."

Q: "If you confirm John said those things, why wasn't it a firing offense?"

A: "I can't comment on what action was taken, but it was taken.

"I apologize to the women who came forward. I apologize that our protocols were not there and our policies were not there."
By the way, I indicated erroneously on today's "What's On?" post that WNYC management would appear on The Takeaway today to respond to Kim. It was, actually Lehrer's show, which is only heard in New York.
"We again invited WNYC President and CEO Laura Walker on the program today, as well as Dean Cappello, WNYC's chief content officer, who oversaw many elements of The Takeaway for a long time. They both declined," The Takeaway said.