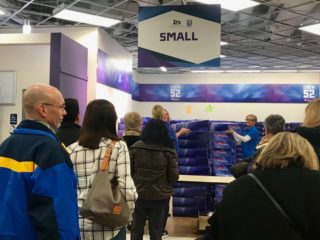 Laura McCallum, MPR's managing editor for daily news, is one of the 10,000 people volunteering to greet visitors during Super Bowl week this winter. She'll be documenting her experience periodically on NewsCut. Check out part 1 here.
I'm officially trained in for my Crew 52 assignment. And it is (drumroll) … at volunteer headquarters, where it will be a climate-controlled 72 degrees. That was my first choice, and I'll admit, I'm pretty relieved. I do have some experience with managing chaos, so I'm sure the Crew 52 coordinators recognized that.
My potential duties include checking in some of the 10,000 volunteers, handing out uniforms, scheduling and helping serve meals to volunteers. Since the hardier souls will do their shifts outside, we'll have plenty of soup and hot chocolate to warm them up afterwards.
The Bold North Zip Line folks (yes, there will be a zipline over the Mississippi River that MPR News' Mike Edgerly plans to ride with a GoPro camera) will also work out of Crew 52 headquarters on Nicollet Mall. We might end up helping them too, as they check in the more than 4,000 people who've already bought tickets. The zipline is apparently "wildly popular" and they're adding an extra pre-sale on Wednesday. Edge is braver than me, if he doesn't chicken out (his words, not mine).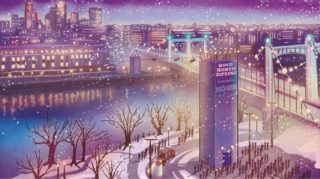 The volunteer who kicked off the training told us that when it was over, we'd each pick up a box with our Crew 52 gear, including parka and beanie.  He then made it very clear that once we got our box, we needed to immediately exit headquarters. No sticking around to make sure everything was in the box, no exchanging sizes with other volunteers until you've left the training. Get your box and go.
Since I first heard about the call for Super Bowl volunteers, I wondered how much of the training would focus on the potential for terrorist attacks and sex trafficking. There was nothing in my training about sex trafficking, although it's possible the volunteers stationed at hotels get info on what to watch for.  We did watch a video on safety from the Counter Terrorism Education Learning Lab, narrated by Jessica Kensky & Patrick Downes, a married couple who both lost legs during the Boston Marathon bombing. They had tips about the kind of suspicious behavior that should raise red flags, like surveillance photography, packages deliberately left behind and drones (no drones are allowed in the Super Bowl zone).
Other very important rules from the training:
Only wear your Crew 52 uniform when you're volunteering. If you wear it to Super Bowl Live on Nicollet Mall, people might think you're working and ask you all sorts of questions. Definitely don't wear it to the bar.
Do not take pics with your credentials (which we'll get at the beginning of our first shift) and post them on social media. People might try to replicate them.
Wear at least one item from your uniform every volunteer shift. I won't need that parka at headquarters, but I can always wear the polo or that cool scarf.
Wear your credentials to your shift, or you'll be sent home.
Last but not least, pick up your box of Crew 52 swag and exit the premises.
And we all did, stopping outside headquarters to check out our new gear.
Bonus: Laura McCallum's dog, Mia, in the aforementioned cool scarf