Madeline Price really stirred things up a couple of years ago on the campus of the University of Queensland to educate people about Australia's pay disparity.
She held a bake sale and charged men more. Why not? They make more.
She made her point, she writes today in this month's McLean's. Then she woke up to death threats.
The tendency now will be to blame social media for the overreaction, but perhaps it's something more.
But here's what she learned: "It is easy to create a stir, and to ignite the flame of misogyny within the souls of online trolls. It is a lot harder to create social change," she writes.
The pay gap hasn't changed, even with the international uproar of a bake sale, and it gets worse as women get older, she says.
Following the bake sale, I was contacted by a number of organizations and local political leaders asking me to host "another bake sale" to draw attention to their issue of social justice, from same-sex marriage, to climate change, to reproductive rights. To all of these I said no: the conversation about pay inequality had been started with this bake sale and the focus should be turned towards making it a reality—through the political space (with the Workplace Gender Equality Agency raising the profile of companies with unequal employment practices), the educational space (with my organization, the One Woman Project, delivering in-school workshops on barriers to leadership and employment equality in Australia) and through the social space (with high-profile leaders revealing the disparities in their industry).

In 2017, we saw these conversation starters rise again: sexual assault and harassment globally was brought to light with the #MeToo social media movement; more women in positions of power were brought into the political space; violence against women has become a talking point for national leaders across the globe.

And these conversations are starting to turn into offline, grassroots action. The #TimesUp movement has established a fund for women survivors of sexual assault. An estimated 5 million people in 673 Women's Marches from all seven continents rallied in 2017. There will be more than 400 Black women running for office in the United States in 2018, inspired—or perhaps infuriated—by the fact that a mere three per cent of Congress identifies as a Black woman, or that only seven per cent identifies as a woman of colour. And every day, organizations are working to create social change on a local, national and international scale.
So, maybe her protest actually did work. Maybe the trolls didn't win.
By the way, this month's Maclean's (the issue is all about the pay gap) has two different prices: one for men, one for women.
Hold for the death threats, Maclean's.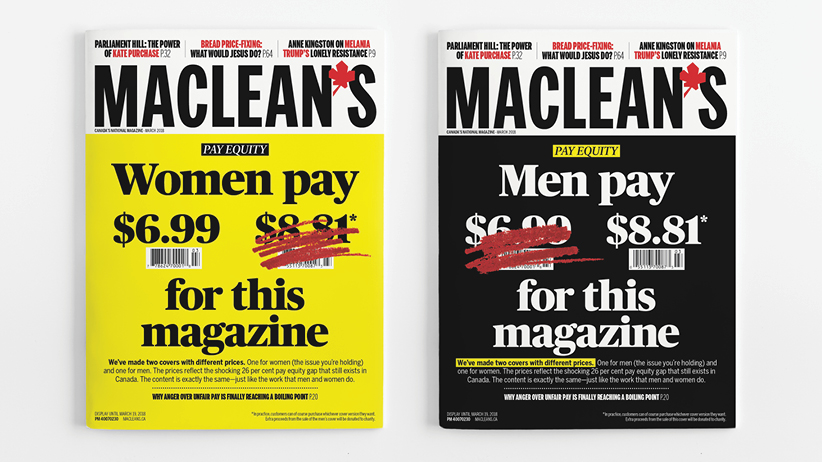 In the unknowable years that sit between the wage inequity of now and the moment that young woman enters the workforce, quite possibly the fiscal roots of the power imbalance will have finally been shaken. Can she hope to earn the same wage as the man sitting one desk over?

She will deserve nothing less.
Related: Why do men make more money than women? (Maclean's)
Why your justification for the pay gap is bunk (Maclean's)