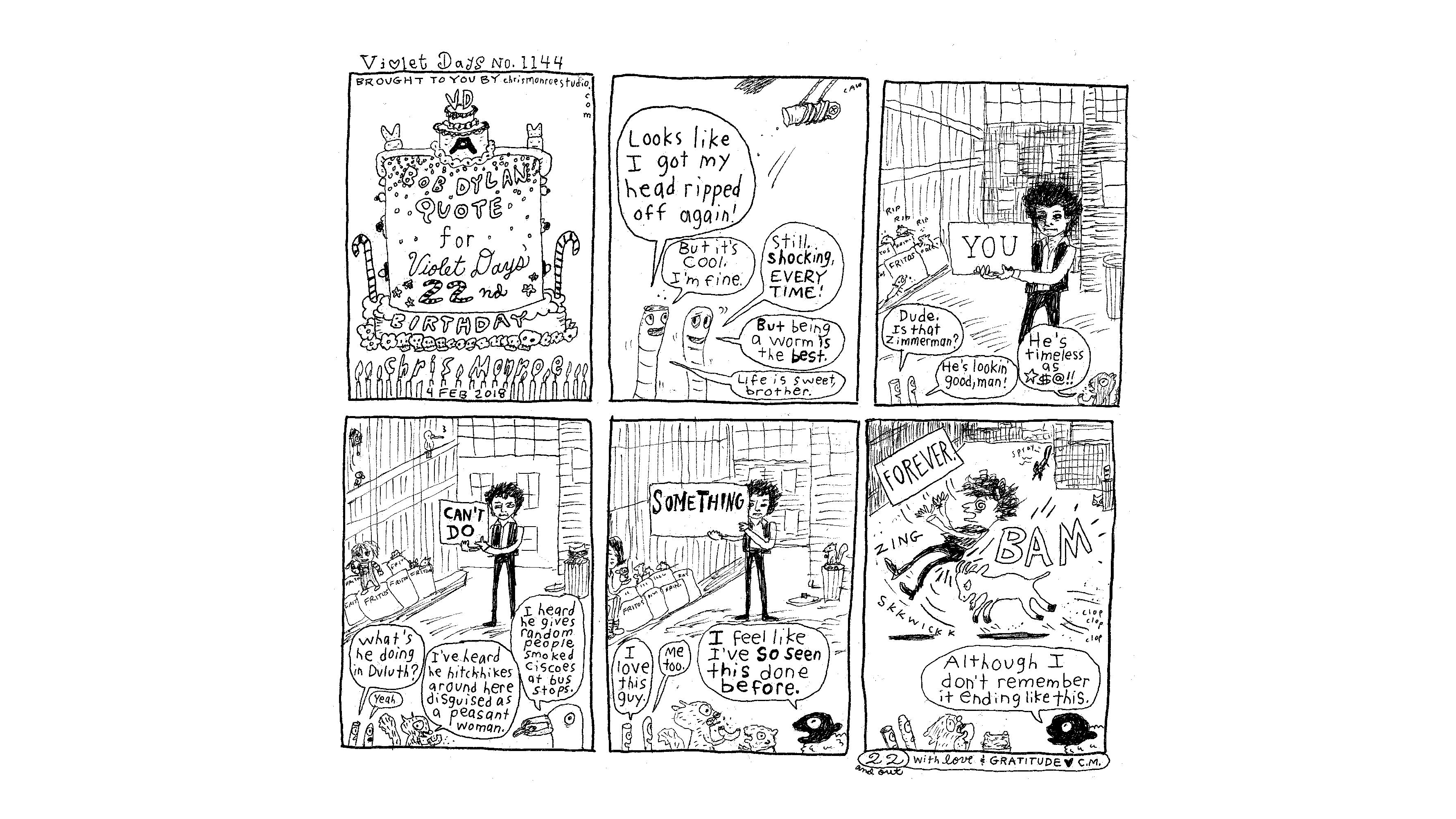 Violet Days is done.
For the last 15 years or so, the comic, a commentary on life in Minnesota, has run in the Star Tribune and Duluth News Tribune, but cartoonist Chris Monroe, a Duluth native, says she's finished.
"I've done it for so long — it's defined my life for so many years," Monroe tells the News Tribune. The final strip (above) ran yesterday, the 22nd anniversary of when it first appeared in the Twin Cities Reader.
She laughs at her own comics, Monroe admitted. She strives for honesty and realness, and she's tried to avoid politics and over-sentimentality.

"Some people just say, 'I just don't get it,'" according to Monroe's mother, Nancy Spellerberg, who lives in Duluth. "Then I try to explain, 'You don't have to get it. It just is. Either you enjoy it or you don't.'"

Spellerberg is among Monroe's family members and friends whose likenesses have appeared in print. Or not-so likeness. In one of her early strips, the artist depicted her mother slathered in cold cream, hair wrapped in rollers, calling to correct Monroe's version of her in a previous comic.

One of Spellerberg's favorites was a story about parents in Colorado who snatched up all the eggs at an Easter egg hunt. Spellerberg has saved the final panel of strip that ends with a poem that ends with the line: "It's better to have no eggs than a nut job for a mom."
"We have an odd sense of humor in our family," her mom says.
It never made much money for her, Monroe says, but she appreciates that people read it.
In a 2011 profile, the Star Tribune compared the comic to Rocky & Bullwinkle cartoons, which made children laugh, but made adults laugh harder.
Maybe it'll be back someday. She's calling the end "a hiatus."
Related: Chris Monroe, goddess of the North (Daughter Number Three)