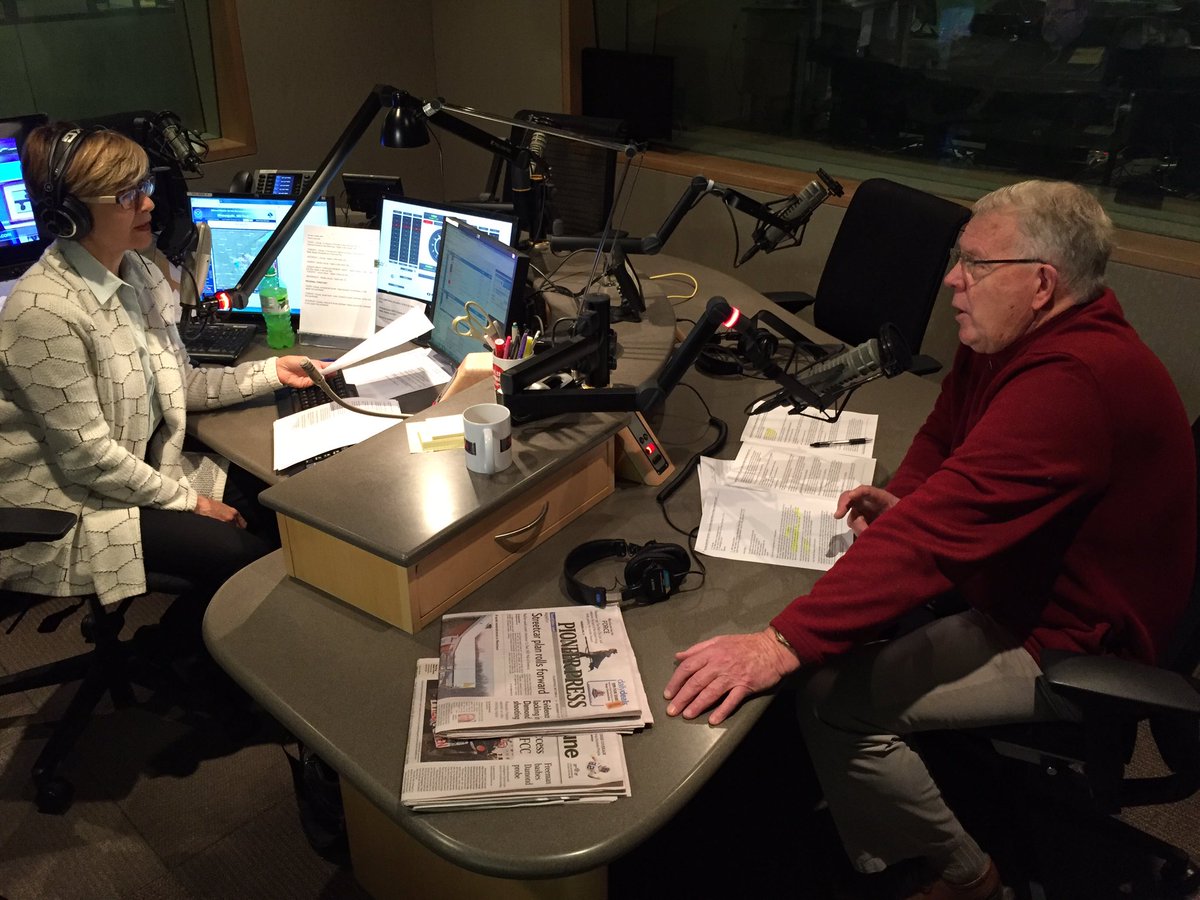 Friday, Feb. 9, 2018
(Subject to change as events dictate. Expect numerous pledge drive breaks )
Until 9 a.m. – Morning Edition
Previewing the St. Paul teachers strike; Homeland: the show vs. reality; the view from the ground in Syria; an immigration crackdown in Atlanta; Jeff Sessions at one year.
9 a.m. – MPR News with Kerri Miller
The power of live performances.
Guests: Brother Ali, a hip hop artist and activist; John Munson, a bassist and songwriter.He's best known for his work with Semisonic, Trip Shakespeare and The New Standards; Cameron Kinghorn, leader of the funk ensemble Nooky Jones.
10 a.m.- 1A with Joshua Johnson
A rollercoaster week for the stock market, reuseable rockets and concern over a possible parade. The Friday News Round Up.
Guests: Ayesha Rascoe White House correspondent for Reuters; Salena Zito. Selena is based in Pittsburgh and is a reporter for the Washington Examiner, a contributor for CNN and columnist for the New York Post; Greg Ip, chief economics commentator at The Wall Street Journal. Greg is the author of "Foolproof: Why Safety Can Be Dangerous and How Danger Makes Us Safe"
11 a.m. – 1A with Joshua Johnson
The global Friday news roundup. In South Africa they've started calling it Zexit. When will the country's controversial president Jacob Zuma step down? Elsewhere, the influential sister of North Korean leader Kim Jong-un, steps up. And pressure mounts to save thousands under siege in Syria.
12 p.m. – MPR News Presents
Neuroscientist Matthew Walker speaks about why sleep matters to your brain, your body, your health and your life. He's the author of "Why We Sleep: Unlocking the Power of Sleep and Dreams." Matt Walker says sleep deprivation is making us sick, making us fat, and making us dumb.
1 p.m. – Science Friday
What can scientists learn from Mary Shelley's "Frankenstein"? The SciFri Book Club gathers 'round to talk about ethics, creating monsters, and the perils of modern Victor Frankensteins. Plus: a peek inside the ozone layer
2 p.m. – BBC NewsHour
A chilly start to the Winter Olympics in South Korea, but with North Korean officials there, will the politics be any warmer? Also the two British men captured in Syria and accused of being part of a notorious ISIS execution cell. And for the first time, researchers have grown human eggs in the laboratory.
3 p.m. – All Things Considered
The terror of Olympic downhill; a crime victim visa backlog; in the aftermath of a mass shooting; why printers fail.
7 p.m. – The World
Figure skater Kristi Yamaguchi on going for the gold in 1992, and what that victory would come to mean to other Asian Americans.
8 p.m. – Fresh Air
We remember actor John Mahoney. He died Sunday at the age of 77. He's best known for his role as Martin Crane on the long running sitcom "Frasier." He played the ex-cop father of sons Fraiser and Niles Crane played by Kelsey Grammer and David Hyde Pierce. Mahoney was born and raised in Britain but moved to the U.S. as a young man, joined the Army, and worked to get rid of his accent. He was 37 when he took up acting and soon joined Chicago's Steppenwolf Theater, working with them thru out his career. His film roles include "Tin Men," "Eight Men Out," "Moonstruck," "Say Anything" the Coen Brother's films "Barton Fink" and "The Hudsucker Proxy." More recently he could be seen in the HBO drama series "In Treatment" and in the comedy "Hot in Cleveland." (Rebroadcast from May 15, 1990)