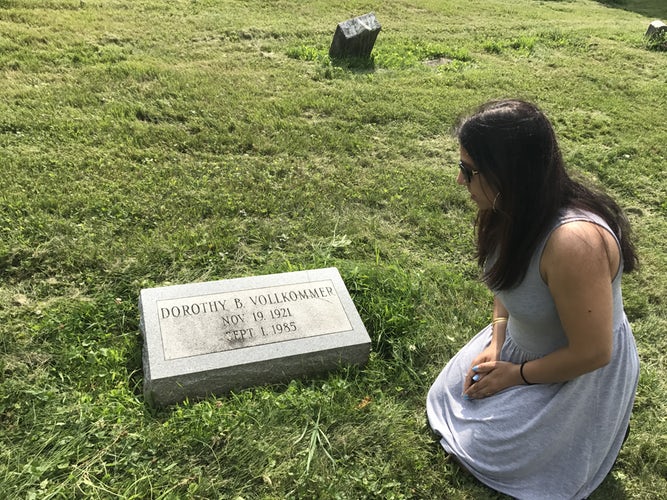 Shaheen Pasha, an American born to Pakistani immigrants, has remembered "the Landlady" a lot recently.
When her mother sat on the steps of a Brooklyn apartment building — jobless, penniless, and about to be homeless — the neighborhood mostly ignored her. And then a white woman — "the Landlady" — said she had a room and would provide shelter.
We were brown and poor with parents who spoke in funny accents and had old-fashioned ideas about clothes, culture and propriety. We were in a tug-of-war between two identities.

When I looked at my family and my community, I understood why we reeked of otherness to "real" Americans — a term I equated with blonde hair, white skin and pedigrees far removed from any foreign cultural influence.
Pasha didn't know the Landlady's name, but she's thought about her a lot to remind her of the goodness in the world in the face of occasional evidence to the contrary in the United States of late.
But her own children, faced with that evidence, have come to question their own identity in the country, she writes today in the Dallas Morning News. And the memory of the unnamed landlady was no longer enough to sustain her.
She had to find her.
As I began my search, my mind flooded with memories and images that I hadn't thought of in years. A marbled entryway and geometric tiles leading to a set of stairs. A mattress on the floor and our belongings scattered in a corner.

I jokingly told my brother the Landlady was haunting me, trying to help me find her. The first tangible clue came out of another jumbled flash of recollections that hit me as I fed my toddler a dinner of chicken curry and roti. I remembered an envelope in a stack of mail and the name Dorothy.
In Pakistani culture, she says, "Dorothy means a gift from God."
After two weeks of searching, she researched real estate data in New York. She found death certificate. Her name was Dorothy Vollkommer. She died in 1985. She was from Pennsylvania.
Her name changed everything. She was no longer just the Landlady. She was a woman, born Dorothy Andrea in 1921 to German immigrant parents. The child of immigrants, just like me. While I grew up poor in Brooklyn, Dorothy's childhood was spent in Portage, Pa., a small, struggling mining town.

She had married a Merchant Marine named Walter Vollkommer, and she had lost a little boy named Frederick, who died in 1939 from prematurity and a collapsed lung.
She looked for Dorothy's relatives, finally getting a response from a niece of Dorothy's in Portage, Pa.
A "Trump is president. Get over it!" billboard greeted her at the outskirts of town.
"I was a New York-bred liberal Muslim from a family of brown immigrants. What connection could I possibly find in rural Portage?" she writes.
Then she met Veronica.
"I feel like I've known you forever," Dorothy's niece said, laughing as we walked across the street to the Chatterbox, the town's meeting spot for coffee and gossip. "But it makes sense in a way. I do believe that people don't realize how valuable their lives are and how one life interconnects with so many others. People unknowingly depend on that one life and can make such a difference. In this day and age, it's more important than ever to see how valuable the threads of life are and how connected we all are to each other."
"We are a town made up of immigrants," said Irene Huschak, president of the historical society in Dorothy's hometown. "When you talk about Dorothy and what she did for you, this was the culture of the town. Strangers helping strangers, people taking others in, whether they had a boarding house or taking in family in bad times."
Pasha says the experience forced her to confront her own biases. And when she visited Dorothy's grave site, she said she realized the Landlady was still changing her life.