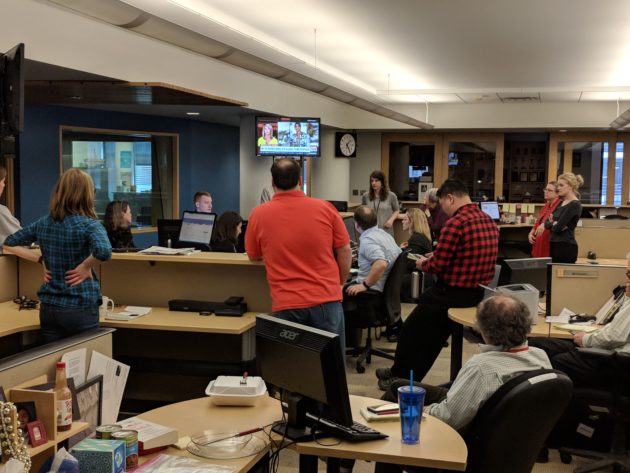 Wednesday March 21, 2018
(Subject to change as events dictate)
Until 9 a.m. – Morning Edition
The Noor case; Ask Cokie on presidential sex scandals; and Nun and done: Sister Jean becomes the darling of March Madness
9 a.m. – MPR News with Kerri Miller
Yesterday Great Mills High School in Maryland joined the growing list of schools that have been the scene of a shooting. Two students were injured and the gunman, who was also a student, died. A school resource officer is being praised for quick action that helped to limit the number of fatalities. Would equipping more schools with resource officers prevent other shootings? Or is this instance of a school resource officer stopping a shooting the exception to a rule? (Listen)
Guest: Mo Canady, is the executive director of the National Association of School Resource Officers.
10 a.m.- 1A with Joshua Johnson
Eight years ago in Syria, before the war there broke out, locals complained about government corruption, high rates of unemployment and restrictions on their political freedoms under President Bashar al-Assad. It was fertile and fragile ground for conflict, but why more so than other Arab nations where activist uprisings led to hope for democracy?
What should the international response be at this point in the conflict? And is there a way to identify and protect other vulnerable regions from this scale of violence? (Listen)
Guests: Nancy Lindborg, president, United States Institute of Peace; Kimberly Kagan, president of the Institute for the Study of War in Washington; Ilan Goldenberg, director, Middle East Security Program, Center for a New American Security; Omar Ahmed Abenza, head of mission for northwest Syria, Doctors Without Borders.
11 a.m. – MPR News at 11 (Mike Mulcahy hosts)
Minneapolis police officer Mohamed Noor has been charged with third-degree murder in the shooting death of 911 caller Justine Ruszczyk last summer. Noor turned himself in Tuesday after an arrest warrant was issued, according to the Hennepin County Sheriff's Office. It appears to be the first time a Minneapolis officer has been charged in a fatal shooting while on duty.
We'll have the latest on the story, and we'll look at some of the legal angles in the case. We'll also invite listeners to call with their reaction to the news.
Guests: Susan Gaertner, former Ramsey County Attorney; Melvin Welch, defense attorney at the Welch Law Firm;Phil Stinson, associate professor of criminology at Bowling Green State University in Ohio.
12 p.m. – MPR News Presents
Gettysburg College history professor Allen Guelzo speaks about free speech and the importance of the 1st Amendment. Guelza says free speech is "an indispensable ingredient in the recipe for preventing tyrannies, of the right and of the left." He spoke at the Union League of Philadelphia, at an Abraham Lincoln Foundation event. (Listen)
1 p.m. – The Takeaway
To fight opioid addiction, lots of ideas but no single plan. President Trump offers one approach, while Congress meets for two days of hearings on possible legislative solutions.
2 p.m. – BBC NewsHour
Facebook and your personal profile: Will a new EU data directive change the game for everyone? Gun control in Australia; and in Nigeria, 100 kidnapped schoolgirls have been freed.
3 p.m. – All Things Considered
Two suspects in bombing of a Minnesota mosque make a court appearance; the latest in the Noor case; the strained relationship between cops and the authorities who investigate them in Minneapolis; Russian attacks on the electric grid; what we know about the Austin bomber; and the decline of hunting.
6:30 p.m. – Marketplace
Marketplace's interview with Hank Paulson, Ben Bernanke, and Tim Geithner continues. The three men who led the fight against the 2008 financial crisis discuss mistakes and their biggest regrets.
7 p.m. – The World
An African aid worker says she's been sexually harassed and assaulted in nearly every country she's ever worked. NGOs may be showing concern for some women's safety. But less so, it seems, for women of color.
8 p.m. – Fresh Air
Stand-up comic and Daily Show correspondent Roy Wood Jr., is the guest. He has his own stand-up special called Father Figure, and hosts the Comedy Central storytelling series This is Not Happening. He talks with Terry about growing up in Birmingham, Alabama and how he sometimes felt unsafe performing at comedy clubs in the south.