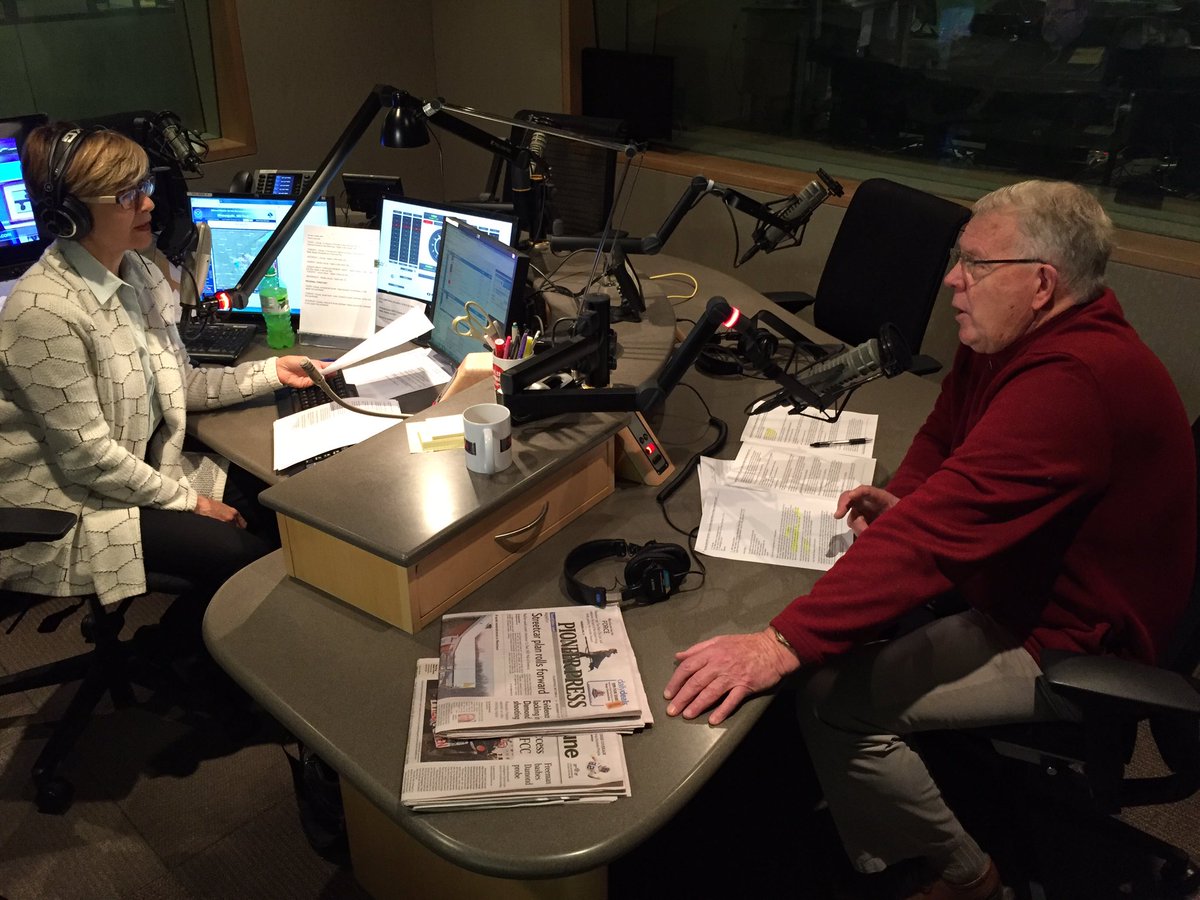 March 9, 2018
(Subject to change as events dictate)
Until 9 a.m. – Morning Edition
Marissa and Hannah Brandt are sisters and ice hockey Olympians. They've returned to Minnesota; How arming teachers fails students of color; the impact of Gary Cohn's exit on Wall Street; Mississippi's abortion bill passes; a StoryCorps featuring climate scientists; and an app makes its musical debut at the St. Paul Chamber Orchestra.
9 a.m. – 1A with Joshua Johnson
Friday news roundup. The president's tough talk tough on trade has not gone down well with many in his own party, including his own economic adviser, Gary Cohn. Meanwhile, a former aide's stance on subpoenas became prime time entertainment. In West Virginia, teachers and students went back to school. And across the country, the opioid crisis is getting worse – deaths have risen by nearly a third and the drugs are spreading in cities.
Guests: Juana Summers, editor, CNN Politics; Eliana Johnson, White House reporter, Politico; Abby Livingston, Washington bureau chief, The Texas Tribune.
10 a.m.- MPR News with Kerri Miller
Friday Roundtable. Even before 9/11, the media tended to portray Muslims and Muslim Americans as anti-western, insular terrorists or terrorist sympathizers. Think 1994's "True Lies" or the long running TV series "24." But a few movies and series have emerged in recent years featuring Muslim American protagonists. Among them, "The Big Sick," Kumail Nanjiani's romantic comedy that was nominated for an Oscar this year. Our round tablers discuss whether "The Big Sick" signals a renaissance in Muslim American media representation.
Guests:Ali Elabbady, Writer, producer and DJ; Ahmad "Qais" Munhazim, director of Gender and Sexuality Center at the University of Minnesota; Nimo Farah, writer and activist.
11 a.m. – MPR News with Tom Weber (Mike Mulcahy hosts)
The week in politics. DFL Gov. Mark Dayton has urged lawmakers to pass new gun restrictions. Will it happen?
Guests: Rep. Dave Pinto, DFL-St. Paul; Rob Doar, Minnesota Gun Owners Caucus; Tim Pugmire and Brian Bakst, MPR News' Capitol reporters.
12 p.m. – MPR News Presents
"Family Ties at the White House." Former NPR host Neal Conan explores the history of family ties, personal relationships, nepotism, and the concept of "meritocracy" in a presidential administration. His guests are Philip Smucker, a relative of George Washington and a research fellow at Mount Vernon; Carl Anthony, author of "America's First Families: An Inside View of 200 Years of Private Life in the White House," and Henry Carey, political science professor at Georgia State University.
1 p.m. – Science Friday
Does the letter 'A' seem red to you? Does music play in your head as a series of colors? Synesthesia and genetics. Plus, can viruses found floating in sewer water be the key to new antibiotics? A look at using bacteriophages to combat antibiotic resistance.
2 p.m. – BBC NewsHour
What might happen at a meeting of President Donald Trump and the leader of North Korea?
3 p.m. – All Things Considered
Hermantown, Minn., has won the last two Class A state hockey titles, and they're back in the tournament this year. They play todayunder first-year coach Patrick Andrews, who replaced legendary coach Bruce Plante after Plante retired after last season.
Also: The week in politics; the return of American Idol; and pop music at SXSW.
7 p.m. – The World
Remembering Lyudmila Pavlichenko. A young Soviet soldier came to America in 1942. Eleanor Roosevelt welcomed her. Woody Guthrie wrote about her, a divorced teenage mother who loved parties and fun, and who just happened to be the deadliest female sniper in history.
8 p.m. – Fresh Air
Terry Gross talks with Moshin Hamid, whose timely bestselling novel is about knowing when it's time to flee your country, and what happens when you do, and become an immigrant in another country that is hostile to immigrants. Hamid lives in Lahore Pakistan, but has also lived in California, New York and London.