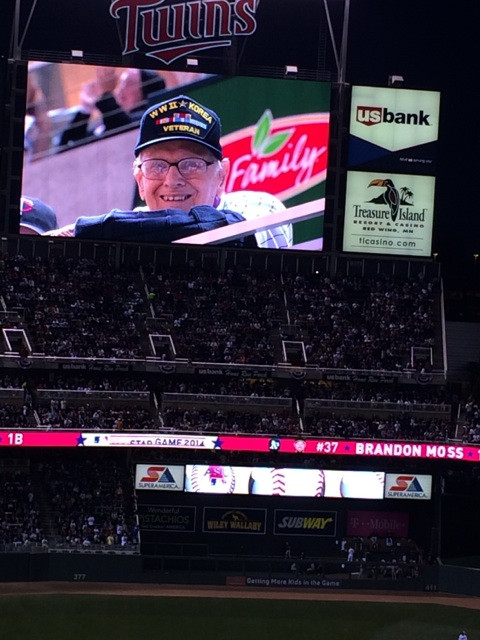 In the 11 years of NewsCut, Wally Englund stands out as one of the most memorable people I've met in the course of learning of and telling their stories.
He was 85 when I talked to him at his home in Richfield. For decades, he had a story that he wasn't able to tell except to his closest friends, including some Twins season ticketholders at the Metrodome, where he worked for 14 years as an usher.
It was the night his ship was sunk in the South Pacific in World War II.
He says he and one other man survived.
Wally and wife celebrated their 68th wedding anniversary on Sunday. But on Monday morning, he didn't wake up.
"He was enjoying the start of baseball season and looking forward to getting to the park," his friend, Eileen Smith, said in an email. "I will miss the love he had for us all, for baseball and for Cadillacs."
Here is his story: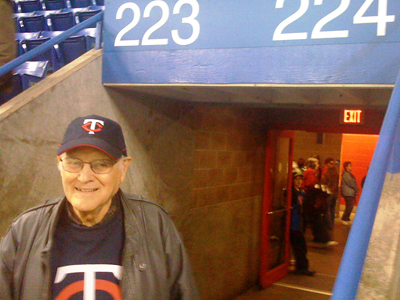 If you've ever attended a Twins game and sat upstairs behind home plate at the Metrodome, the chances are pretty good that you know Wally Englund, 85, of Richfield. For 14 years he was an usher at the Dome and other sports facilities in the Twin Cities.
But only his wife, a few family members and some season ticket holders who've become his close friends over the years know the secret that, until recently, he couldn't talk about: He is still suffering from his time in the South Pacific during World War II.
Eileen Smith (center below), one of the Twins' season ticket holders, contacted me about Wally. She only found out about his struggle during an enlistment ceremony at the Metrodome in the aftermath of September 11, 2001.
"'They have no idea what they're getting into,'" she recalled him saying.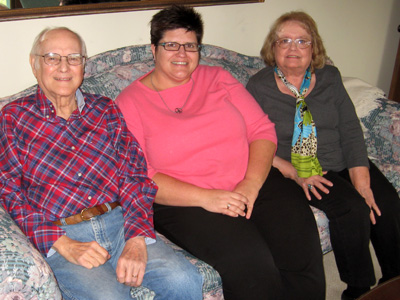 Wally told me his story because he doesn't want returning soldiers from Afghanistan and Iraq to live with the post traumatic stress disorder (PTSD) that began in August 1943, about a year after he graduated from high school in Alexandria, Minn., and convinced his parents to allow him to enlist and go to war.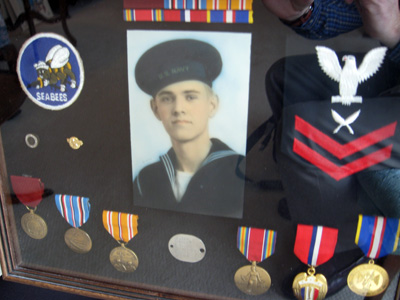 Things were hot and heavy in the South Pacific, so they were sending everybody. I took a bus over the San Francisco bridge, and sailed under the San Francisco bridge in August 1943.

About the beginning of November, I was down in the engine room with some motor machinist mates and some electricians, and a guy all of a sudden appeared — I didn't know who he was — I knew everybody by their faces but not everybody by their name.

And he says, "You don't belong here. Go upstairs." So I obeyed his command and then just seconds later the ship went down real fast and heavy. A few of us jumped into the water and then the ship went down real fast and most of the guys were sucked down with the ship. I saw a piece of board or something and I swam to that and hung on for several hours until I was rescued.

Englund knew everybody on the ship. But he'd never met or seen the person who saved his life.
"Everything happened so fast. It was early in the morning; I don't know if we hit a mine or what. It happened fast and all hell broke loose," he said.
Of 100 men on board the U.S.S. Artisan ( AFDB-1) — a floating dry-dock — only he and one other man survived.
When the war ended and he returned to Minnesota, he tried to tell his mother and father about the morning that was now haunting him at night. Every time he'd try, he'd start to cry. And men don't cry. Today, he fought tears each time he remembered.

I was having these nightmares and flashbacks in the middle of the night and when I first came back, I'd try to tell people my story and I'd start crying. So I thought, "I'm a man now, I'm not supposed to cry," so I quit sharing. And the longer I did that, the worse it got.

I kept shoving it down and down, and I went through all these years with flashbacks and anger came in, and guilt and all kinds of things. I had a rough time for many, many years.

All the rest of the guys that I talked to 'em the night before and the next morning they were gone. We were like family. We worked together; we slept together. Ate together. We were a pretty close outfit.
It wasn't until 1950, the year he and his wife, Katie, were married, that he was able to tell his story to someone.

One of the nights in bed, Katie says, "Wally what's going on, the bed was just shaking all night. Are you holding something inside you're not sharing?" I told her the whole story and cried like a baby. What a release it was. I didn't care whether I cried or what happened.
And that was the last he spoke of it for more than 40 years.
About 20 years ago he got a letter from the other survivor, who described a similar suffering to what he was going through. But he lost the letter and couldn't write back.
About 10 years ago, he tried to talk to his older brother, Bob, about it.
"His ship was sunk in the South Pacific, not too far from where I was about the same time," he said. "He was a few days in a life raft and he was rescued, and they took him to Hawaii and he spent one month in the hospital and all he did was cry every day.
"I asked Bob a few years ago about our experiences. I says, 'Bob, how are you doing with your experiences when that ship was sunk?' And he said, 'I'm fine.'
"I said, 'How do you do that, I'm still having problems?' and he says, 'I don't think about it.' I said, 'Well, I don't either but it's still there.'"
Sadness, depression, anger, guilt. Wally felt them all. But since he had no obvious wounds, he didn't know the Veterans Administration could've helped him. A few years ago, however, another stranger — he thinks it was someone at a Twins game — showed him the path out, telling him the VA could help him.
And it did.
"I love the VA; they helped me so much. I want to say to these guys coming home from Iraq or Afghanistan, I want to say if they've gone through an experience like I have, get help right away. Don't wait as long as I did," he said.
He now sees a psychologist every other month. He also found out he's not the only World War II veteran still suffering from the wounds of war.
"After 60 years I thought time would heal and it still hasn't," he said. "But it's much better."
His grandson is in the Marines. Wally says he's told him his story, but never tried to change his mind.
"I still don't tell many people," he said