The prayers will stay at meetings of the Hutchinson City Council.
By a 3-to-2 vote, council members in the town west of the Twin Cities rejected calls to replace a prayer by Christian pastors with a moment of silence, the Hutchinson Leader reports.
Currently, the prayer is led by members of the Hutchinson Ecumenical Ministerial Association on a rotating basis. Sometimes, nobody shows up at the meetings, so council members pray by themselves, which prompted one of the members, Steve Cook, to propose making the moment of silence a suitable replacement for a Christian prayer.
In rejecting the proposal with a vote in April, however, the City Council asked the ministers' association to include non-Christians in their invocations. But the ministers refused.
"The Hutchinson Ecumenical Minister Association is, by definition, a Christian organization, not an inter-faith organization," the association's co-chairs wrote to council members. They said, however, they would merely not schedule a Christian minister to appear at two meetings each month, apparently inviting the Council to fill the spots with someone of their choosing.
In a letter to the Council from the Wisconsin-based Freedom From Religion Foundation, delivered before another vote on Tuesday, Colin McNamara, a legal fellow with the group, called the ministers' idea "a paltry attempt at compromise."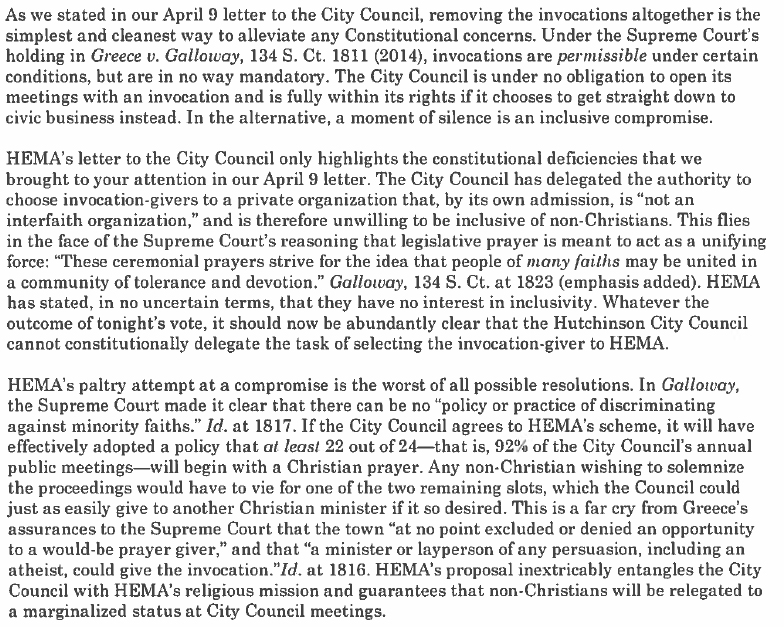 Cook had polled Minnesota officials in Litchfield, Silver Lake, Winsted, Glencoe, New Ulm, Willmar, Marshall and Fergus Falls, McLeod, Sibley and Meeker county boards, and the District 423 School Board, found they got along fine without invocations, and then proposed the moment of silence as a suitable replacement.