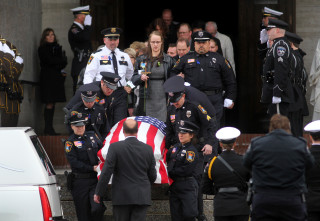 Attribution has saved area news organizations in the defamation case that Ryan Larson brought against them after he was incorrectly and unfairly accused of being the man who killed Cold Spring, Minn., police officer Thomas Decker in 2012.
Several TV stations carried the news conference the city's police chief held in the hours after Decker was shot after making a wellness check on Larson. Police said Larson did it.
A district court judge had set aside a jury verdict favoring KARE and the St. Cloud Times and ordered a new trial. The district court judge said these statements were not protected by the reporter privilege "because the information relayed by law enforcement at the press conference and in the news release went "beyond the mere fact of arrest or charge."
"Police say that man —identified as 34- year-old Ryan Larson ambushed Officer Decker and shot him twice, killing him."
"Investigators say 34-year-old Ryan Larson ambushed the officer, shooting him twice. Larson is in custody."
[Decker] was the good guy last night, going to check on someone who needed help. That someone was 34-year-old Ryan Larson who investigators say opened fire on Officer Tom Decker for no reason anyone can fathom."
"Investigators believe [Larson] fired two shots into Cold Spring police officer Tom Decker, causing his death."
"Police say Larson is responsible for the shooting death of Cold Spring-Richmond Police Officer Tom Decker."
Today, however, the Minnesota Court of Appeals cleared the news organizations, ruling the fair-report privilege applies to fair and accurate reports of statements by law enforcement during an official press conference and in an official news release.
It said the reporting accurately reflected the statements of police officials.
There was an obvious public interest in relaying the statements, Judge Diane Bratvold wrote today on behalf of a three-judge panel, although she appeared to chide the police for not tempering comments that could have tainted a jury pool.
And she acknowledged while reporters might not have relayed police comments literally, they accurately reflected the police statements.
At the press conference, law enforcement did not "say" that Larson ambushed Decker, but law enforcement did "say" that Decker was shot and ambushed and that they had arrested Larson in connection with the shooting. Further, the news release and jail log indicated that Larson was being held and a murder charge was anticipated. Thus, if law-enforcement statements from the jail log, press conference, and news release are considered together, a reasonable jury may conclude that statements 1-8 were substantially accurate reports of official statements.
The Court of Appeals overturned the lower court's decision to retry the case, and cleared KARE 11 and the St. Cloud Times of the allegations.