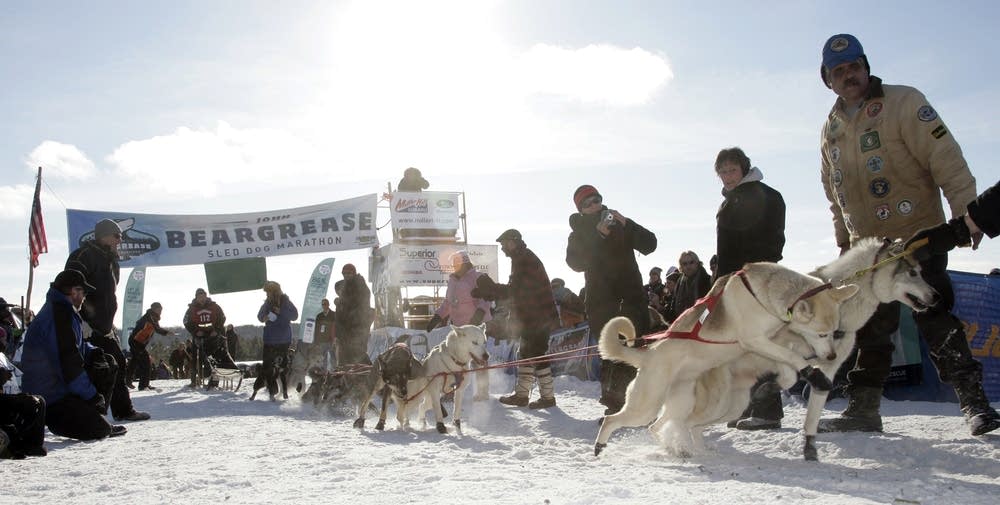 Organizers of the John Beargrease Sled Dog Marathon have cut the length of the race, the Duluth News Tribune reports. It's a recognition that the race's boom times probably aren't coming back with a 373-mile race that evokes a historic route for transporting mail.
In effect, it's a more fitting tribute to our yesteryear when you either adapted or you died.
So the course — the route still be determined — will run 290 to 300 miles instead. And there's a possibility that it will be a race for 12-dog instead of 14-dog teams.
Times change and dog owners say it's a lot of work in these times to assemble 14 dog teams.
"Four-hundred miles — that's a lot of extra training," one musher tells the DNT. "That's the point where dogs kind of mentally go downhill, and the musher, too. To train the dogs to mentally stay stable is a lot of extra work. Plus, it's a lot harder on you."
In the latest race, there were only 10 entrants and of those, only six finished. A mid-distance race was more popular.
In changing the race in 2019, organizers will probably have to give up a distinction that doesn't count for much anymore: the longest sled dog marathon in the lower 48.
Archive: On a frozen lake in the wilderness, a musher's tale of horror and heroism (NewsCut)