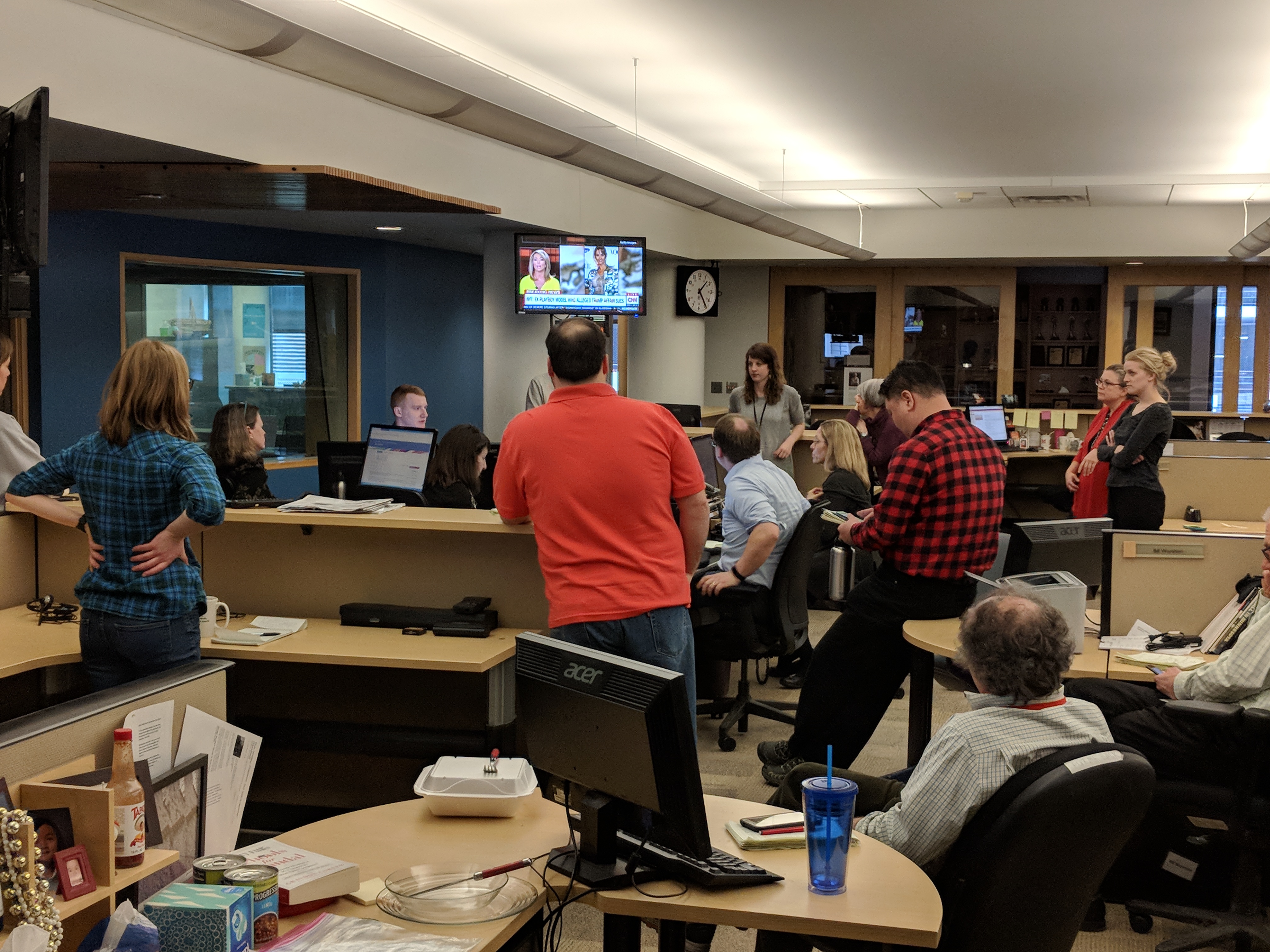 Wednesday May 16, 2018
(Subject to change as events dictate)
9 a.m. – MPR News with Kerri Miller
A rebroadcast of our conversation about teacher strikes around the country with history professor Jon Shelton and education professor Richard Ingersoll.
10 a.m.- 1A with Joshua Johnson
Understanding "The Great Revolt." Is this political moment a fluke? Or is a fundamental shift underway? Selena Zito & Brad Todd have been looking for answers from voters who've been maligned as "angry" "racist" or "deplorable." It's a coalition that spawned the greatest political upset in years. Could they do it again?
Guests: Salena Zito, Pittsburgh-based reporter for the Washington Examiner; columnist, the New York Post; Brad Todd, founding partner of OnMessage Inc., a Republican advertising and opinion firm.
11 a.m. – 1A with Joshua Johnson
What you need to know about egg freezing, as 1A s series "Beyond Mother's Day" continues. More women are turning to egg freezing as they delay having children. But it's not easy or cheap, and there's no guarantee that it'll work.
12 p.m. – MPR News Presents
Former Secretary of State Madeleine Albright, speaking at the Commonwealth Club of California about her New York Times best-selling book, "Facism: A Warning."
1 p.m. – The Takeaway
Betsy DeVos guts a team investigating for-profit colleges. Are for-profits off the hook?
2 p.m. – BBC NewsHour
North Korea threatens to scuttle the summit meeting with President Trump.
3 p.m. – All Things Considered
Problems with the NFL concussion settlement; DACA anxiety; music streamers muzzle R Kelly; suicides on the farm; money for special education in Minnesota.
6:00 p.m. – Marketplace
One way for candidates to run a campaign on a small budget? Go knock on doors. But now, many candidates are using a tech-driven tool to affordably reach voters.
6:30 p.m. – The Daily
A wave of violence largely directed at Muslims. How are false rumors on social media fueling real-world attacks?
Guests: Max Fisher and Amanda Taub, who have reported on Sri Lanka for The New York Times
7 p.m. – The World
How North Koreans may have hacked into the Federal Reserve Bank of New York.
8 p.m. – Fresh Air
Comic Tig Notaro has a new comedy special. A lot has changed in her life since she was last on, following the comedy set in which she revealed to the audience she had cancer. She's recovered, and is married to actress Stephanie Allyne and they have twins.