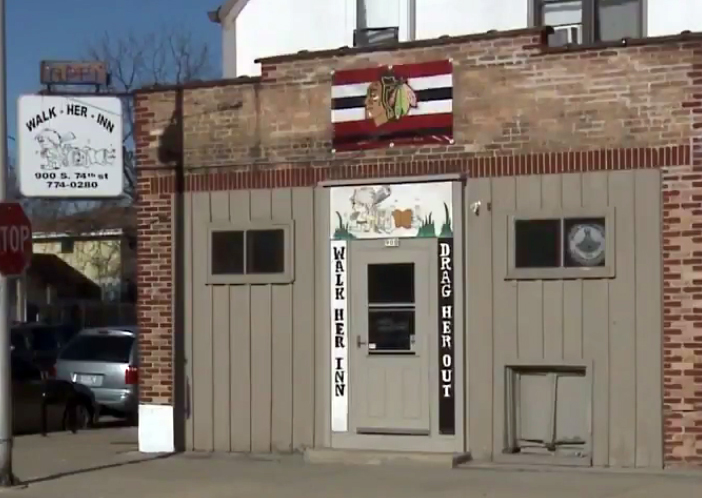 A controversy over a West Allis tavern's name is the quintessential Wisconsin story.
Apparently there's not been notice taken of the "Walk Her Inn, Drag Her Out" tavern until the #MeToo movement, but some things don't hold up over time and the 14-stool bar is the latest battleground.
Kristian Plumeri, who bought the joint nine years ago when it was already named, is spending a lot of his time answering the phone after a social media campaign started to get him to change the name.
The Milwaukee Journal's Jim Stingl writes today that it was the top story on three local TV stations this week, proving the axiom that all publicity is good publicity.
Predictably, business is way up at the tavern since the dust-up began. Plumeri said he had to do a rush order for more Walk Her Inn Drag Her Out T-shirts that he's sending to people across the country who asked for them. He said he has begun donating $5 per shirt to battered women shelters and charities.

Customers and supporters far and wide have pushed back against Huebner on social media. "This PC BS needs to end!!!" Candie Selke posted. "Very little offends me, and this bar isn't one of them," Ben Carpenter wrote. "Loony snowflakes have no sense of humor or common sense," Surley Garcia opined.

Some of the name-calling was awful, Huebner told me. It came in social media comments, phone calls, texts and even from people contacting her employer, a real estate company, and demanding that she be fired.

The Riverwest woman took down the Facebook post within one day, in part because it was angrier than she wanted to sound. But she is amazed at how quickly and how far it spread. One person speaking out can get noticed.

"It got big because other people agreed," she said.

And it got big because other people disagreed and the news media love a good fight
Plumeri says he recommended to his wife a few years ago that they should change the name, but now the tavern is a metaphor. He's digging in for the fight.