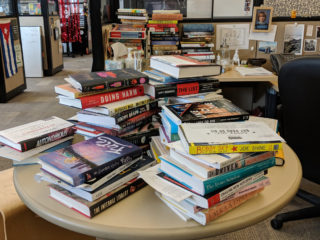 Monday June 25, 2018
(Subject to change as events dictate)
9 a.m. – MPR News with Kerri Miller
Ken Rudin, the Political Junkie, will join host Stephanie Curtis to talk about the week's political news.
9:25 a.m. – President Trump has ordered that undocumented families not be separated at border facilities. So how does this change the Trump administration's plan to crack down on illegal immigration?
Guests: Kara Lynum, immigration attorney; Alana Rocha, multimedia reporter, Texas Tribune.
10 a.m.- 1A with Joshua Johnson
Security guard Dick Heller is part of Supreme Court history, with his name tied to a landmark ruling on gun rights. It's been 10 years since "D.C. v. Heller" affirmed your 2nd Amendment right to keep a gun at home. At the time, some critics feared a revolution against gun control laws. That didn't happen, but a lot has.
Guests: Avery Gardiner, co-president, Brady Campaign to Prevent Gun Violence; Clark Neily, vice president for criminal justice, Cato Institute; co-counsel in DC v. Heller Supreme Court case; Eric Ruben, fellow, Brennan Center for Justice; adjunct professor, New York University School of Law.
11 a.m. – MPR News at 11 (Stephanie Curtis hosts)
Last year Amazon, Facebook and others in tech spent hundreds of millions into attracting more women in the tech industry, but what changed? Women are still underrepresented in tech and many women have been forced out of the industry because of the male dominate culture. So how we change the culture? And why is it important to have women leading technology projects, building apps and algorithms?
Guests: Jennifer Epperson, a user experience designer by day and an editor of Black in Technology by night; Kristen Womack, co-founder of HackTheGap.
12 p.m. – MPR News Presents
Our first program from the 2018 Aspen Ideas Festival, now underway in Colorado: "A Conversation with Surgeon, Author and Researcher Atul Gawande." In addition to his ongoing jobs as a surgeon, Harvard professor, New Yorker writer and best-selling book author, Dr. Gawande has recently been named CEO of a joint venture by Berkshire Hathaway, JP Morgan Chase and Amazon to address the rising cost of health care.
1 p.m. – The Takeaway
Two former top ICE officials explain what they think went wrong with the agency.
2 p.m. – BBC NewsHour
Turkey:is that it for democracy? We have special coverage from Istanbul; Tehran's biggest protests in years. Why now? Also: Harley guns its motors and says it's heading out of Wisconsin.
3 p.m. – All Things Considered
The latest on the Minneapolis police shooting; policing with big data; immigration politics; and summer books.
6:00 p.m. – Marketplace
Three companies.One man. How Sumner Redstone build a media empire.
6:30 p.m. – The Daily
The Trump administration's recent border policy is, in part, a response to the large numbers of migrants who have been making the journey to the United States from Central America. For many, staying in their native countries is no longer an option.
Guest: Azam Ahmed, the New York Times bureau chief for Mexico, Central America and the Caribbean.
7 p.m. – The World
Mexico City's secret concert hall. One of the best places to hear musicians in Mexico City is tucked away in an apartment building.
8 p.m. – Fresh Air
The ongoing crisis with contaminated water and lead poisoning in Flint, Michigan. Terry Gross talks with pediatrician and public health advocate Mona Hanna Attisha, about the research that led her to sound the alarm back in 2015. Nearly three years later, she still doesn't drink tap water there. She's now the director of an initiative to deal with the crisis.