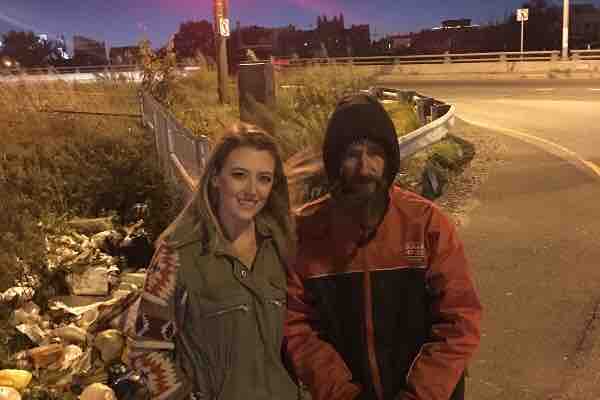 We want to feel good about feel-good stories, but sometimes they leave a bad taste.
Today's exhibit: The story of Johnny Bobbitt, the homeless man — and Marine veteran — in Philadelphia who last November gave a woman the last $20 he had, so she could buy gas for her stalled car.
In return, Kate McClure, 28, and her boyfriend, Mark D'Amico, 39, gave him food and clothing and set up a GoFundMe page that hauled in over $400,000.
If only the story could end there.
It doesn't.
There were happy pictures of Johnny and Kate making Christmas cookies, a visit to New York, and claims that Bobbitt was 30-days sober. McClure and her boyfriend promised to buy him a new house with the money, set up trusts, and get him a truck.
He wanted a camper instead of a house. The truck he picked out doesn't work. And he used money from the fundraiser to buy drugs, the Philadelphia Inquirer reports.
Bobbitt wonders how McClure, a receptionist for the New Jersey Department of Transportation, paid for the new BMW she drives and for vacations to California, Florida, and Las Vegas, as well as a helicopter ride over the Grand Canyon. He also questions how much D'Amico, a carpenter, spent gambling.

In an interview last week, the couple said they used their own money to buy the BMW and to pay for vacations. D'Amico said he spent $500 of the GoFundMe money to gamble because he did not have his SugarHouse Casino card one night, but he said he quickly repaid it with his winnings.

As for Bobbitt, the couple said he once burned through $25,000 they gave him in less than two weeks. They said he stole from them and pawned some of their possessions for cash to feed his drug habit, allegations he denies.

With no formal accounting of the money and no financial statements, it is unclear how much is left. What is clear is that Bobbitt has little to show for it.

He insists that the couple didn't shell out anywhere near the $200,000 they say they spent on his care. He said McClure and D'Amico controlled most of the spending and limited how much they gave him to live on. He said he had no direct access to the money donors contributed.
GoFundMe kept $30,000 of the money. No trust was ever set up. McClure and D'Amico said the rest is in a savings account. They declined to produce any financial statements for the newspaper.
They sold the camper for $10,000 and kicked him off their property where Bobbitt had parked it while living in it. He's homeless again.
"Giving him all that money, it's never going to happen. I'll burn it in front of him," said D'Amico,
Bobbitt is currently living under a bridge and panhandling.
(h/t: Paul Tosto)