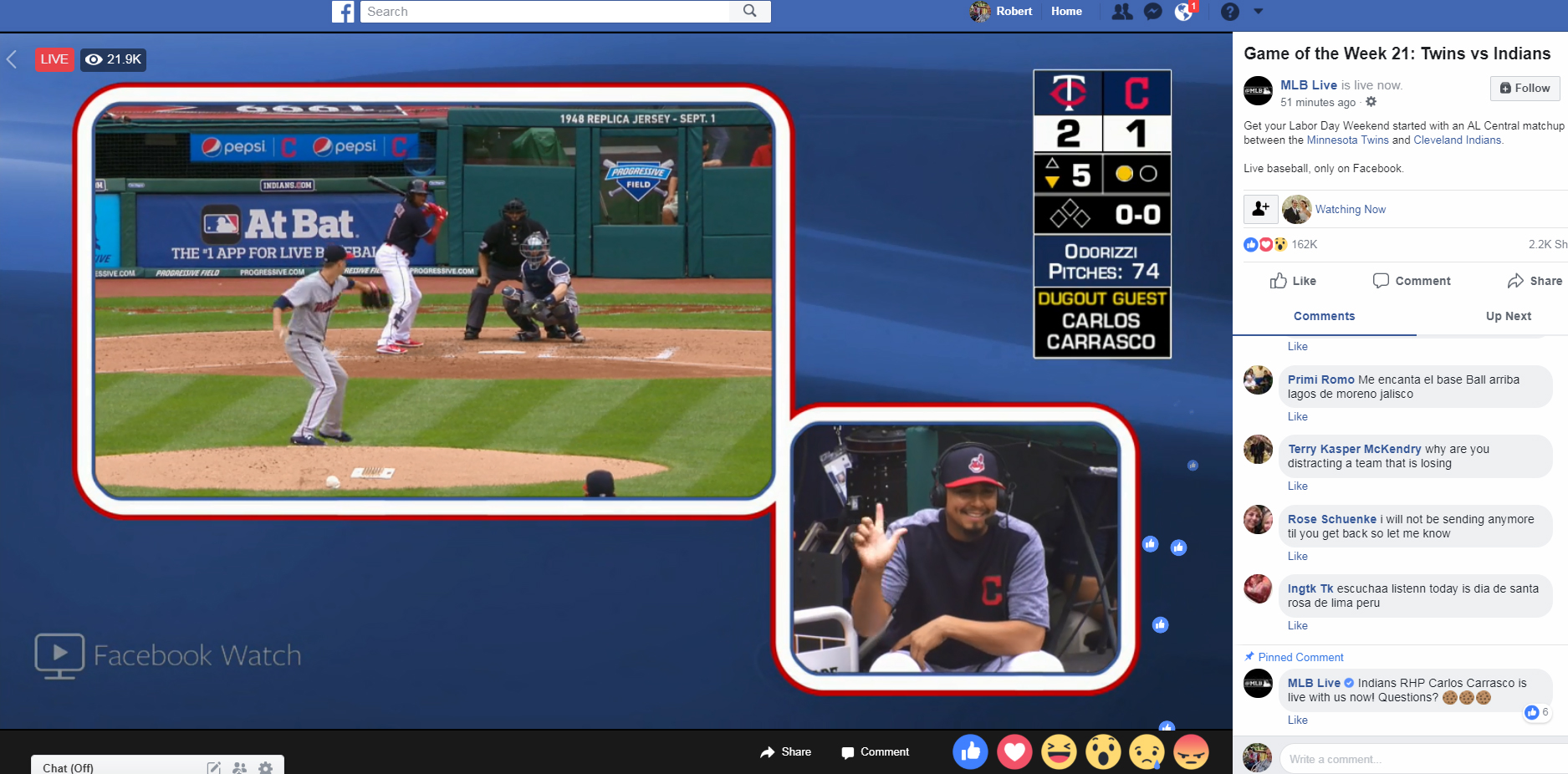 Baseball fans hate change. So there's plenty of chortling among the purists because today's game between the Twins and the Indians was limited to Facebook Watch — the rival to YouTube — rather than a traditional TV channel.
That's too bad, because it's a marked improvement.
Twenty games were scheduled to be on Facebook Watch this season as an experiment.
So far, so good. Here's the report card:
First of all, it breaks the FoxSports stranglehold on online access to games. If you spend $120 a season on MLB's TV app, for example, you can't watch Minnesota Twins games. They're all blacked out to protect the rights of FoxSports North. Facebook Watch is available to everyone with an internet connection. Advantage: Facebook.
During the broadcast, the broadcasters take questions from the audience. And they split-screen the action with a player interview. It's perfect for a sport in which there's no action 90 percent of the time. Granted, some of the questions are silly — Robbie Grossman was asked today whether restaurants are better in Houston or Minneapolis (he demurred) — but they offer occasional insight as they did today when Grossman discussed the difference in mindset between being a designated hitter, and playing the field. And, later, Paul Molitor seemed to suggest that the team won't necessarily bring Byron Buxton back next week when rosters expand, a clear affirmation of what a bust Byron Buxton is as a major league baseball player. Advantage: Facebook
Glen Perkins, the former Twin, is one of the analysts. There might be too many people in the booth — three — and there's much more chatter than in a typical TV broadcast, but did you know that Perkins is the "shadow owner" of the "Meatsmokers" in his fantasy baseball league? Still, he does a nice job of predicting pitches and explaining how one pitch is thrown as part of a strategy to set up another.The broadcasters, though, play to the novelty too much as when an Indians player struck out in the third inning. "'Should've squeezed', says Chuck in the comments section," we were told. It's almost like watching a game with your grandfather who never played the game and doesn't like anything. Advantage: TV
There are no commercials. Between innings, there are more interviews with players and coaches and analysts. Advantage: Facebook
Giving fans access to games via Facebook comes at the expense of people who watch it on TV. It's an exclusive arrangement. So grandma in the nursing home isn't going to be able to see her Twins, even though when MLB experimented with this last year on Friday nights, it wasn't exclusive. Still, all of the games being "broadcast" on Facebook this year are afternoon games when most people aren't watching TV. Advantage: TV
You can watch baseball when you're supposed to be working or writing blog posts. Advantage: Really?
There are a few technical considerations. First, you need a Facebook account. Bandwidth can slow things down, especially if you're doing actual work with your computer. You also have to maximize the feed to full screen so you don't see comments or those silly floating hearts and emoticons. But the production values are high. Miguel Sano striking out in online HD is much clearer and horrifying than TV. Advantage: Push.
Facebook Watch as a medium hasn't caught on yet, Forbes says in a column today. Only 24 percent of those surveyed recently have ever even heard of it.
But Facebook plays the long game on these sorts of things and there's no reason not to continue the experiment next year.