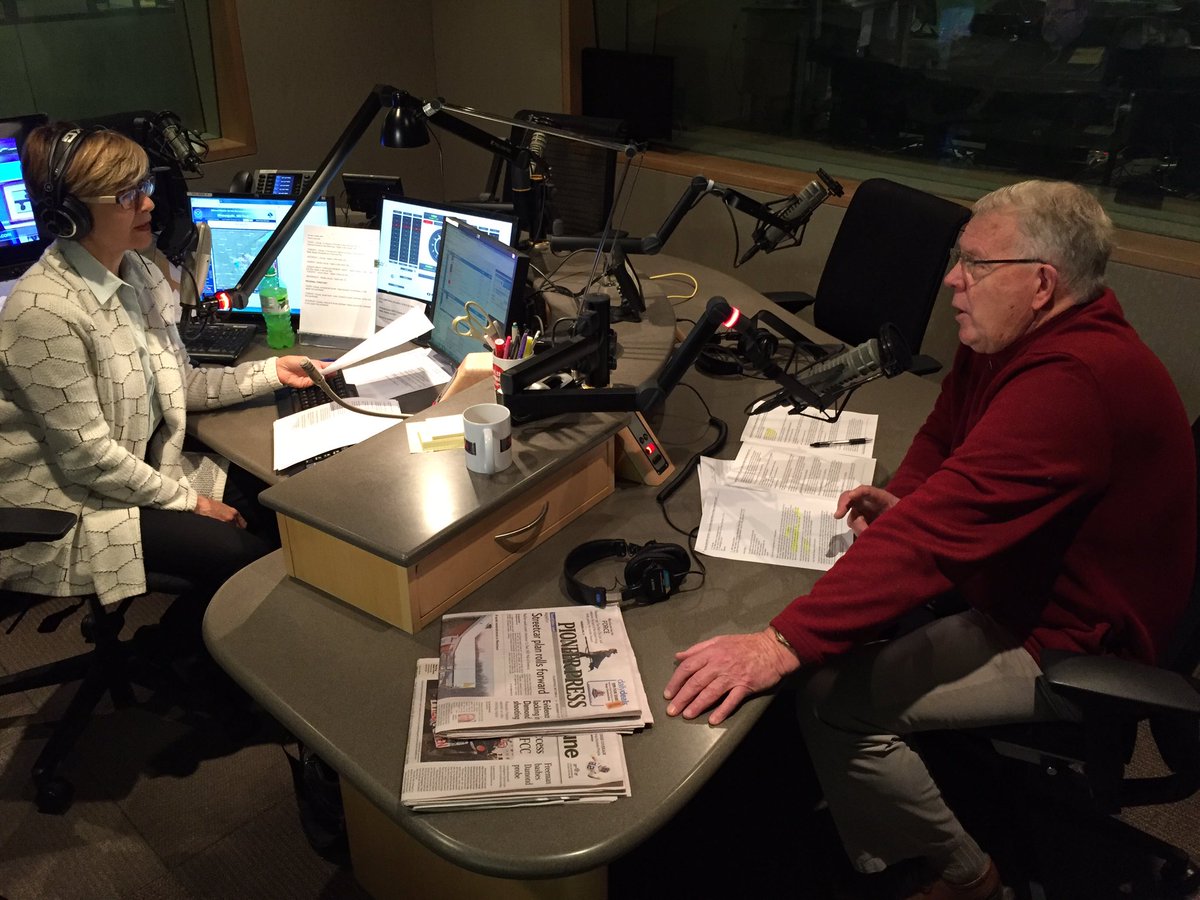 Friday August 31, 2018
(Subject to change as events dictate)
MPR Day at the Minnesota State Fair
9 a.m. – 1A with Joshua Johnson
Domestic news roundup. Former Sen. John McCain, who died this week at age 81, will be honored at services across the country through Sunday. Queen of Soul Aretha Franklin, who died earlier this month at age 76, will be laid to rest in Detroit today. Meanwhile: Voters in Arizona, Florida, Oklahoma headed to the polls on Tuesday. On Wednesday, Axios reported that White House counsel Don McGahn will vacate his post later this year.
Guests: Alexis Simendinger, national political correspondent, The Hill; Eugene Scott, political reporter, The Washington Post; Inez Stepman, senior contributor, The Federalist.
10 a.m.- Mark Seeley at the Fair (Cathy Wurzer hosts)
It's time for Mark Seeley's annual State Fair weather quiz. The retired University of Minnesota meteorologist/climatologist joins Cathy Wurzer in Dan Patch Park at the Minnesota State Fair to answer questions about weather and Minnesota climate trends. And he'll dish some weather questions to the audience as well.
11 a.m. – Gubernatorial debate (Hosted by Mike Mulcahy)
(Debate is available via Facebook Live)
In just over two months, Minnesotans will go to the polls and choose a new governor. The two leading candidates vying for the job will join MPR's Mike Mulcahy for a live debate on stage at Dan Patch Park.
U.S. Rep. Tim Walz, the DFL candidate, faces Hennepin County Commissioner Jeff Johnson, the GOP candidate.
(The debate will be rebroadcast at 9 p.m.)
12 p.m. – The Takeaway
Voting: it's one of our most important rights, but so few of us do it. But voting is not really an individual act; it's a communal act. What you do impacts other people. The hour will feature a look at non-voters, both those who make the choice not to make and those who can't.
1 p.m. – Science Friday
Oceanographers say we have better maps of the Moon and Mars than we do of the deep oceans. Why NASA is setting its sights on the seas, exploring the weird life on an undersea volcano. It's practice for the hunt for life in space. Plus: do outdoor ethics guidelines need an update for the social media age?
2 p.m. – BBC NewsHour
The U.S. and Canada go down to the wire in their talks to renew the North America Free Trade Agreement; the U.N. rescues African migrants trapped in the Libyan capital, Tripoli, because of fighting between rival militias; and we explore why the European Commission would like to abolish clock changes in the E.U.
3 p.m. – All Things Considered
The week in politics; McCain lies in state; an interview with John Kerry; a review of Jack Ryan.
6:00 p.m. – Marketplace
As the United Kingdom's official Brexit day approaches, the British government has yet to strike a deal with the European Union. UK officials say the country will prosper with or without a deal, but what's the economic reality of a no-deal Brexit?
6:30 p.m. – The Daily
Thirty years ago, the United States had a chance to stop global warming in its tracks. Almost nothing stood in the way — except human resistance.
Guests: Rafe Pomerance, an environmentalist who became involved with the climate movement in its earliest days; Nathaniel Rich, who reported on the history of climate politics for The New York Times Magazine.
7 p.m. – The World
TBA
8 p.m. – Fresh Air
More Emmy nominees. Terry Gross talks with Alec Baldwin, who's nominated for his portrayal of Donald Trump on Saturday Night Live. And Brian Tyree Henry, who's nominated for his performance as Paper Boi in the FX series Atlanta.