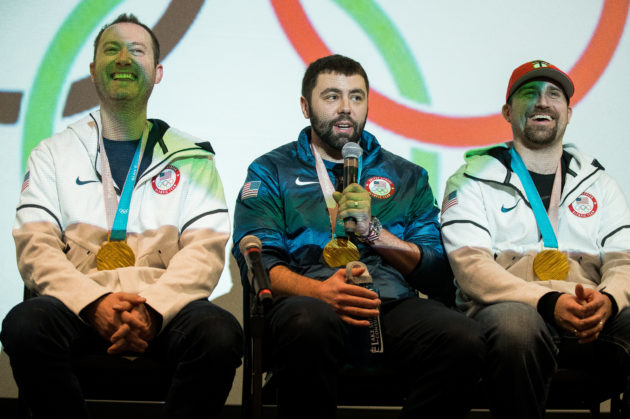 The U.S. men's curling team relied on skill as it won the country's first-ever Olympic gold medal in the sport earlier this year in South Korea.
But team member John Landsteiner's Olympic ring being found after he lost it on a California beach last month? That's thanks to a tremendous amount of luck.
Landsteiner — a native of Mapleton, Minn., who now lives in Duluth — was in California last month to take part in the ESPY Awards ceremony. The Mankato Free Press reports that Landsteiner, his wife and teammates stopped at Huntington Beach on the last night of the trip. Landsteiner took off the ring to keep it dry — and it went missing.
A search of the beach that night turned up nothing.
"Tears were shed the night it disappeared," Landsteiner said, according to report from Los Angeles TV station KTLA. The ring was his "everyday reminder" of winning the gold medal, he told the Free Press, because, of course, he doesn't take the medal itself everywhere he goes.
Landsteiner returned to Duluth, no doubt thinking the ring was lost forever in the sand of a vast beach, or in the waters of the Pacific Ocean. That seemed likely — until Dr. Rings & Things and his metal detector came along.
KTLA reports that's the moniker of Leon Jones, who uses a GoPro to record his treasure-hunting on California beaches and posts the video to YouTube. On a hunt earlier this week, he first found a diamond ring and then scooped out a very different-looking ring from the sand: A big ring, with text including "United States," "Gold Medalist" and "Landsteiner." He posted a video of the find online, looking for help in returning the ring:
Jones told KTLA he recognized the name, because he watched Olympic curling "all the time." The TV station put Jones in touch with Landsteiner via FaceTime on Wednesday to reveal the find.
Landsteiner says he's going to make the trip back to California as soon as he can. He told the Free Press that he'll bring along an autographed print of the gold medal-winning curling team, to give to Jones.
Why not mail the ring? Jones said as a fan of Olympics and curling, he wants to return the ring in person so he can shake Landsteiner's hand.
"I want to be able to touch the hand … that brought this home," he told KTLA.