Oh, dear person who got a wrong number from a woman at a bar, you have united a small corner of the world.
Carlos Zetina only found out the woman's name was "Nicole" when they met at a bar near the University of Calgary; the number he wrote down from her was wrong. So on Friday, he sent emails to every Nicole at the university (psst, University of Calgary: are you kidding me?) — all 246 of them, the CBC reports.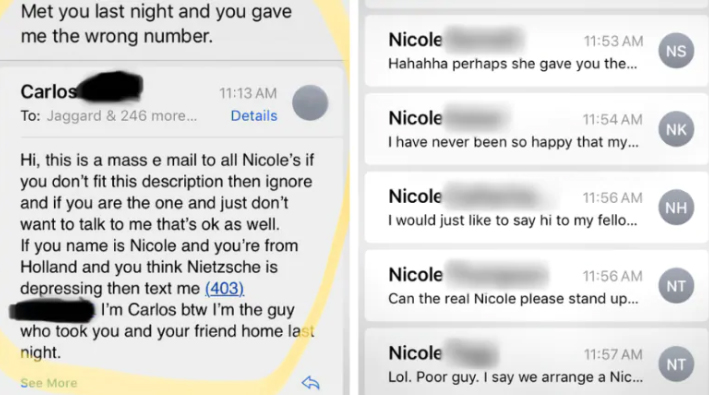 Big shock. He didn't find the real Nicole.
But now there's a "Nicole Club" at the university.
Some dude emailed every Nicole at U of C to try to find the girl he met last night and instead they formed a girl gang and I am legit DYING @ucalgary #nicolefromlastnight pic.twitter.com/ql4sxuBADQ

— sarah jurassic park (@ParisEsther) September 8, 2018
When she saw the first email Friday morning Nicolette Riley chuckled, as the night before was "ThursDen" — the party night at The Den, an on-campus bar. And then, the responses started coming in from other Nicoles.

"When the emails started rolling through I was just so excited, it instantly made me feel less lonely on campus," said Riley. "And now we're a group! It's great."

Zetina said the university's email had a directory, so it only took him a few minutes to copy anyone with Nicole in their name to the message.

"I didn't want her to think I was a bad guy for not texting her, she did give me her number," he said of why he decided to send the email.

Some Nicoles were students, some alumni, and some faculty — an associate dean was even included on the list.

"There's a researcher in the group, who, she and I have similar research interests, so we're actually going to collaborate in future," said Nicole Thompson. "I think it's fantastic."
Now there's a Facebook group — Nicole from Last Night.
But the real Nicole isn't in it. She never read the email from Zetina although she says she'll be happy to meet with him over coffee as just friends.
Zetina says his former girlfriend was named Nicole too, which isn't a little creepy at all.