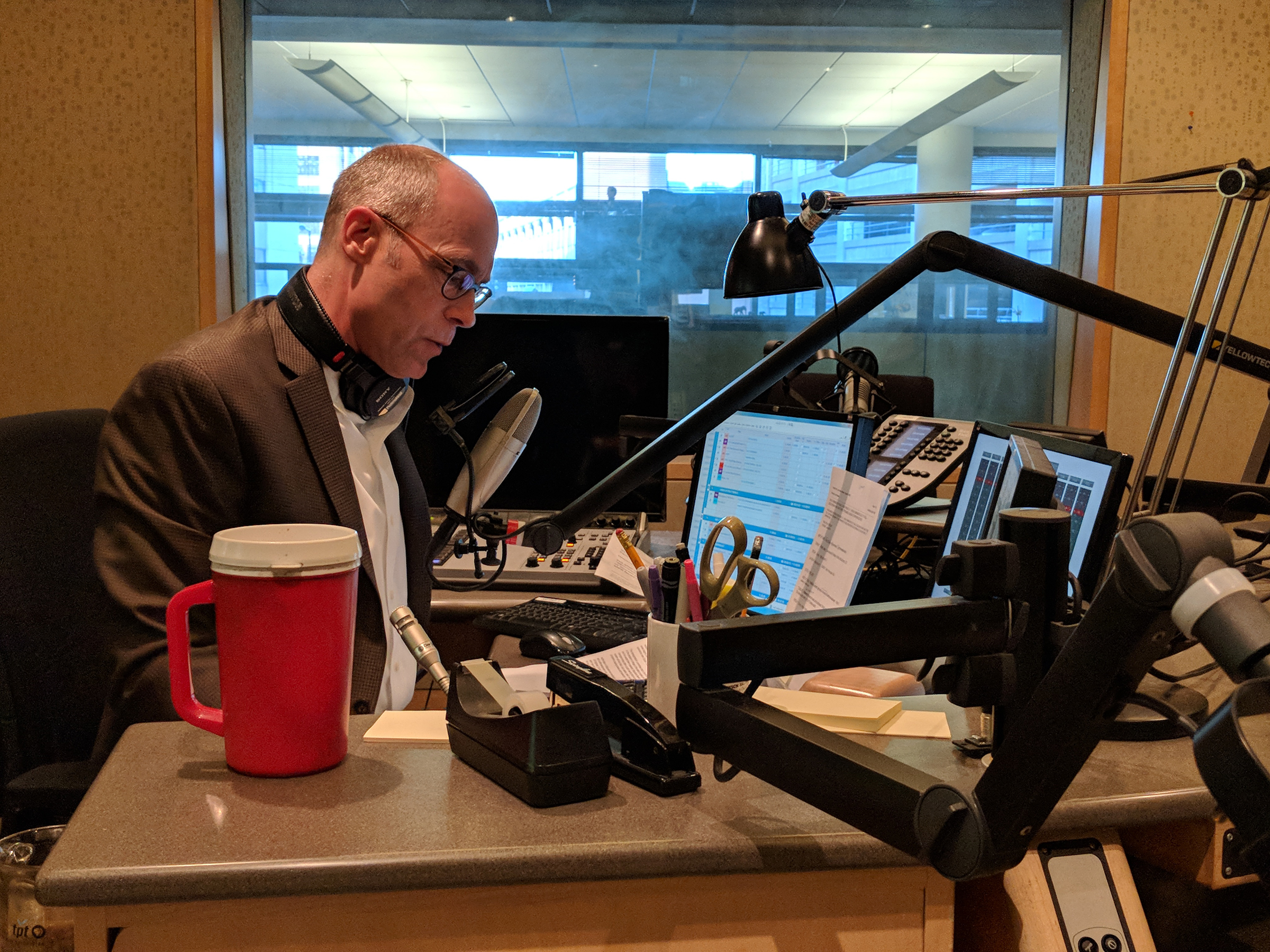 Tuesday September 11, 2018
(Subject to change as events dictate)
9 a.m. – MPR News with Kerri Miller
The Trump era of American politics is full of unprecedented rhetoric. But what is it doing to political humor?
Guest: Alison Dagnes, professor of political science at Shippensburg University
9:30 a.m. – Author Michael Donkor talks about his new novel, "Housegirl." The book follows the story of three Ghanaian girls dealing with friendships, family and domestic servitude in London and Ghana.
10 a.m.- 1A with Joshua Johnson
What powers should the government have to keep undocumented immigrant children in detention? The Department of Homeland Security says the Flores Agreement, which protects children from indefinite, prison-like detention, stops it from enforcing laws passed by Congress. New rules would be a work around. Who wins the legal battle? Or is this move more about the politics?
11 a.m. – MPR News at 11
A recent study by the Urban Institute found that forty percent of Americans are unable to afford basic living necessities, such as food and rent. 38 percent of renters spend over one-third of their monthly income on housing. Homelessness is rising across the country. Who is most at risk of being evicted? What can you do to prevent eviction?
Guests: Jesse McCoy, James Scott Farrin Lecturing Fellow and supervising attorney for the Duke Law Civil Justice Clinic;
Maya Brennan, Senior Policy Associate for the Urban Institute.
12 p.m. – MPR News Presents
A new APM Reports documentary, "Still Rising: First Generation College Students a Decade Later."
1 p.m. – The Takeaway
Inside one black market you may not know about where the goods are dinosaur bones. The tension between commercial fossil collectors and the scientists hunting fossils for research.
2 p.m. – BBC NewsHour
The imprisoned former Brazilian President Lula says he's given up the legal battle to run again, and nominates his running mate as candidate; Hungary's prime minister tries to head off EU sanctions against his country by addressing the European parliament in person; how Artificial Intelligence has identified yet more radio signals from outer space.
3 p.m. – All Things Considered
Hurricane Florence; barriers to voting; Automation comes to McDonald's; barn owls and ADHD.
6:00 p.m. – Marketplace
Today, six banks manage more than half of the banking assets in the U.S. A look at how the 'too big to fail' banks got so big.
6:30 p.m. – The Daily
Bob Woodward's reporting on the Nixon administration pioneered an approach to journalism that drew from anonymous sources and has been widely used since. He has deployed that form of reporting in his new book to tell the story of the Trump administration.
Guests: Mr. Woodward, author of "Fear: Trump in the White House," speaks with Michael S. Schmidt, a Washington correspondent for The New York Times.
7 p.m. – The World
Erica McSwan was 7 years old when the terrorist attacks took place in 2001. Today, she's a First Lieutenant in the US Army serving in Afghanistan. McSwan tells host Marco Werman about her own family's story of September 11th, her current job in the military, and her view of the American mission in the war that began 17 years ago.
Also, The World's Shirin Jaafari has her second report in our week-long series about women's lives in Afghanistan. The American University of Afghanistan in Kabul is a symbol of hope for many young Afghans with dreams about higher education. The irony is that getting an education has also made those students a target.
And, is peace breaking out in the Horn of Africa? Crowds cheered today as leaders from Ethiopia and Eritrea opened two key border crossings were closed for more than 20 years. It's part of a trend in the region. Marco speaks with Boston University's Michael Woldemariam about what's happening there.
Plus, the history and tradition of authentic Chinese cuisine in Arkansas. Kevin Kim grew up there. He's a PhD candidate at the University of Maryland and he's been interviewing Chinese grocers and restaurant owners all around the Mississippi Delta to reveal the surprising story. Marco hears all about it from Kevin.
8 p.m. – Fresh Air
Journalist Bob Woodward, who has reported on eight presidencies, from Nixon to Obama. His new book Fear: Trump in the White House is an investigation of the Trump administration, including hundreds of hours of interviews with first hand sources. These sources include former White House Chief of Staff Reince Priebus, former economic advisor Gary D. Cohn, and former White House Staff Secretary Rob Porter. Woodward reports on the dysfunction in the White House, including the efforts of staff to subvert the president by removing from his desk a draft document withdrawing from the trade agreement with South Korea. He also covers Trump's reaction to the Mueller investigation.