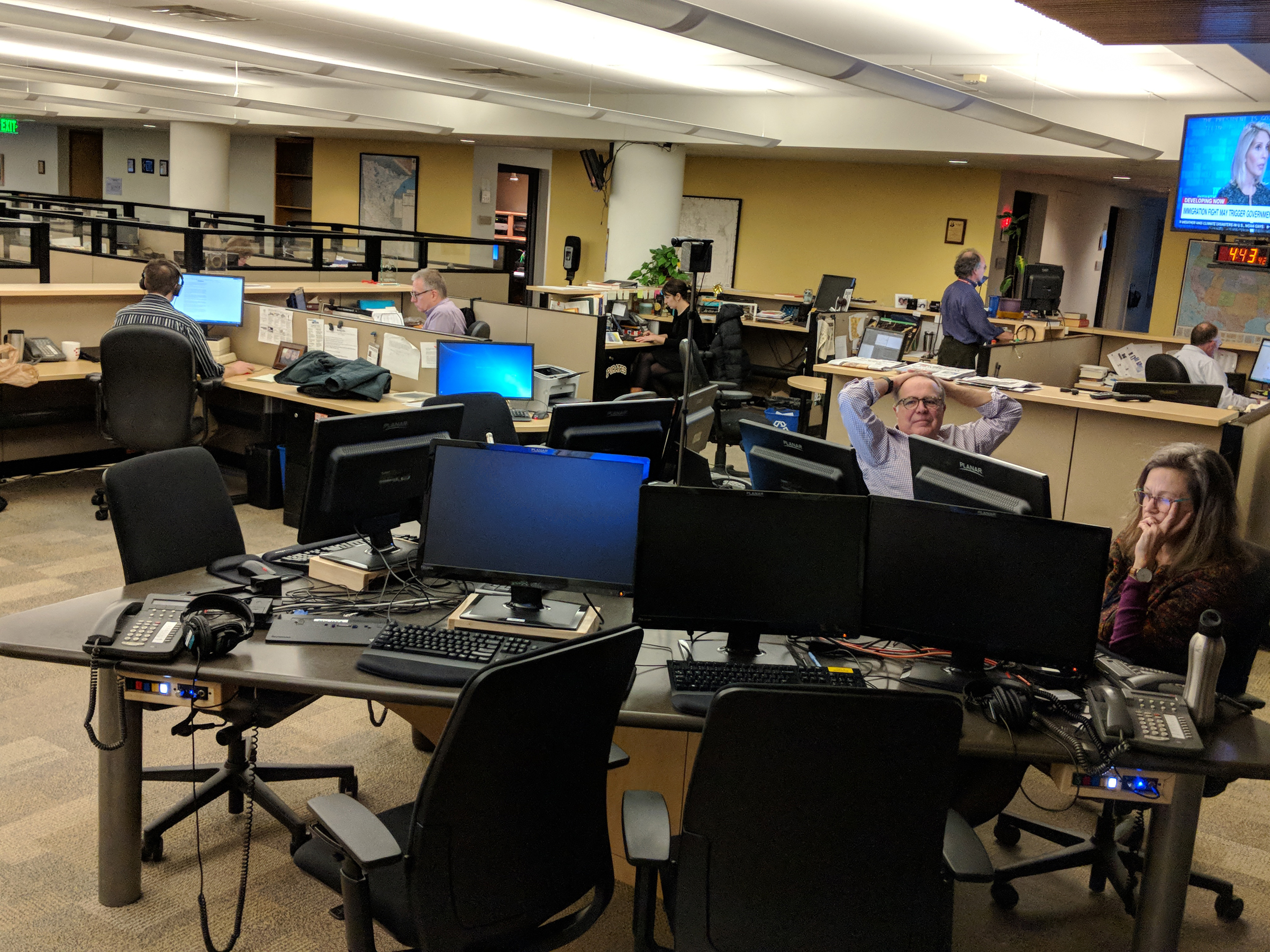 Wednesday Sept. 12, 2018
(Subject to change as events dictate)
9 a.m. – MPR News with Kerri Miller
Criminal justice reform. President Trump is pursuing criminal justice reform, but Senate Republicans are divided over how to go about it. What will it take to reform the system?
Guests:Holly Harris, executive director of the Justice Action Network; Nicole Gonzalez Van Cleve, associate professor at the University of Delaware in the Department of Sociology and Criminal Justice.
10 a.m.- 1A with Joshua Johnson
America loves pick-up truck. Ford's F-series brings in more revenue than Nike, Coke, or Facebook. Pick-ups represent many things to many people: a can-do spirit and the great outdoors. But who's buying, who's driving & where's the business going?
Guests: Drew Harwell, reporter, The Washington Post; Nicole Wakelin, automotive journalist; Todd Eckert, Ford truck group marketing manager.
11 a.m. – MPR News at 11
U.S. Bank announced a plan to start lending small, short-term loans between $100-1000. The "Simple Loan" program gives current customers a quick way to cover a surprise expense, but it also gives U.S. Bancorp, U.S. Bank's parent company, the opportunity to compete with payday lenders. Are programs like this a good alternative for people who need a quick hit of cash? Or should consumers look at these options with the same amount of caution?
Guests: Me'Lea Connelly is the director of the Association for Black Economic Power; Gary Rivlin, journalist and author of Broke USA: From Pawnshops to Poverty, Inc. — How the Working Poor Became Big Business.
12 p.m. – MPR News Presents
A new APM Reports documentary, "Old Idea, New Economy: Rediscovering Apprenticeships." "College for all" hasn't worked for everyone. Apprenticeships offer another path to middle-class jobs.
1 p.m. – The Takeaway
When police are the ones perpetrating violence against kids. Around 42 percent of U.S. public schools have police officers stationed on campus. Many of them are armed with tasers.
2 p.m. – BBC NewsHour
The Russian president says the two suspects in the nerve agent poisoning have been tracked down; Italy's hard right interior minister says his government will deport the majority of migrants attempting to enter the country; and we hear about independent Syrian radio broadcasting from Istanbul.
3 p.m. – All Things Considered
Minnesota farmers lobby Congress; Ethiopians in Minnesota return home; North Carolina prepares to suffer; FEMA under Trump; voter ID and older voters; a health insurer moves against oxycontin; Mexico is sinking.
6:00 p.m. – Marketplace
The story of a single product and how it contributed to the fall of Lehman Brothers.
6:30 p.m. – The Daily
The Spy Who Provoked Putin. The attack was brazen and exotic, but the target was a low-level former spy. Why did Russia risk so much in the Sergei Skripal case?
Guest: Michael Schwirtz, an investigative reporter for The New York Times who recently returned from covering this story in Moscow.
7 p.m. – The World
Things are bad, but there's still hope.
That's the headline the Global Climate Action Summit kicks off in California today. Host Marco Werman speaks with The World's Carolyn Beeler, who is at the summit in San Francisco, and then KQED's Craig Miller gives us an update on where we are when it comes to climate change, how we got here and where we might be going.
We also learn more about one particular part of the globe that's already being hit hard by the effects of climate change. We get that from Shukri Haji Ismail , a government minister from Somiland in the Horn of Africa who's attending the climate summit in California.
Plus, we continue our week-long series on Afghanistan and the lives of women there. Lives that are impacted by war daily, but that are not solely defined by the violence. Today, The World's Shirin Jaafari brings us a story that focuses on Afghan fashion. Specifically, we hear from women in Kabul quietly working to give Afghan women more options when it comes to the way they dress.
8 p.m. – Fresh Air
Writer Claire Tomalin is best known as a biographer. She's written books about the lives of Samuel Pepys, Jane Austen, Charles Dickens and Mary Wollstonecraft. Now she has written a book about her own life, called "A Life of My Own". It's about her career, the sexism she faced when she was starting and finding her voice as a writer and it's also about dealing with grief. In 1973, her first husband, the British reporter Nick Tomalin, was killed in Israel by a Syrian missile while he was covering the Yom Kippur War. She was left to take care of four children on her own. One of her children was born with growths covering his body and died in infancy. One of her daughters took her life after suffering profound, terrifying depression.