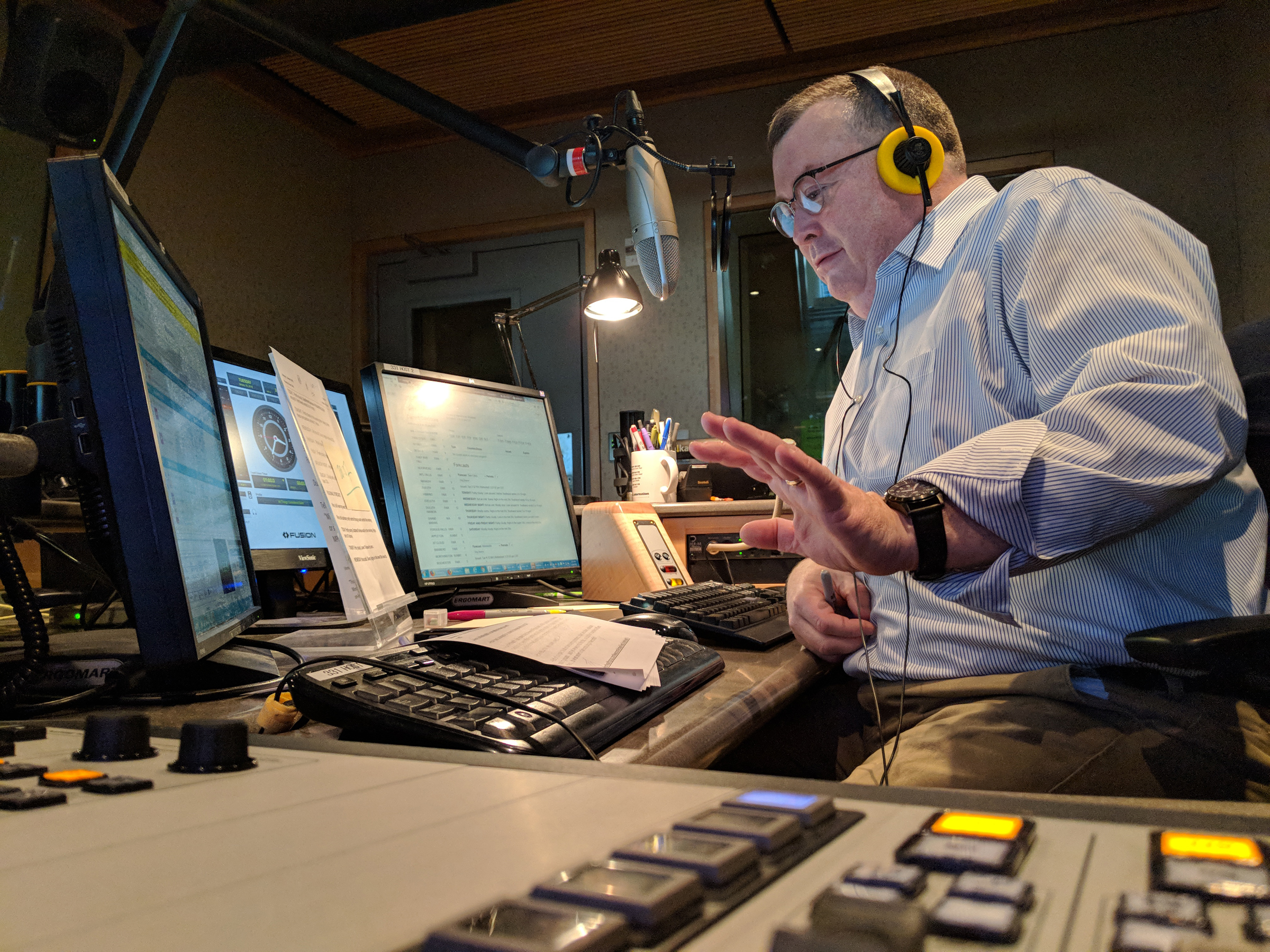 Monday September 17, 2018
(Subject to change as events dictate)
9 a.m. – MPR News with Kerri Miller
The Political Junkie. Ken Rudin and Kerri will talk about the week's political news.
9:20 a.m.- Hurricane Florence reached North Carolina and parts of the East Coast last week. We've seen the catastrophe that hurricanes leave in their aftermath, yet most Americans don't have flood insurance? Why not?
Guests: Rob Moore, senior policy analyst at NRDC; Rachel Cleetus, lead economist and policy director with the Climate and Energy program at the Union of Concerned Scientists.
10 a.m.- 1A with Joshua Johnson
America's best-selling book is 'Fear' by Bob Woodward. What would YOU like to ask him? 1A is taking your questions. That – and the latest on the impact Florence is having in the Carolinas. Millions are at risk and this part of the country will probably measure the rain in feet rather than inches.
11 a.m. – MPR News at 11
Developments in cancer treatment. Oncologists are taking a step back on cancer treatment and taking a more "wait and see" stance. Why the shift? And is it effective?
Guests: Larry Norton and Douglas Yee.
12 p.m. – MPR News Presents
University of Minnesota American Studies and History professor Elaine Tyler May speaks about her book, "Fortress America: How We Embraced Fear and Abandoned Democracy." She spoke with Star Tribune editorial writer John Rash, at an event held on 9/11 at the University of Minnesota Humphrey School.
1 p.m. – The Takeaway
One year after Hurricane Maria, Puerto Ricans are still counting the dead. Host Tanzina Vega is reporting in Puerto Rico, with stories of loss and what it means to rebuild.
2 p.m. – BBC NewsHour
The business of Brexit: Six months out the politics and predictions are sharpening; a preview of Tuesday's summit of the Koreas; and how far was the Scottish city of Glasgow built on slavery.
3 p.m. – All Things Considered
Viral fundraising videos; Hurricane Florence updates; a Supreme Court ruling upends deportations; a woman in Rochester turns her house into a museum; how authorities are making it easier for kids being interviewed as part of domestic abuse investigations; Sally Field on Burt Reynolds.
6:00 p.m. – Marketplace
After spending 27 years with General Electric,
Vice Chair Beth Comstock rose to the top. It wasn't easy.
6:30 p.m. – The Daily
A Dispatch From the Center of the Storm
North Carolina is facing a statewide crisis as the storm known as Florence slowly ravages the South, flooding cities, sending thousands into shelters and endangering communities from the coast to the mountains. Here's what's happening in one of those communities.
Guest: Richard Fausset, a correspondent for The New York Times who has been covering the storm from North Carolina.
7 p.m. – The World
Today, Vladimir Putin and Tayyip Erdogan, the presidents of Russia and Turkey respectively, made a deal to establish a new demilitarized zone in Idlib, Syria. Host Marco Werman speaks with Joshua Landis, Director of Middle East Studies at the University of Oklahoma, about that deal and the apparent decision to hold off on an expected assault on Idlib.
Nearly three million people are living in Idlib, the last rebel-held stronghold in Syria. We also have a story from reporter Rasha Elass, who's been following one Syrian family for the past five years. They're now in Idlib, waiting to see what happens next.
Glasgow University has announced a program of "reparative justice," after a year-long study discovered that the university benefited from the equivalent of tens of millions of dollars in donations from the profits of slavery. The university will create a center for the study of slavery and has agreed to add a memorial or tribute at the university in the name of the enslaved. The World's Rupa Shenoy speaks with Simon Newman at Glasgow University.
As people in North Carolina endure the impact of Hurrican Florence, millions in southeast Asia have been coping with Typhoon Mangkhut. Marco Werman speaks with reporter Aurora Almendral, who's covering the tropical storm in the Philippines.
And then, Marco talks with Kerry Emanuel, a professor of Atmospheric Science at MIT, about the link between climate change and these kinds of major storms–typhoons as they're called in the Pacific, hurricanes in the Atlantic.
8 p.m. – Fresh Air
Astrophysicist Neil DeGrasse Tyson. He is associated with the American Museum of Natural History and is director of their Hayden Planetarium. His new book is Accessories to War: The unspoken alliance between astrophysics and the military.