KTTC, the Rochester TV station, has some explaining to do if it wants to restore the credibility it lost when a news anchor wore a Make America Great Again hat during a live shot at President Trump's appearance in Rochester.
Most ethics policies in the media are built on perception. Sure, all humans have biases and people in the media actually vote (although some are discouraged by employers from participating in primary and caucus elections). But the underpinning of most news organizations' ethics policies is to prevent the audience from proving a journalist's personal political ideology.
And every journalist knows that which makes is why it was hard to believe KTTC's James Bunner would be stupid enough to be photographed by a Star Tribune photographer at the rally.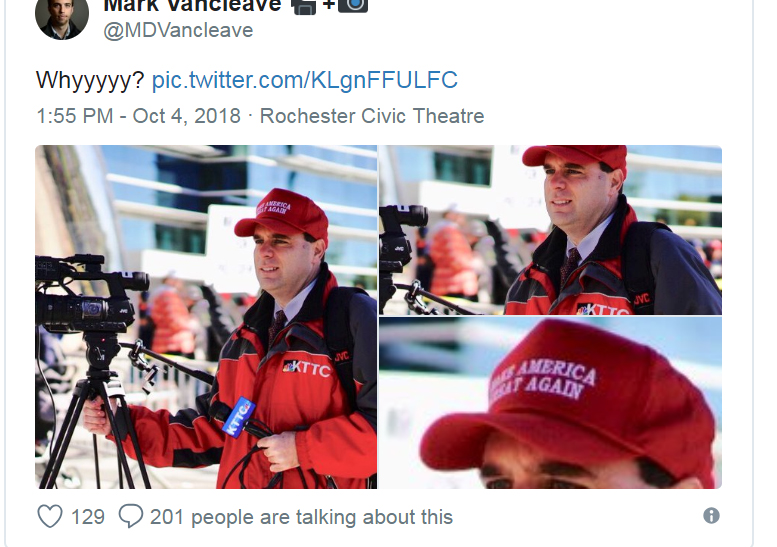 With the picture gaining moment online, KTTC fired Bunner on Friday, the Associated Press reported.
News Director Noel Sederstrom says the station does not allow staff members to cover stories while wearing apparel from political campaigns.
But on its own Twitter feed on Thursday, KTTC promoted Bunner's work before the Trump rally. Bunner was holding the hat in the photograph the station used in its tweet. Did they really think nobody would notice? Did they not notice?
The station has since deleted that tweet without explanation. It has also not addressed the situation online.
As for Bunner, he is now the online darling of the Great Unhinged online, who required victimization for fuel. But it's unlike there is any respectable journalist in America — from liberal to conservative — who doesn't wonder what on earth Bunner was thinking.