During World War II, when the Nazis invaded Norway, Heinrich Himmler encouraged soldiers to get Norwegian women pregnant. He thought the Norwegians were perfect for creating the Aryan master race.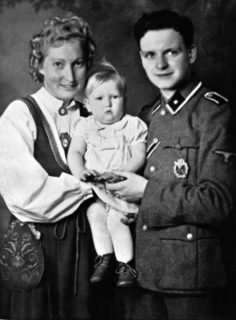 An estimated 50,000 Norwegian women had relations with the Germans and when the war was over, Norway made their life hell, derisively referring to them as "German Girls."
They were deprived of their civil rights, detained or expelled from the country to Germany along with their children, the BBC says. Some of the children were taken away from their mothers. Norwegian men who married German women were not similarly treated.
Anni-Frid Lyngstad, the ABBA singer, was one of the children. She was the daughter of a Nazi sergeant.
It took until Wednesday for Norway to apologize.
Norway's Prime Minister Erna Solberg issued the apology on the 70th anniversary of the United Nations Universal Declaration of Human Rights.
Young Norwegian girls and women who had relations with German soldiers or were suspected of having them, were victims of undignified treatment.

Our conclusion is that Norwegian authorities violated the rule fundamental principle that no citizen can be punished without trial or sentenced without law.

For many, this was just a teenage love, for some, the love of their lives with an enemy soldier or an innocent flirt that left its mark for the rest of their lives.

Today, in the name of the government, I want to offer my apologies.
"We cannot say women who had personal relations with German soldiers were helping the German war effort," Guri Hjeltnes, historian and director of the Centre for Holocaust and Minorities Studies, tells the Guardian. "Their crime was breaking unwritten rules and moral standards. They were punished even more harshly than the war profiteers."
Of course, not many of the women then are still alive to hear the apology. Many of the 10,000 to 12,000 of their children are, however, although Oslo apologized to them in 2000 when this account surfaced:
At one notorious children's home in Trysil, in southern Norway, the children were allegedly forced to endure a horrific daily regime, in which they were lashed to their beds at four in the afternoon and forced to lie still until eight the next morning.

Forbidden from using the bathroom they often soiled themselves and would lie in their own faeces until morning when they would be woken by being doused with a bucket of water. The children were force-fed, and if they threw up their meals, they were forced to eat them again.
Many of the children took their own lives.