The Detroit Lakes Tribune's Kaysey Price found out why people living under a bridge in the city ended up living under a bridge in the city.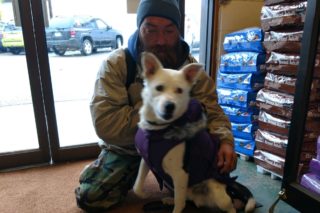 Jeremy Scott and Lori Rogers had nothing but their dog under the Highway 10 overpass. They'd been left nearby by "fellow travelers" and were trying to figure out a way to get out of the cold before winter sets in. Time is running out.
Scott's wallet was stolen months ago; he has no ID. He's been homeless since he quit his job roofing in Florida, moved to Nebraska to take care of his dying mother and lost his money. Rogers had been working at a charity when she met Scott, noticed his boots were shot and got him a voucher at a thrift store. Eventually, Rogers took Scott in at her home. Then her father died, she had trouble paying her bills, she lost her job and she lost her home.
"There's something about losing a parent … something happens inside a person," said Rogers.
So now they live under a bridge, she and Scott looking out for each other, with Buddy — their dog — by their side.
"I like to think to myself it was probably meant to be that we would both meet each other down the great road of life and that we could both help each other out," she told the paper.
"I try to do everything to make sure she's OK, whether it's going clear out of my way or not," Scott said. "Before I met her, I was flying a sign that said, 'Traveling, Broke and Hungry'. After I met her, I folded it down. It said, 'Broke and Hungry.' "
They're on the list to get some housing assistance, but they never thought the summer would come and go and they'd still be under the bridge.
A resident called to complain about them last week, so the cops rousted the pair.
He can't get an address — or even assistance for housing from Becker County, Mahube, or area churches — without an ID, and he can't get an ID without an address. Even with an ID, Scott can't prove sustainable income, which is what assistance programs — even emergency assistance through Becker County — ask for.

It's not that he has a problem working. He's learned the value of a dollar.

"I was never shy of walking up to the guy trying to do a little siding all by himself. I'd walk right up to him and ask if he needs a little help, cause I need some change," he said, recalling the numerous jobs he worked for cash while on the road. "Sometimes you'll meet a guy who's willing to train you in. I always tell them, 'Look, I might be a little slow, but I love learning'."
Scott says when the country music festival WE Fest was in town, he was jumped by four guys who were "bum bashing."
"This world don't even know. This world don't even have a clue. Everyone's one paycheck away from being in my boots. …What it comes down to is just cause we're homeless doesn't mean we're bad people. It doesn't mean we're trash," said Scott. "If anyone wants to do us a huge favor, talk to us like we're a human being."
A business owner in town who owns a pet sitting business has decided to try to help the couple. She said she figured the couple couldn't be that bad if they have a dog. So she gives them blankets, food, clothing, and a phone card to help call the bureaucracy for some housing.
"What people don't realize is that the smallest thing in their life, like a phone card or a P.O. box, is the biggest thing in ours," said Scott.
Georgiana Nagel's efforts seem to have paid off. She posts updates to Facebook; another resident, Carissa Markuson, has set up a GoFundMe page; a resident has offered to pay for a post office box, and the people of Detroit Lakes are starting to rally around a couple who shouldn't have to live under a bridge.
(h/t: Robert Williams)