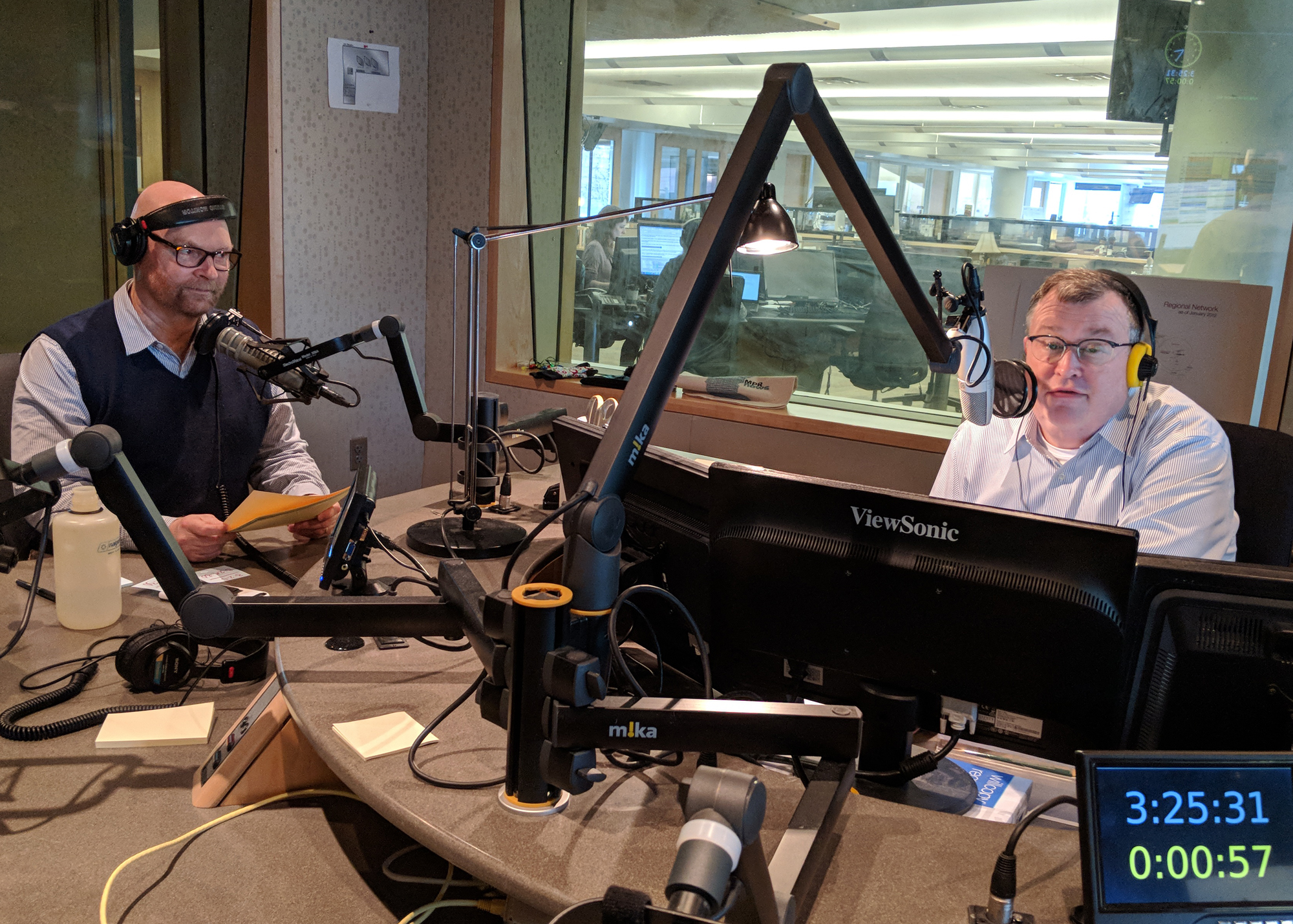 Monday Oct. 15, 2018
(Subject to change as events dictate)
9 a.m. – MPR News with Kerri Miller
Advice for breaking a linear career path.
Guests: Jeffrey Scott, managing partner at Me&I LLC; Barbara Hagerty, author of "Life Reimagined: The Science, Art, and Opportunity of Midlife" and contributing editor at The Atlantic.
10 a.m.- 1A with Joshua Johnson
Julian Castro has been mayor of San Antonio, and served in President Obama's cabinet. This summer he spent time speaking in Iowa, and he just published a memoir.
11 a.m. – 1A with Joshua Johnson
Health care is changing in states across the country. Lawmakers are trying new approaches concerning where we get care, and who provides it. Joshua Johnson looks at what's on the ballot – whether it's a push to lower prescription drug prices or expanding Medicaid.
Guests: Scott Greenberger, executive editor, Stateline, journalism project of the Pew Charitable Trusts; Julie Rovner, senior correspondent with Kaiser Health News; author of "Health Care Policy and Politics A-Z"; Reid Wilson, national correspondent, The Hill.
12 p.m. – MPR News Presents
Episode 4 of the APM series "The Democracy Test" hosted by Neal Conan and historian Heather Cox Richardson. This episode is called "Consent of the Governed," and is focused on voting rights, campaign money, and gerrymandering.
1 p.m. – The Takeaway
A lawsuit against Harvard's admissions policies goes to court. It's a case that could end race-based affirmative action nationwide.
2 p.m. – BBC NewsHour
Two weeks after the disappearance of Jamal Khashoggi will investigators finally be allowed into the Saudi consulate in Istanbul? Deal or no deal as the Brexit deadline edges ever closer . And how to get a painting hung in the White House.
3 p.m. – All Things Considered
A Kavanaugh post mortem; part one of 'women in prison'; who owns your medical data; update on Hurricane Michael recovery.
6:00 p.m. – Marketplace
With Brexit looming every closer, a centuries-old British territory
and one of Europe's strongest economies has a decision to make.
6:30 p.m. – The Daily
What to watch for in the upcoming mid-term elections.
7 p.m. – The World
ost Marco Werman speaks to Shadi Hamid about the Western media portrayal of the Saudi prince as a reformer, and about how that narrative is being challenged by the Khashoggi case.
Also on the show, reporter Emily Green follows the story of a Guatemalan family separated at the US border – a father and his 5-year-old daughter. Now they're back in Guatemala but the parents say the daughter has changed.
And on an island just north of Iceland, there's an odd piece of sculpture that marks the location of the Arctic Circle. At least it marks the circle's location this year, because it turns out that the Arctic Circle doesn't stay in one fixed place. And that's a window into the story of just how difficult it is to pin down anything in this part of the world. Amy Martin has the first installment in our series on the Arctic, produced in association with the Threshold podcast.
8 p.m. – Fresh Air
Standup comedian, writer, and actress Phoebe Robinson. She's the co-creator and co-host of the podcast and TV show 2 Dope Girls and she's also co-host of the podcast Sooo Many White Guys. And she made her film debut in the Netflix summer comedy Ibiza. She's the author of one bestselling book. Her new book is Everything's Trash But It's Okay.