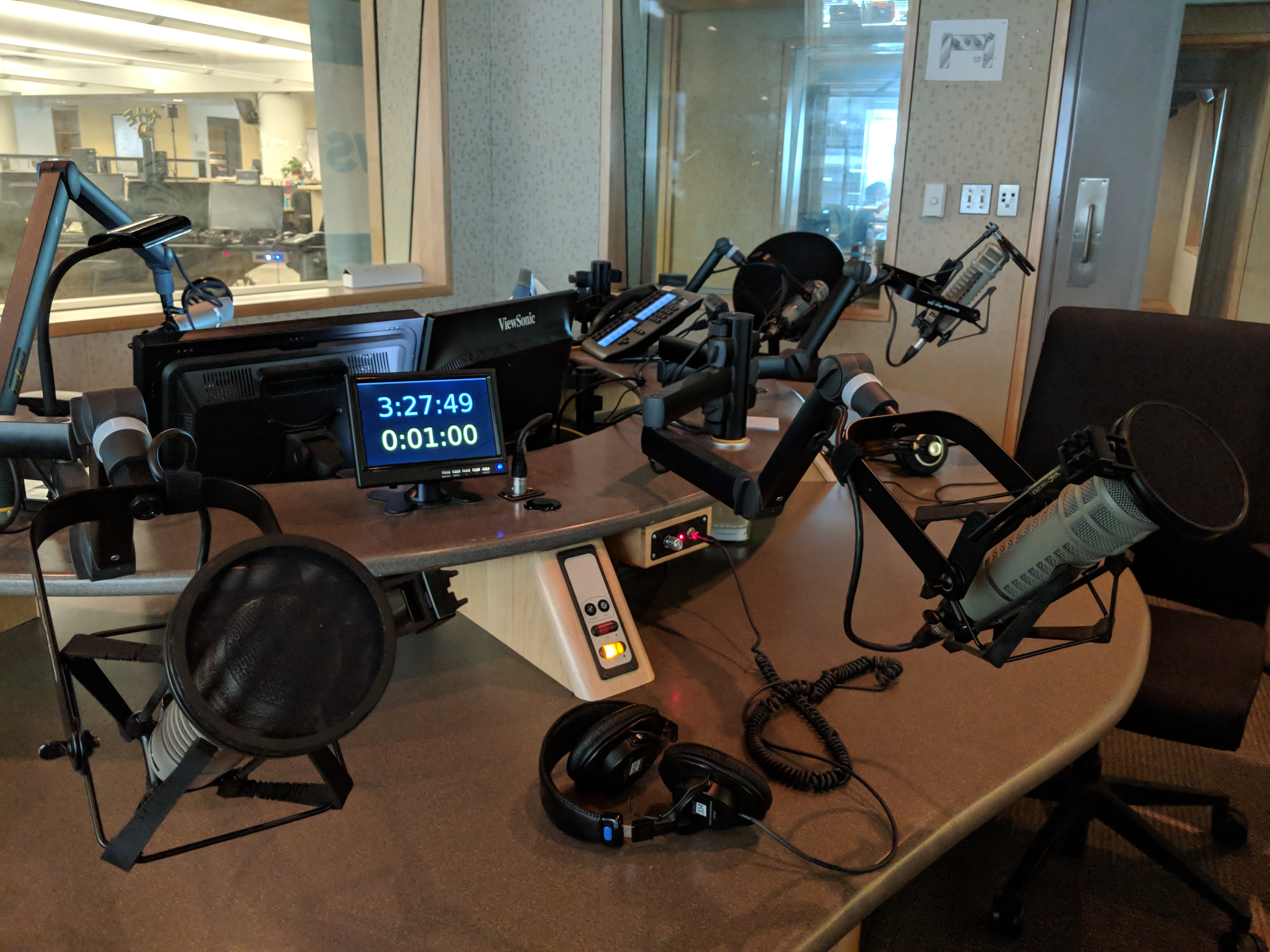 Wednesday October 3, 2018
(Subject to change as events dictate)
9 a.m. – MPR News with Kerri Miller
For many Minnesotans the name Dessa is synonymous with music. But for her most recent project, the rapper is making use of a different medium: books. In her new memoir "My Own Devices," Dessa describes her journey as an artist both literally—describing life on the tour bus–and more figuratively–opening up about how a heartbreak changed her music. She sat down with MPR host Kerri Miller for a candid conversation about the timing of the book and what she's learned from opening up so far. Their conversation was recorded on September 20th at the Fitzgerald Theater for Talking Volumes.
10 a.m.- 1A with Joshua Johnson
More big companies like Amazon are embracing a higher minimum wage. Still, millions struggle to earn enough to keep their heads above water. Critics decried the fight for fifteen as a "job killer." What changed?
11 a.m. – MPR News at 11
Prior to the massive hit, "Purple Rain." It was just Prince, a piano and a microphone. The aptly named album "Piano & a Microphone 1983" was released on Friday. Prince fans have been wrapped in nostalgia ever since.
There are raw covers classics like "Purple Rain" and "1999," along with new songs such as "Cold Coffee & Cocaine" and a cover of "Mary Don't You Weep" which was featured in the film "BlacKkKlansman" according to the Star Tribune's Chris Riemenschneider. And, this won't be the last time we hear from Prince.
Guests: Jim McGuinn, program director at The Current; Ali Zaheer, oral historian and lecturer who taught a US history course at NYU titled "Prince: A Sign of the Times."
12 p.m. – MPR News Presents
A debate about the proposal to have "single-payer" health care. DFL State Senator John Marty and GOP State Senator and medical doctor Scott Jensen discussed the pros and cons on Monday at the University of Minnesota Humphrey School.
1 p.m. – The Takeaway
We're talking about the culture around alcohol in this country, and how your race, gender and background all play a role in what's considered a "normal" amount to drink.
2 p.m. – BBC NewsHour
The United States says Iran is using the International Court of Justice for its own political ends; environmental lessons from green yet oil-rich Norway; the world's most expensive bottle of whisky sells at auction.
3 p.m. – All Things Considered
The family separation report; the effect of the new trade agreement on the auto industry; the Chicago police shooting trial; local high school students shine during the Hamilton educational events; the best and worst of pumpkin spice.
6:00 p.m. – Marketplace
How immigration policy is leaving holes in the workforce. The Trump administration is tightening the screws on legal foreign workers, and that's making it much harder for some U.S. companies to find qualified workers.
6:30 p.m. – The Daily
President Trump has long sold himself as a self-made billionaire. But after spending a year studying tens of thousands of pages of confidential records, our New York Times colleagues uncovered new details about the president's financial history that contradict that narrative. Here's what they found.
Guests: David Barstow, an investigative reporter for The New York Times; Susanne Craig, who covers politics, money and government for The Times; Russ Buettner, an investigative reporter for The Times focused on the New York City region.
7 p.m. – The World
As the FBI gets ready to wrap up its investigation into Supreme Court nominee Brett Kavanaugh's past, we ask which other countries appoint justices for lifetime positions on their highest courts? Also: alert systems around the world. Plus: the back story on a naval confrontation between China and the US.
8 p.m. – Fresh Air
Filmmaker Tamara Jenkins will talk about her new film "Private Life". It's about a couple, in their 40's, trying to have a baby through any means necessary: fertility drugs, in vitro fertilization, egg donor and adoption. The film stars Kathryn Hahn and Paul Giametti. The film opens in theaters and starts streaming on Netflix on Friday October 5th.