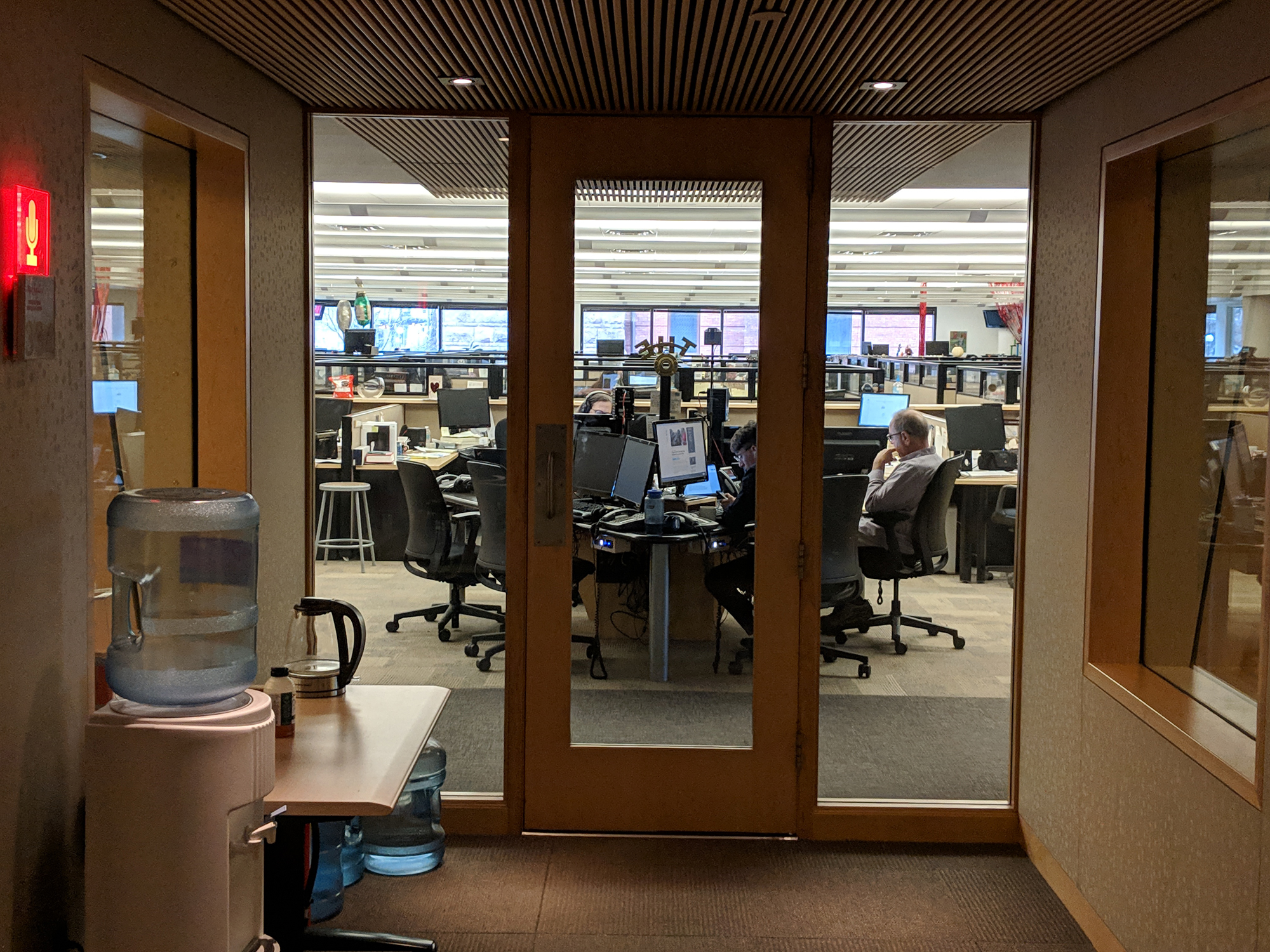 Tuesday November 20, 2018
(Subject to change as events dictate)
9 a.m. – MPR News with Kerri Miller
We continue our series, "This American Moment" with a retired Republican congressman from South Carolina.
Guest: Bob Inglis.
10 a.m.- 1A with Joshua Johnson
This summer, the U.S. Department of Agriculture put out its farm income forecast. It is estimated that profits for American farms would drop 13 percent, coming in nearly $10 billion under 2017's totals. 2019 isn't looking much better, and the blame is falling on President Trump's trade policy. Tariffs and worries over a trade war have driven up the cost of supplies and blocked farmers from foreign markets.
And while farmers are feeling the pain, President Trump is feeling the love. Support for the president has risen or remained steady in major farming states. Will farmers stick with the president after the harvest, if the breadbasket only gets crumbs?
Guests: Lynn Rohrscheib, vice chairperson, Illinois Soybean Association; Pete Kappelman, member, National Milk Producers Federation Board and co-owner, Meadow Brook Dairy Farms in Two Rivers, Wis.; Alan Rappeport, economic policy reporter, The New York Times; Ted McKinney, undersecretary for trade and foreign agricultural affairs, United States Department of Agriculture.
11 a.m. – MPR News at 11
New Physical Activity Guidelines says that Americans need get off their chairs and move around more. How can you apply the new guidelines into your busy life?
Guests: Adam Perlman, chief medical officer and co-founder of meQuilibrium; Kathleen Janz, professor of Health and Human Physiology at the University of Iowa.
12 p.m. – MPR News Presents
The chief of staff to former President Barack Obama, Minnesota native Denis McDonough returned to his alma mater this fall for the annual Eugene McCarthy Lecture at St. John's University in Collegeville. McDonough said the country can get back on the right path if we keep in mind the things taught at St. Johns: "a commitment to books, and learning, and facts, and decency, and openness."
1 p.m. – The Takeaway
Where is the anti-migrant resentment in Mexico emerging from, how widespread is it across Central America, and how does it compares to other parts of the world?
In the aftermath of California's Camp fire, officials and journalists are now looking into the cause of the fire, and whether it was sparked by power lines; it's the second week for testimony in the trial for Joaquin "El Chapo" Guzman, and much of what's been revealed so far is the extent of bribery within the Mexican government; after passing in the Ohio House, a bill is headed to the Senate that would penalize doctors for performing an abortion when a fetal heartbeat can be detected, as early as six weeks into a pregnancy; and in a new book, anthropologist Ieva Jusionyte reflects on her time working as an emergency responder on the US-Mexico border, describing to The Takeaway what that work entails and how immigration policies impact what responders do and how.
2 p.m. – BBC NewsHour
At least 40 people have been killed in a bomb attack in the Afghan capital, Kabul; Ivanka Trump's emails – how exercised should we be? And: a Chilean minister on cultural imperialism London-style.
3 p.m. – All Things Considered
The life of a red-state Democrat; the migrants in Tijuana; an interview with Kate DiCamillo.
6:00 p.m. – Marketplace
The latest product being pushed by social media influencers has high demand, a high price tag, and is something you see every day on Instagram. It's the world of custom image filters.
6:30 p.m. – The Daily
The killing of Jamal Khashoggi has renewed criticism of Saudi Arabia more broadly, including the kingdom's role in the war in Yemen. It's a war that has created what has been called the worst humanitarian crisis in the world — and one that the United States has backed from the beginning.
Guest: Robert F. Worth, a contributing writer for The New York Times Magazine
7 p.m. – The World
The president backs Saudi Arabia in the murder of a journalist.
Also today, we find out what the US could learn from the Dutch model of dealing with natural disasters. The Netherlands has long pioneered an approach that emphasizes living with – and managing – the risk from floods or forest fires, rather than just fighting them after they take place. Marco learns more from Crystal Kolden, who teaches fire science at the University of Idaho.
Plus, the story of Kentucky shaman Steve Hupp. He appears in a new documentary series on the Viceland Channel. We'll hear how Hupp administers the powerful hallucinigenic drug ayahuasca to people who suffer from psychological trauma.
8 p.m. – Fresh Air
Imagine climbing a sheer vertical rock, thousands of feet high, using little cracks and edges of the wall on which to balance your body weight. Dave talks with Tommy Caldwell & Kevin Jorgerson about their historic free climb on El Capitan's notorious Dawn Wall in Yosemite. It's the subject of a new documentary, which is on I-tunes.