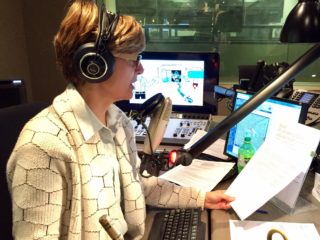 Friday Dec. 7, 2018
(Subject to change as events dictate. This page is updated throughout the day.)
9 a.m. – 1A with Joshua Johnson
Domestic news roundup. A formal & heartfelt presidential farewell, Mueller's memos leave many guessing. And protesters in the Midwest sound the alarm over lame-duck power grabs.
10 a.m.- 1A with Joshua Johnson
International news roundup. Senators here tell Saudia Arabia they've seen enough. Police prepare to bring charges against Israel's Prime Minister. And Cubans get more connected.
11 a.m. – MPR News with Angela Davis
Minnesota can be a cold place for professionals of color, and it's not just the weather. Employees of color report all sorts of reasons living and working in Minnesota is a challenge. Meanwhile, the state is known for having some of the highest racial disparities in the country.
MPR's Angela Davis will lead a conversation about what it means to be black in Minnesota right now.
Guests: Josie Johnson, civil rights pioneer; James Burroughs, chief inclusion officer for the State of Minnesota; Dara Beevas, co-founder and CEO of Wise Ink. 2017 Bush Foundation fellow.
12 p.m. – The Takeaway
How an obscure agency became a political lightning rod. Immigration and Customs Enforcement has ramped up arrests and detention, pulling out all stops to deport immigrants here illegally.
1 p.m. – Science Friday
Two-hundred-fifty million years ago the most dangerous predators in Utah were not dinosaurs, but instead crocodile-like phytosaurs. Ira Flatow considers the mystery of the phytosaurs' disappearance and the rise of the dinosaurs.
2 p.m. – BBC NewsHour
All change in Germany – a new chair of the governing party, but who will replace Angela Merkel after 18 years?
Reducing road deaths, the biggest killer of young people in the world.
And the teachers training to carry guns in class – we report from Ohio.
3 p.m. – All Things Considered
The week in politics; Planet Money: Mugshots; the soccer town of Atlanta; a review of Mary Queen of Scots.
6:00 p.m. – Marketplace
After the destructive wildfires this year, millions of dollars have been given to relief efforts. Marketplace is following the money… from donation to survivor.
6:30 p.m. – The Daily
In the three years that Saudi Arabia, supported by the United States, has been at war with the Houthis in Yemen, very few journalists have been allowed into the country to document what's happening there. The New York Times journalist Tyler Hicks is one. This is the story of how he came to take a photograph of Amal Hussain that drew international attention to the country's plight.
Guest: Tyler Hicks, photojournalist for the NY Times.
7 p.m. – The World
President Donald's Trump pick for UN ambassador: former Fox News personality and current State Department spokesperson Heather Nauert. American ambassadors to the UN in the past have not always arrived to the job with the credentials of a seasoned diplomat. Nikki Haley, for instance, came to the job as a former governor of South Carolina, without a lot of experience in diplomacy. So how much does prior experience matter? Host Marco Werman asks NYU Global Affairs professor Anne Marie Goetz to weigh in.
Plus, the US continues to push for face-to-face peace talks between the Taliban and the Afghan government. Reporter Shirin Jaafari explores where the talks stand and how one Afghan entrepreneur views them.
And a promising development following the start of peace talks between the warring sides in Yemen. The parties agreed to a 5,000 person prisoner exchange as a confidence building measure. We hear from a Yemeni who was once imprisoned by Houthi rebels, about whether the exchange is meaningful or merely symbolic.
8 p.m. – Fresh Air
The new documentary Bathtubs over Broadway is about industrial musicals, created for corporate sales conventions to help sell everything from cars to toilets. Terry Gross talks with Steve Young, who rediscovered these forgotten musicals and Sheldon Harnick, who started off writing lyrics for them.