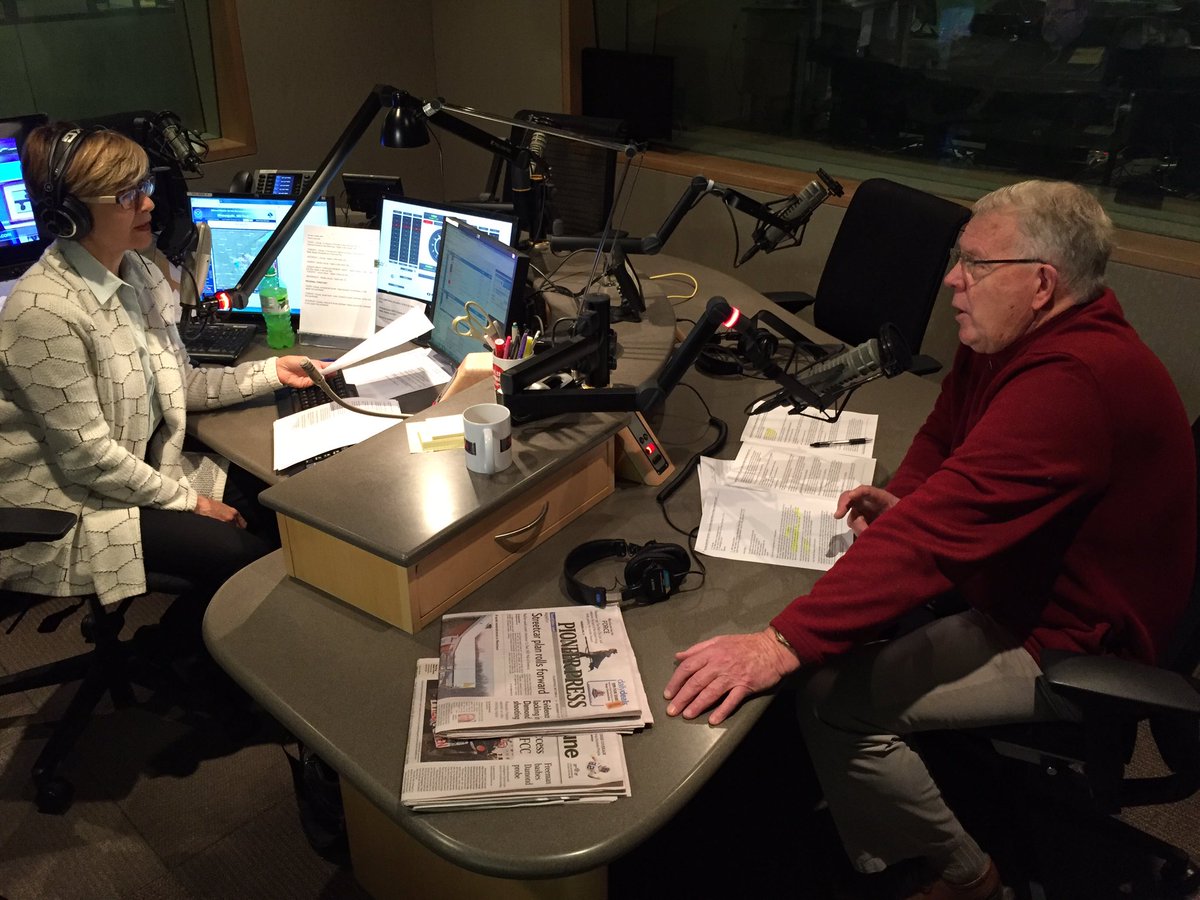 Friday April 26, 2019
(Subject to change as events dictate. This page is updated throughout the day.)
9 a.m. – MPR News with Kerri Miller
Domestic news roundup. A record high for stocks, and for cases of measles. Democrats welcome back a familiar face, and a less familiar one trips up a presidential forum in Texas. And the White House fights off a barrage of subpoenas setting up a fight between one branch of government over another.
10 a.m.- 1A with Joshua Johnson
International news roundup. America piles the pressure on Tehran. Sunday's Easter bombings in Sri Lanka spark fears of a new ISIS resurgence. An epic story dominates India's election. And things turn serious in Ukraine days after the country elected a comedian.
11 a.m. – MPR News with Angela Davis
After years, the Minnesota Legislature finally passed a bill that requires all cell phone use by motorists to be hands-free. There are exceptions for emergencies, but a provision known as the "one tap" rule asks drivers to keep both hands on the wheel and to restrict actions like entering an address in a maps app to times when the car isn't in motion.
Guests: Safety director Michael Hanson; political reporter Brian Bakst, and Greg Tikalsky, whose father died in a distracted-driving accident.
11:30 a.m. – Even with a strong economy, black and Hispanic Minnesotans are still much more likely to be unemployed than whites. One hurdle is getting connected with meaningful job opportunities. That's where the semiannual People of Color Career Fair, scheduled for April 30 at the Minneapolis Convention Center, comes in.
Guests:Sharon Smith-Akinsanya, founder of the career fair; Karen Richard, chief human resources officer of Andersen Corp.
12 p.m. – The Takeaway
There are now 20 Democratic candidates running for president. The field is the biggest ever with a number of big names running and more than the 17 Republicans who ran in 2016 and the 16 Democrats who ran in 1976. The Takeaway talks to two reporters covering the race about what it's like to follow these candidates on the campaign trail and how they are polling with voters.
On Thursday, former Vice President Joe Biden formally announced his run for the Presidency. Biden has among the longest political records of any of the candidates but has faced a number of setbacks in recent weeks, including accusations by women who say they've been treated inappropriately by Biden. The Takeaway looks at what we can expect from Biden's third attempt to reach the highest office.
Ever since the Mueller report came out, people in Washington have been talking a lot about impeachment. But how do voters feel about it?
1 p.m. – Science Friday
Ira Flatow begins a new series with the first episode of Degrees of Change. He and his guests look at how cities around the world are taming floodwaters, and turning them into freshwater resources, from China's "sponge cities" to Houston's "pocket prairies."
2 p.m. – BBC NewsHour
The migrants detained in Libya are now caught in the crossfire; another powerful cyclone hits Mozambique just as it tries to recover from another deadly storm; Japan's new migrant workers, are they being exploited, and even abused?
3 p.m. – All Things Considered
The latest testimony in the Noor trial; the week in politics; snow for the weekend; Avengers and the spoiler culture; Trump at the NRA.
6:00 p.m. – Marketplace
The story of two grads and their worries for the future. Nearly two-thirds of college students take on student loans and as this year's graduates prepare to take their diplomas, they're also thinking about how to repay their student debt.
6:30 p.m. – The Daily
The number of measles cases in the United States has risen to nearly 700 — the highest annual number recorded since 2000, when the disease was declared eliminated in the country. Many of those cases can be traced to ultra-Orthodox Jewish communities in New York.
Guest: Sarah Maslin Nir, who covers New York City for The New York Times.
7 p.m. – The World
Tension and threats against Muslims in Sri Lanka have been rising all week since the Easter Sunday bombings that killed 253 people were blamed on Islamist extremists. Reporter Aurora Almendral in Colombo has our story about how the minority Muslim community there is trying to ensure its safety, including the cancellation of Friday prayers across Sri Lanka.
In Seattle, a local airport is taking a bold step to stop Immigration and Customs Enforcement from using its facilities to deport undocumented migrants. Host Carol Hills talks with KUOW's Esmy Jimenez about the stance of Boeing Field in Washington's King County.
Canada's regulatory authorities this week announced results of a probe that found Facebook violated Canadian privacy law and failed to protect the personal information of Facebook users. The tech giant disputes the findings and the Privacy Commissioner plans to go to court in a bid to force the company to correct its privacy practices. Meanwhile, Facebook's earnings are up, and user activity continues to grow. Ann Cavoukian, a former information and privacy commissioner of Ontario, talks with host Carol Hills.
And, The World's Marco Werman heads to Russia to report on the life and culture that is so rarely detailed in reporting across American airwaves. Amid the serious controversy raised by Russia's hack into the U.S. elections; Marco and producer Daniel Ofman will take a look at day to day life in Russia today where youth have a more global focus on the world since the fall of communism.
8 p.m. – Fresh Air
The Zombies and Roxy Music were inducted into the Rock and roll Hall of fame last month. The ceremony will be shown Saturday on HBO. We listen back to Terry's interviews with Colin Blunstone of The Zombies, and Bryan Ferry and Brian Eno ENO, cofounders of Roxy Music.