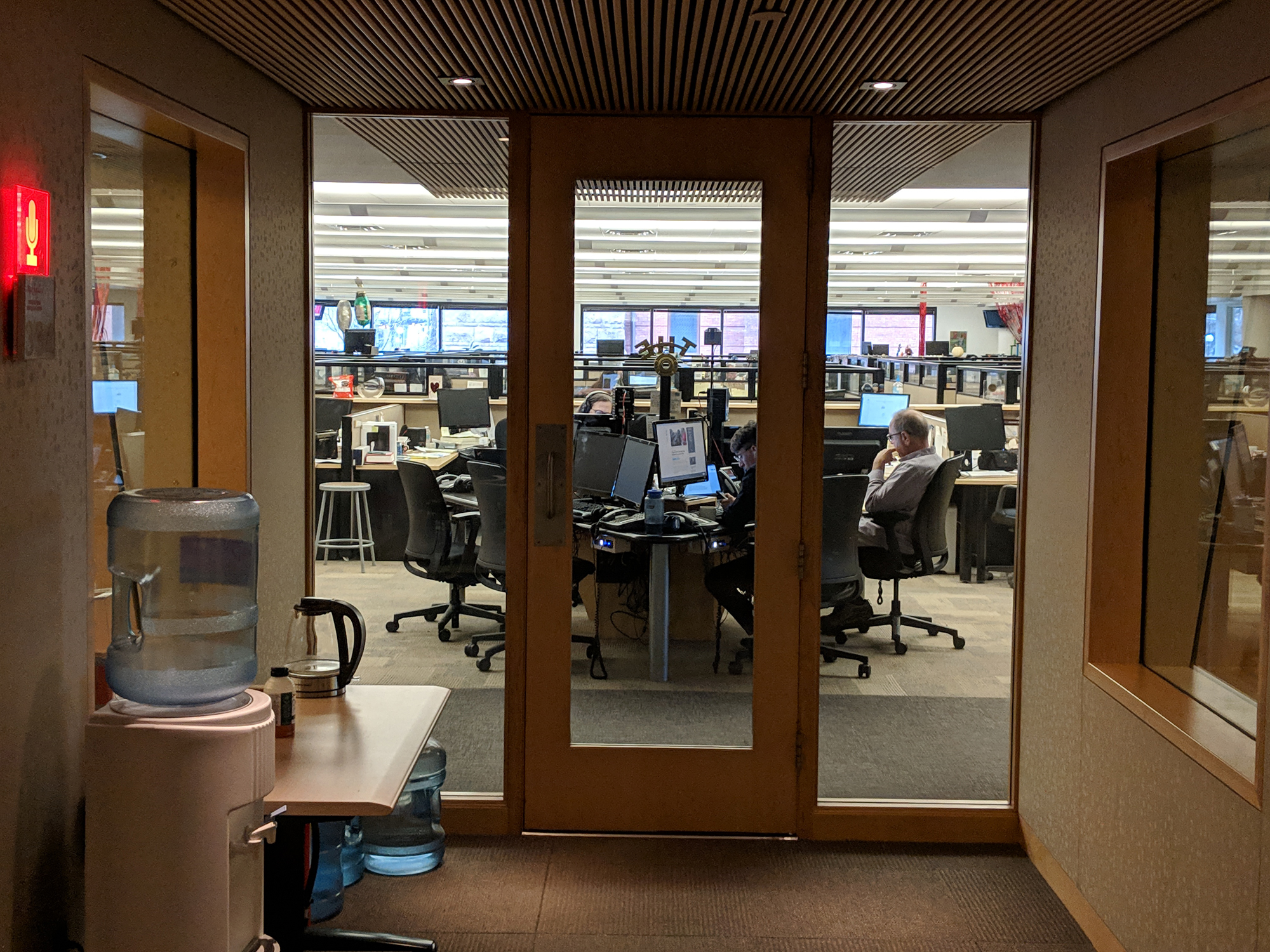 Monday April 29, 2019
(Subject to change as events dictate. This page is updated throughout the day.)
9 a.m. – MPR News with Kerri Miller (Tiffany Hanssen hosts)
Guardian vs Warrior mentality in policing.
Guest: Former Tallahassee law enforcement officer and current law professor, Seth Stoughton.
9:30 a.m.- We will examine vaccine hesitancy. We won't debate the efficacy of vaccines; the science is in. But we do want to talk about how to balance personal choice with public safety. Is it as simple as requiring everyone to get vaccinated? Or is there a better way to get people to buy in?
Guests: Elisa (EJ) Sobo, a sociocultural anthropologist specializing in health, illness and medicine, and a professor and chair of the Department of Anthropology at San Diego State University; Alison Buttenheim, a professor of health policy at the University of Pennsylvania who studies the effects of vaccine hesitancy
10 a.m.- 1A with Joshua Johnson
Hollywood has "Brangelina" – in Washington, the real power couple is "Javanka." Critics have called Jared Kushner & Ivanka Trump the "Prince and Princess of America." How are the president's son-in-law and daughter using their influence?
Guest: Author Vicky Ward
11 a.m. – MPR News with Angela Davis
Funeral planning 101. How can we make the process seamless and less stressful? What do you need to do now to prepare?
Guests: Marilaurice Hemlock, acting board chair of the Funeral Consumers Alliance of Minnesota; Jill Sauber, attorney at the Chestnut Cambronne law firm and licensed mortician.
12 p.m. – MPR News Presents
"Tesla's Wild Ride." Three journalists and Tesla-watchers assess the status of the electric car, its overall impact on the auto industry, and its future in the "green economy."
Guests: Lora Kolodny, tech reporter for the Wall Street Journal; Katie Fehrenbacher, analyst at GreenBiz; and Hamish McKenzie, author of "Insane Mode: How Elon Musk's Tesla Sparked an Electric Revolution to End the Age of Oil."
Greg Dalton is host of the Commonwealth Club's Climate One, from KQED.
1 p.m. – The Takeaway
A closer look at how 8chan became a ground for violent activity and whether the U.S. government should be doing more to police these sites.
The national map of the statute of limitations laws and why they take their current form, efforts to change them, and what those could mean for organizations like the Boy Scouts and the Catholic Church that have faced thousands of allegations of abuse often decades after the crime.
Digital privacy concerns in America, starting with the latest news on Facebook. The company said this week it expects to be fined up to $5 billion by the Federal Trade Commission for privacy violations — a record amount for the Federal Trade Commission against a tech company.
In 2018, Canada became the first major nation to legalize marijuana on a national level. However, an initial swell of sales has quickly flattened and not met expectations for the new legal weed market.
A look at Frontline's latest documentary connecting the intergenerational trauma of Holocaust survivors through interviews with the last survivors and their family members.
2 p.m. – BBC NewsHour
In Spain, the Socialist Prime Minister is set to form a new government, and the far right party Vox will enter the Spanish parliament for the first time; after months of protests, is Sudan close to having a transitional government that will satisfy the demonstrators?
3 p.m. – All Things Considered
The closing arguments in the Noor trial; Boeing shareholders take on the company over the 737; a report on religious conflict; the Avengers at the box office.
6:00 p.m. – Marketplace
They may not have an actual office, but it doesn't mean people can't have fun at work. Technology today means some have become completely virtual, but in more ways that just boring meetings.
6:30 p.m. – The Daily
Before the 2020 census begins in the United States, a case has been fast-tracked to the nation's highest court about who is counted and why. It has become the biggest case in front of the Supreme Court this session.
7 p.m. – The World
Sri Lanka's attempts to root out potential terror threats; why some women in Sri Lanka are attracted to terrorist groups; and in West Texas, a reunion of students who were once forced to not speak Spanish.
8 p.m. – Fresh Air
Actress Patricia Arquette stars in the new Hulu true-crime series, The Act, playing a mentally ill mother who pretends her daughter has multiple disabilities and illnesses. Last year Arquette co-starred in the prison drama Escape at Dannemore.