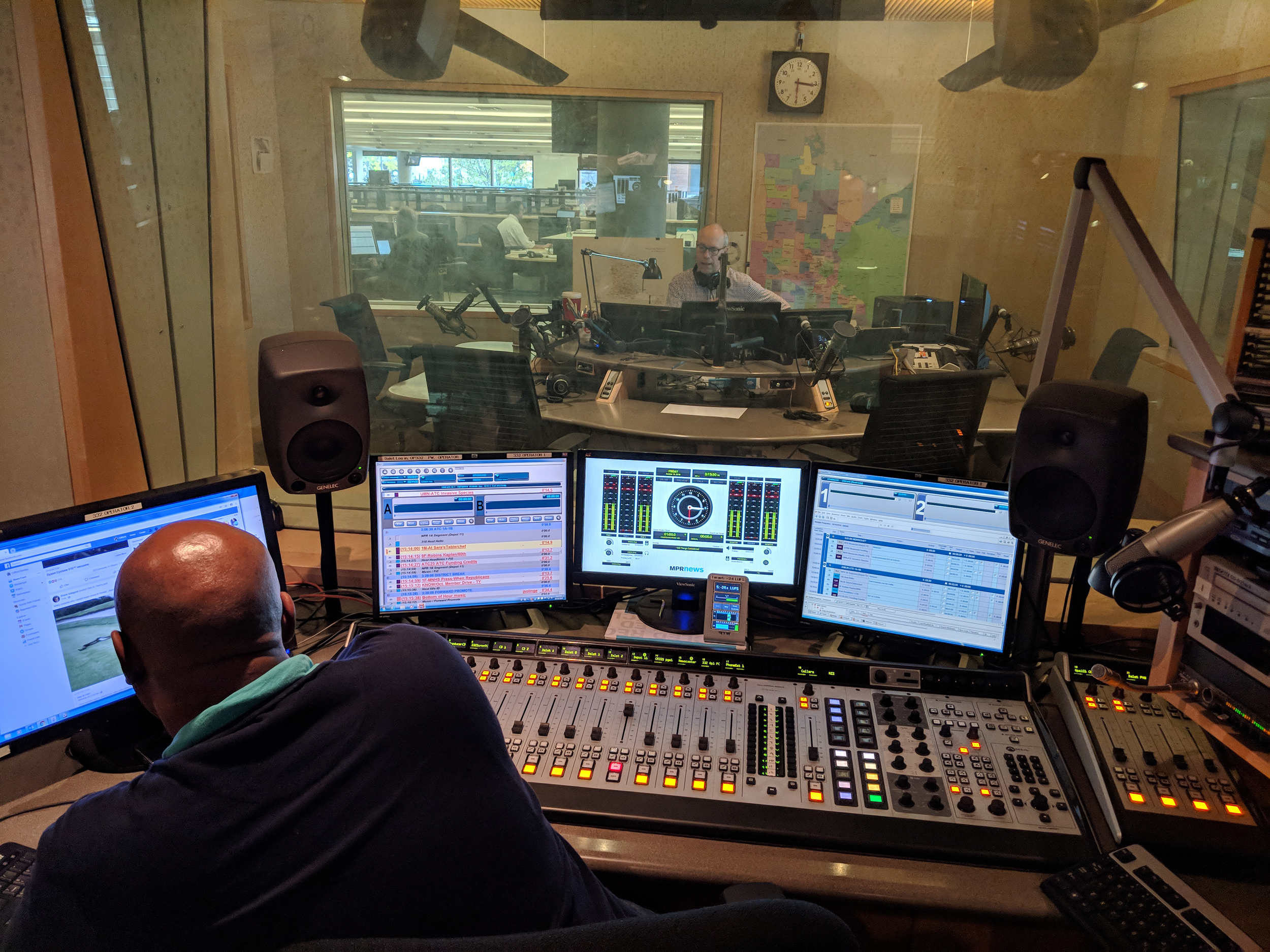 Friday May 10, 2019
(Because it's a membership drive, some segments may be pre-empted while we await your support.)
9 a.m.- MPR News with Kerri Miller
Just a few days ago, it looks like the United States and China would reach a deal to end a months-long trade war. Then it all fell apart. China changed some key terms of the deal at the last minute, prompting President Trump to threaten a massive tariff hike instead. If a deal isn't reached by midnight, tariffs on $200 billion of Chinese goods will be raised from 10 percent to 25 percent, and a new 25 percent tariff will be levied on an additional $325 billion of imported goods.
Increased tariffs would be another round of bad news for farmers in the Midwest, who are already in the crosshairs of the trade war.
Guest: Wallace E. Tyner
9:20 a.m. – In his new book "How to Think: A Survival Guide for a World at Odds," Alan Jacobs explores an act that's familiar to all of us: thinking. But he argues that when it comes to the issues splitting our society, we don't always think critically.
10 a.m. – 1A with Joshua Johnson
Domestic news roundup. Does our system of checks and balances need a check-up? The impact of a standoff between the White House and Congress. Also, Colorado asserts itself as a leader on recreational drug use.
11 a.m. – MPR News with Angela Davis
Brian Bakst will join host Angela Davis to talk about the latest in budget negotiations at the Capitol. Are we looking at a potential special session?
11:20 a.m. – Minnesota has one of the largest Hmong communities in the United States. Migration started in the 1970s and census data shows that more than 85,000 Hmong people live in Minnesota. At the state Legislature, the Hmong community is more visible than ever. Since 2002, eight Hmong lawmakers have served in the House and Senate. Four of them were newly elected last fall. (Recorded)
Guests: Rep. Jay Xiong, DFL-St. Paul; Rep. Tou Xiong, DFL-Maplewood; and Rep. Samantha Vang, DFL-Brooklyn Center.
12 p.m. – The Takeaway
Indigenous women in the United States are murdered, vanished or found dead well above the per capita average, but many cases go uncounted. The Takeaway takes a look at how the lack of quality data contributes to under reporting and poor relationships between native communities and law enforcement.
1 p.m. – Science Friday
How can squeezing hydrogen between two diamonds make the next super material? The frustrating quest for the most elusive material in physics.
2 p.m. – BBC NewsHour
The US imposes punishing new tariffs on Chinese imports as trade talks falter between the world's biggest economies; a special report from the Indian elections; and as Uber prepares to go public, what it's like to have an algorithm as a boss?
3 p.m. – All Things Considered
The week in politics; the three-point shot; Phillippine elections; the Amtrak 188 survivor.
6:00 p.m. – Marketplace
Between trade tensions, tariffs, and more: a look at the economic week that was and what it might mean for the week to come.
6:30 p.m. – The Daily
Chris Hughes, a Facebook co-founder and Mark Zuckerberg's college roommate, has written an Op-Ed in The New York Times saying that Mr. Zuckerberg has become too powerful, and that Facebook should be broken up. Our colleague sits down with him to talk about why he's speaking out.
7 p.m. – The World
A field trip in Mexico, to a ranch where a farmer distills raicilla. A single bottle can fetch up to $170, but in Puerto Vallarta, many still think of it as moonshine.
8 p.m. – Fresh Air
HBO's satirical political series Veep is this Sunday. Fresh Air will feature Terry Gross' interviews with two of the stars, Julia Louis Dreyfus and Tony Hale, and the showrunner David Mandel.