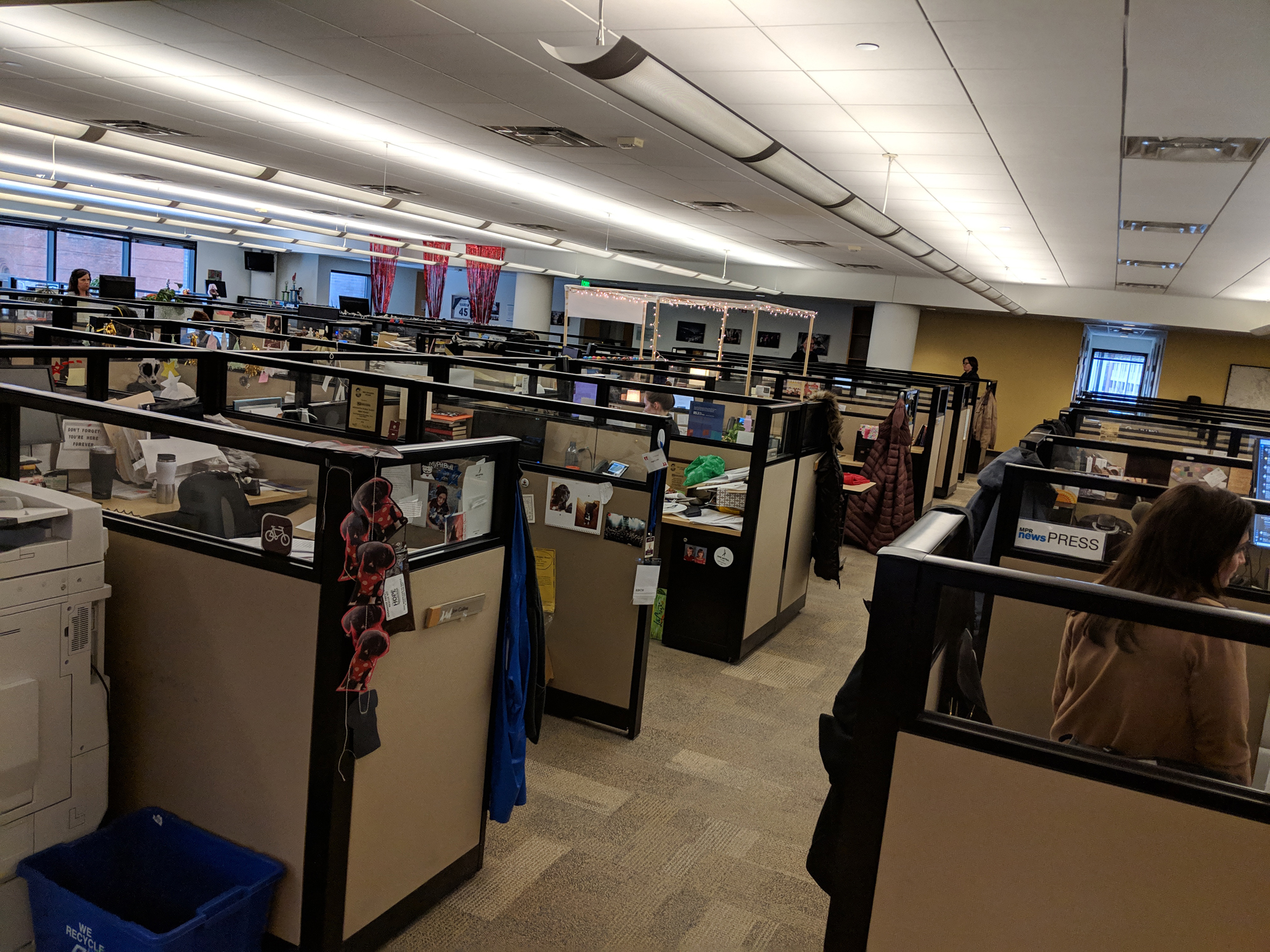 Thursday May 9, 2019
(A membership drive is underway. Some segments on national programs will be pre-empted to convince you to do what you need to do.)
9 a.m. – MPR News with Kerri Miller
MPR News host Kerri Miller spoke with author Oyinkan Braithwaite about family secrets and sisterhood in her debut novel.
10 a.m.- 1A with Joshua Johnson
iLe got her start in music as part of the Grammy-winning trio Calle Trece . In 2017, she watched as Hurricane Maria devastated her native Puerto Rico. Soon the sadness gave way to anger, and inspired her new album.
11 a.m. – MPR News with Angela Davis
On Wednesday, March 20, host Angela Davis spoke with four prominent journalists of color about their work and what they hope their white peers in the news industry will learn about covering diverse communities. This panel was part of the Truth and Transformation Conference held last week at Hamline University. MPR was one of the partners that put on the event.
Guests: Maria Hinojosa is the anchor and executive producer of the Peabody Award-winning show Latino USA; Mark Trahant is the editor of Indian Country Today; Steve Wyche is a reporter for the NFL Network;
Emma Carew Grovum is a multiplatform storyteller, product thinker and media diversity advocate based in New York.
12 p.m. – MPR News Presents
The last in a four-part series for APM's "Call to Mind" initiative. This episode focuses on combatting racism. Produced by public radio station WBUR for National Mental Health Awareness Month in May. The series is hosted by Dr. Anne Hallward, a psychiatrist in Maine.
1 p.m. – The Takeaway
Is the system of checks and balances written into the United States Constitution… working? Or is this a moment of a constitutional crisis?
More than 1,000 people have died from Ebola over the past 10 months in the Democratic Republic of Congo. The Takeaway hears from someone working on the ground about the efforts, and what's needed from the international community.
Earlier this week, President Trump threatened to impose tariffs on an additional $200 billion worth of Chinese goods by Friday, raising doubts about the likelihood of a long-awaited bilateral trade deal.
While Spain's recent elections saw a resurgence of the country's socialist party, a far-right movement also won seats in Parliament for the first time since General Francisco Franco's dictatorship ended in 1975. How was this movement able to take advantage of social networks and political polarization to gain traction and achieve electoral gains?
With the opening of Avengers: Endgame and the final season of Game of Thrones nearing its end, spoilers have abounded on social media in recent weeks. The Takeaway breaks down the pros and cons of spoilers (and try their best not to spill the beans on any pop culture endings along the way).
2 p.m. – BBC NewsHour
China and the US hold more trade talks, amid strong accusatory rhetoric from both sides; President Trump says China has broken the deal, Beijing saying it will retaliate on increasing tariffs; we talk about human rights in Yemen; as Russia marks Victory day, the day of the Soviet defeat of Nazi Germany, we look at how Stalin is seen by Russians today.
3 p.m. – All Things Considered
Deporting veterans; the US and Iran on a collision course; UBER's IPO
6:00 p.m. – Marketplace
Another round of trade talks between the U.S. and China and possibly another round of tariff hikes.
6:30 p.m. – The Daily
The House Judiciary Committee voted to recommend holding Attorney General William Barr in contempt after President Trump asserted executive privilege over the full Mueller report. But little is likely to happen as a result. We look at why Congress is running out of options for investigating the president.
7 p.m. – The World
We start with North Korea, which today tested more weapons just as a top US envoy arrives in Seoul, South Korea. The US, South Korea, and Japan have different approaches to managing the military threat from North Korean dictator Kim Jung Un, while also deliberating the humanitarian problems in North Korea, which some experts say is on the brink of famine. Host Carol Hills talks with Jenny Town, the managing editor "38 North," a policy journal about North Korea.
Also, the Iran nuclear deal is on life support this week, as European leaders say they won't give in to Iranian ultimatums. This week, Iran demanded their economic help to relieve the pressure from US sanctions. That comes a year after the US unilaterally pulled out of the multi-national deal to curb Iran's nuclear weapons program. Former British Foreign Office minister Alistair Burt talks with Carol about how European allies are trying to keep the basics of the deal intact.
Also in today's program, a leading opposition politician was arrested in Venezuela. Edgar Zambrano was towed to jail in his car. His arrest is the first detention of an opposition leader since the failed attempt to push President Nicolas Maduro from office last week.
Plus, a cappella singers converge on Moscow for an international competition, and The World's Marco Werman can't get enough of it. You'll want to hear Marco's audio postcard from Moscow.
8 p.m. – Fresh Air
Some of the unanswered questions about Donald Trump's relationship with Deutsche Bank. Terry Gross talks with David Enrich of the New York Times about how and why the bank kept loaning him money even after he'd defaulted on tens of millions in loans. Trump has sued to keep the bank from releasing financial records about him to two congressional committees that have subpoenaed them.