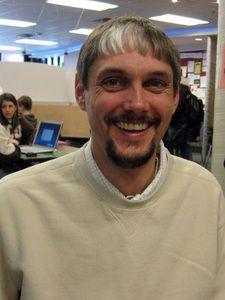 Nathan Green, 33, a Nebraska native, says he saw the economy collapsing five years ago when he was working in a parks and recreation department. Bond issues for swimming pools kept getting put off, he said during News Cut's stop at Century College today.
"I wanted a profession that I could be proud of," he said. He wanted to get into orthotics and prosthetics and said the Minnesota campus is the only program in the country for both.
For three years, he and his then-girlfriend-now-wife maintained a long distance relationship. After they got married, she got a job in New Ulm and they had a less-long-distance relationship for three months.
"I needed to make a clean break so I didn't fall into the same old situation, hanging out with the same old friends trying to scrounge out part-time jobs here and there," he said. He's been working in the practitioner program working with patients, and now he's starting to check out possible residency programs.
"It's looking a little bleak right now because the bigger not-for-profit hospitals maybe had their donors in the stock market. They're getting kind of tight and aren't willing to take the students. Taking a resident costs them money. The benefits of them taking new students might become a little daunting when they need to do what they can to keep the lights on in their facilities," he said.
"I'm a little nervous with Medicare and the different outlooks on reimbursement for insurance," he said. It's cost him about $3,000 per semester and he's not altogether sure that won't go up. He expects MnSCU (Minnesota State Colleges and University System) schools to be the first to get hit with budget cuts at a time when the economy is requiring more people to go back to school.
"(People) worked in the airline profession and are coming back to be different technicians and stuff. These are people who had a life, they're starting a brand new career, how long are they going to be in school before they actually get out in the work force and how long do they have to be out in the work force before they get established in the field?"
Most of the money Green stockpiled for school is gone and he's found it difficult to get a job while going to school because employers don't think he'll be around long-term and they won't give him a long-term job while he's in school.
Green's original degree was in education and therapeutic recreation, working with adaptive aquatics, "saw a lot of people post-op or amputation, special needs children."
"I have a very positive outlook; I know everything will work out and things happen for a reason," he said. "My wife stuck with me so I know there's something there. I don't know if anybody knows what the right answers are right now. You may worry yourself into a hole. Yeah, a job is a big part of that but you've got friends and family, too."
He and his wife are expecting their first child in June, right around the time he'll be starting a residency program. Somewhere.
"I'm not going to live in the kind of house my parents do, with the cars and things like that. I'm not entitled to that. That's something I'm going to have to work for it. I'm hoping I'm prepared for that."